FENTON GIFT SHOP
SPECIAL OFFERINGS!
Z6563HPA
4-1/2'' Burmese Mini Basket
$69.50, Buy Now!

Produced as a Fenton Gift Shop Exclusive, this lovely
4-1/2'' Burmese Mini Basket features a beautiful handpainted rose pattern.
A perfect piece for someone you treasure.
CV2261H
6-1/2'' Burmese Vase with
George Fenton Signature
Limited time offer:
Originally $96.00, Now $72.00
Buy Now!
Inscribed with George W. Fenton's signature, this Burmese vase is the perfect way to display flowers. Gold and uranium in the reheated Burmese glass cause a dramatic shift in color from yellow to pink. A flowing tri-crimped edge and handpainted wild flowers finish the piece.
Z5251HPA
2-3/4'' Sea Mist Green
Mini Bear Figurine
$25.50, Buy Now!
Collectible and oh-h so cute... our Sea Mist Green Mini Bear figurines. These 2009 Fenton Gift Shop Exclusives make beary special gifts or additions to your Fenton figurine collection!
Z5151HPV6
3-1/2'' Sea Mist Green
Bear Figurine
$42.75, Buy Now!
Fenton eBay Auctions
Own a unique Fenton creation, including rare, one-of-a-kind pieces, through our weekly eBay Auctions! Items featured this week...
"Spring Forward" with New Fenton USA Mini Baskets!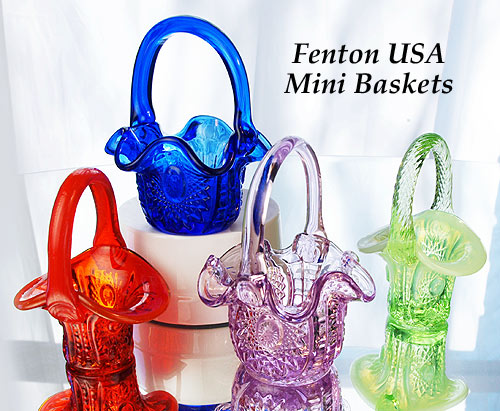 Please click on each basket image for details.
As you may have heard, no one makes baskets like Fenton! And one of the greatest challenges for our skilled basket handlers is the creation of a Fenton mini basket.
These baskets range in height from 3-3/4'' to 5'' and have the signature handler's mark on each side of the handle. The moulds for the Hobstar mini baskets shown above were purchased by Fenton from another glass company that operated a long time ago, and the patterns resemble cut glass.


Did you know?. . . It takes the same amount of teamwork and skill on the part of our glassworkers to create a Fenton mini basket as it does to make a larger one. Some handlers have even said it is more challenging because their hands are so large in comparison to the basket they are handling. Shown at right is the handler mark of Dave Vincent. To learn more about Fenton basket handlers, click here.
So "spring forward" with your new Fenton mini basket. Choose from a rainbow of colors and variety of styles in our mini basket selections. Create a unique Easter gift for a Fenton collector by filling this mini basket with small candies like jelly beans. To view more baskets, click here. Can't find it online? Contact one of our authorized Fenton dealers! To locate a Fenton dealer near you, click here.
2011 Spring Fenton Family Signing Events
Mark your calendar! We are finalizing our Spring 2011 Fenton Family Signing Events schedule. We already have several events scheduled for April. A member of the Fenton will be on hand at each event to personally sign your 2011 Spring Fenton Family Signing Event Exclusive Vase and all Fenton purchases. Click here for the schedule and be sure to check back for updates!

This beautiful 4-1/2'' American pattern vase is handcrafted in Rosalene glass and iridized for a sparkling finish. This vase will be available only at these events for $35.00 U.S.
Internet Special. . .
Lucky Shamrock Turtle!

Turtle figurine collectors and St. Patrick's Day enthusiasts will want to add this cute
figurine to their collections!

Jon Saffell developed this whimsical turtle
to delight young and old alike. Award-winning Fenton designer Robin Spindler's handpainted Shamrocks and floral accents add just the right festive touch! Handcrafted in Opal Satin glass. We'll call this turtle Lucky if he's added
to your Fenton collection! Only 30 remain
in stock, so order soon! To view all
Internet Specials, click here.


X5266HPB 4'' l. Turtle Figurine in Opal Satin
$39.50, Buy Now!
Fenton USA and QVC
Watch this newsletter for updates on our next show! Click here to visit QVC.com and view all available handcrafted pieces made exclusively for QVC! Remember, quantities may be limited on some items!
---
For questions or comments, please do not reply to this email. Instead, email: askfenton@fentonartglass.com. This email has been sent to you because you have agreed to receive offers and information from the Fenton Art Glass Company. We respect your privacy and do not sell your personal information. For details, please review our privacy policy.

How to unsubscribe: If you prefer not to receive offers or information from Fenton Art Glass, please use this page.

If you use a Challenge-Response system for email, please make certain that you can receive our email by adding askfentononline@fentonartglass.com to your Allow List. For specific instructions for major ISPs, click here.

The sender of this email is the Fenton Art Glass Co., 700 Elizabeth St., Williamstown, WV, 26187