FENTON GIFT SHOP
SPECIAL OFFERINGS!
Z5058HPA
3-1/2'' Gift Shop Exclusive
''March'' Elephant Figurine
$45.00, Buy Now!

"Herd" about our newest Gift Shop Exclusive? Third in our new monthly series, this adorable, handpainted March baby Elephant just might bring a little luck into your home.

DP013HP
4'' Happy Daffy Handpainted
Opal Satin Walking Shoe
$34.99, Buy Now!
Inspired by the American Cancer Society Daffodil Days, this beautiful design from 2006 is called Happy Daffy. The Opal Satin Walking Shoe starts is decorated in rich handpainted yellow daffodils. Limited to only 200, each piece is signed by the artist who completed it. Measures 4" l. x 2-1/4" h. The bottom has a special Fenton Relay for Life decal imprinted.
310011
5'' Handpainted Key Lime Opalescent Blown Egg
$75.00, Buy Now!

Produced as part of the Good Fortune Collection, this Key Lime Opalescent Blown Egg is a striking beauty. It is handpainted and signed by the artist who completed it. This Egg is inscribed with Shelley Fenton's signature.
Z5726HJ
5'' Key Lime Koi Fish
$29.75, Buy Now!
This Koi Fish figurine is refreshing in iridized Key Lime, a Fenton green that features both beauty and depth. Produced as a new Gift Shop Exclusive, this Koi Fish will be an outstanding addition to any collection.

Fenton eBay Auctions
Own a unique Fenton creation, including rare, one-of-a-kind pieces, through our weekly eBay Auctions! Items featured this week...
Welcome Spring with Sun Splash on Buttercup. . .
A New Collection from Fenton USA!
The soft allure of creamy Buttercup Overlay glass reminds us of the excitement of nature's awakening. Fenton designer Stacy Williams created a lovely floral design for Spring 2011, aptly named Sun Splash on Buttercup.
Buttercup glass is made with special ingredients and captures the warmth of Spring sunshine. Stacy's handpainted floral motif is both bright and fun on both Buttercup and Buttercup Overlay.
Fenton has produced overlay glass colors for more than half a century. For this collection, a core of Milk Glass is gathered and shaped by a skilled glassworker called a Blocker. Then, a layer of Buttercup glass is gathered over the Milk Glass. Our glass technologists assure that the two layers of glass will match perfectly, expanding and contracting at the same rate. As you can see, the results are beautiful! All items in this grouping are also available unadorned, so mix and match for an elegant Spring tabletop display! To view more new Spring 2011 items, click here. Can't find it online? Contact one of our authorized Fenton dealers! To locate a Fenton dealer near you, click here.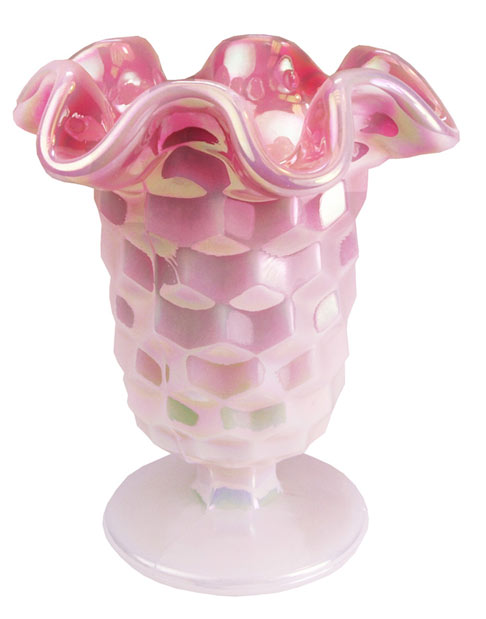 2011 Spring Fenton Family Signing Events
Mark your calendar! We are finalizing our Spring 2011 Fenton Family Signing Events schedule. Our first scheduled event is on April 9th at The Bronze Look in Princeton, WV. George Fenton will be on hand to personally sign your 2011 Spring Fenton Family Signing Event Exclusive Vase and all Fenton purchases during this event.
Our beautiful 4-1/2'' American pattern vase is handcrafted in Rosalene glass and iridized for a sparkling finish. This vase will be available only at these events for $35.00 U.S. Click here for the event schedule and be sure to check back for updates!

Fenton Internet Special. . .
An Iridescent Koi Fish!

Our skilled craftsmen have slipped back
in time to revive a signature iridescent treatment. A special spray of metallic salts creates various effects on different base glass colors. The results work perfectly with the warm colors used in today's
home decor. This 5'' Cobalt Marigold Carnival Koi Fish figurine will go swimmingly with your home decor! You'll see how the light reflects a rainbow of iridescent colors in our beautiful Cobalt Marigold Carnival glass. Only 20 remain in stock, so don't delay placing your order!


X5276HPB
5'' Koi Fish Figurine in Cobalt Marigold Carnival
$59.50, Buy Now!
To view all Internet Specials, click here.
Watch this newsletter for updates on our next show! But don't forget to visit QVC.com to view all the handcrafted Fenton USA pieces made exclusively for QVC! Remember, quantities may be limited on some items! Click here! Learn more about Fenton and QVC with this excellent reference book, Especially For QVC, available for a SPECIAL INTERNET PRICE of $24.95 postage paid. This book catalogs the history of glass produced exclusively for QVC from the first show in 1988 through August, 2002 with more than 1,350 items shown. Click here to order.

---