FENTON GIFT SHOP
SPECIAL OFFERINGS!

Z5293HP01
3-1/2'' Violet Boy Bunny
$36.50, Buy Now!

Z5293HP02
3-1/2'' Violet Girl Bunny
$36.50, Buy Now!
Our Gift Shop Exclusive Bunny Boy and Girl figurines are perfect for the young or the young at heart. Handcrafted in Violet glass, each figurine is handpainted with a cute detailed face. Bunny Boy has a blue striped shirt and Bunny Girl features a pink floral motif. The perfect gift for somebunny special.
Z5293HPLY
3-1/2'' Hyacinth Lop-Eared Bunny with Heart Design
$34.75, Buy Now!

This adorable 3-1/2" Hyacinth Lop-Eared Bunny has been handpainted with a cute heart and polka-dot design. Produced as a Gift Shop Exclusive, this is a perfect piece to introduce a young collector to the wonder Fenton Glass.
Z5293OE
3-1/2'' Violet Bunny
$18.25, Buy Now!
Perfect for the young or the young at heart, our Gift Shop Exclusive Violet Bunny makes a great addition to a Fenton figurine collection.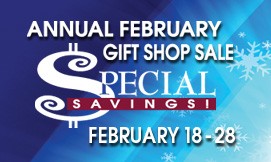 Click on the above image for details on the Gift Shop Sale!
Fenton USA Presents. . . Spring Color Splash!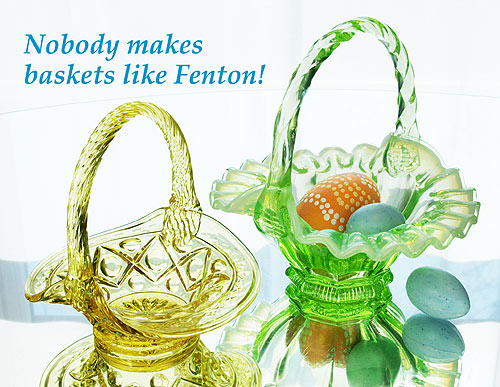 04330Y8 - 5-1/4'' Cape Cod Basket in Buttercup, $49.50, Buy Now!
04286H0 - 7'' dia. Colonial Basket in Key Lime, $65.00, Buy Now!

Fenton USA's handcrafted Spring baskets are great to use for your seasonal displays or as a very special Easter basket! Two popular colors for Spring 2011 are Buttercup and Key Lime.
Buttercup, our vibrant yellow hue, captures the warmth of sunshine and the excitement of nature's awakening. As mentioned in the February 20th newsletter: due to an increase in the cost of the rare earth mineral that creates the Buttercup color, we will curtail the production of this color once our current supply of the ingredient is gone. Our refreshing Key Lime glass features both beauty and depth and really sparkles in the light! Click here to view more Fenton baskets.

You'll have a special place for your Easter treats inside this 4-1/2'' Bunny Box, handcrafted in Buttercup glass and featuring a handpainted design by Stacy Williams. Each piece is signed by the Fenton artist who completed it.
To view more new Spring 2011 items, click here.
Can't find it online? Contact one of our authorized Fenton dealers! To locate a Fenton dealer near you, click here.

05098I9 - 4-1/2'' Bunny Box, $49.50, Buy Now!
Fenton Internet Happiness Bird
Our 6'' Happiness Bird features an uplifting design by Michelle Kibbe. Handcrafted in refreshing Key Lime glass, this Happiness Bird has been iridized with a special metallic
salts spray for a sparkling finish.

Michelle Kibbe handpainted the lovely floral motif and added a small flower on the other side of the bird as well. Each Happiness
Bird is signed by Michelle. To view all
Internet Specials, click here.
X5197HPD Key Lime Iridized Happiness Bird
$49.50, Buy Now!
---
Fenton USA and QVC
Thank you for your support during our recent QVC Shows. Watch this newsletter for updates on our next show! But don't forget to visit QVC.com to view all the handcrafted Fenton USA pieces made exclusively for QVC! Remember, quantities may be limited on some items! Click here!
---
Fenton eBay Auctions
Own a unique Fenton creation, including rare, one-of-a-kind pieces, through our weekly eBay Auctions! Items featured this week...
---