FENTON GIFT SHOP
SPECIAL OFFERINGS!

Z5151HPV6
3-1/2''Sea Mist Green Bear
$42.75, Buy Now!

Collectible and oh-h so cute ... our Sea Mist Green Bear figurine has a handpainted whimsical floral design. This Fenton Gift Shop Exclusive for 2009 makes a beary special gift or addition to your Fenton collection!
Z5228HPV
7'' Key Lime Raspberry Doll
$69.50, Buy Now!
Produced as a new Gift Shop Exclusive, this Key Lime Satin Bridesmaid Doll features a handpainted Raspberry motif. Signed by the artist, this Doll figurine is sure to be sought after for years to come. Proudly handcrafted by the artisans at Fenton.
Z5251HPE
2-3/4'' Mini Emerald Green
Bear Figurine $24.75 Buy Now!


This adorable 2-3/4" Emerald Green Mini Bear figurine features a fresh handpainted daisy design.
A 2009 Fenton Gift Shop Exclusive, this bear will make a great gift for a child or as an addition to a bear or figurine collection!
Z5056HP
3-1/2'' Lotus Mist Burmese Dinosaur Figurine
$41.75, Buy Now!

Our Lotus Mist Burmese
3-1/2'' Dinosaur figurine is enhanced with an upbeat, fun floral design. This Fenton Gift Shop Exclusive will make a dyno-mite gift!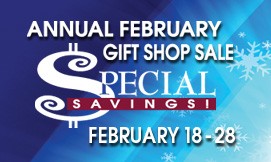 Click on the above image for details on the Gift Shop Sale!
Fenton USA Presents. . . Sun Splash on Buttercup!
Our Sun Splash on Buttercup collection for Spring is sure to brighten your day!
A vibrant yellow hue made with special ingredients, Buttercup glass captures the warmth of Spring sunshine and the excitement of nature's awakening. Fenton designer Stacy Williams' handpainted floral motif, Sun Splash on Buttercup, is both bright and fun! All items in this grouping are also available unadorned.

Collector's Note: Due to a recent five time increase in the cost of the rare earth mineral that creates the Buttercup color, we will be curtailing the production of this color once our current supply of the ingredient is gone.

To view more Buttercup selections, click here. To view new Spring 2011 items, click here. Can't find it online? Contact one of our authorized Fenton dealers! To locate a Fenton dealer near you, click here.

---
Golden Stripe. . .
from Fenton International
A flowing ribbon of gold glass splits a snowy surface that can only
be made by hand. Each handblown piece is a unique shape and texture which makes sleek silhouettes for the contemporary home.

Fenton International features artistic handcrafted gifts from around the world.
Click here for more
glass selections from
Fenton International.
---
Fenton eBay Auctions
Own a unique Fenton creation, including rare, one-of-a-kind pieces, through our weekly eBay Auctions! Items featured this week...
---