FENTON GIFT SHOP
SPECIAL OFFERINGS!

Z5292HPA
5-1/2''Opal Satin Country Rooster
$63.00, Buy Now!

Only 72 of these splendid handpainted 5-1/2" tall Rooster figurines were made, so we're pleased to offer those we have remaining in stock. These have a great "country look," using meticulous airbrushing with yellow and green. Each Rooster figurine is personally signed by the talented Fenton artist who handpainted it.


Z5145HPD
3-3/4''
Opal Iridized Rooster Egg
$41.25,
Buy Now!
Reminiscent of simple country moments, a handpainted folk art rooster scene on our Opal Iridized Egg. Produced as a Gift Shop Exclusive, this piece will be a colorful accent to your home.
DS837LG
3-1/2'' Opal Satin Farmer Bear
$45.00, Buy Now!

Free Shipping on this item!
E-I-E-I-O... Down home in the country! This adorable Opal Satin Farmer Bear figurine will make all fruits of labor seem worthwhile! Signed by the artist and inscribed with Collectors' Showcase logo on the bottom.

DS837SM
2-3/4'' Opal Satin Farmer's Daughter Bear Figurine
$35.00, Buy Now!

Free Shipping on this item! This Opal Satin Farmer's Daughter Bear figurine will be a great addition to any figurine collection! Signed by the artist and inscribed with Collectors' Showcase logo on the bottom.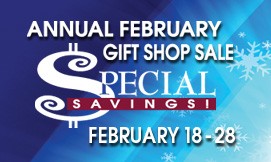 Click on the above image for details on the upcoming February Gift Shop Sale!
Fenton USA Presents. . . New Hen on Nest Boxes

05186DR
5-1/2'' Hen on Nest in Buttercup
$49.50, Buy Now!


05186E3
5-1/2'' Hen on Nest in Orange Slice
$52.50, Buy Now!
For Spring 2011, vibrant color adds a playful note to vintage glass roosters from Fenton USA. Create a unique tabletop display with our Rooster and Hen assortment featuring handpainted designs by Michelle Kibbe. Each handpainted Hen on Nest is signed by the artist who completed it. Handcrafted with historic moulds in two of
our newest colors, Buttercup
and Orange Slice, these
colorful cluckers are sure
to brighten any room!

Buttercup, a vibrant yellow made with special ingredients, captures the warmth of Spring sunshine and the excitement
of nature's awakening.

Our new Orange Slice is an
artistic color with its own personality! What we love best about Orange Slice: vibrancy and variety! The shades go from gold to orange at times, and it may look as if it has an opalescence on the finished edge.

To view more new items
from Fenton USA, click here.
Can't find it online? Contact one of our Fenton dealers! To locate
a Fenton dealer near you,
click here.
Internet Exclusive
Mortar and Pestle

Handcrafted in our jewel-toned Emerald Green glass, this mortar and pestle set really shines!

A great conversation piece! A unique gift for someone in any phase of the medical profession (nurse, druggist, doctor, dentist, etc.). Or, it's perfect for the gourmet cook in your family! Keep it in the kitchen for grinding herbs. Or, use it in the powder room (for potpourri or to store bath salts, cotton balls and small soaps).

The pestle is sanded at the larger bottom end for a satin finish. Originally made as a Special Order item, the remaining sets can now be offered to Fenton glass collectors.



DS074EA
Mortar and Pestle Set in Emerald Green glass
$45.00, Buy Now!

Mortar: 3-3/4" h. x 4-3/4 " dia. and 5-1/4" spout to back of bowl.
Pestle: approximately 1" wide and 5'' long

To view all Internet Exclusives, click here.
---
New Look for Fenton Web Site!
We recently updated the Fenton Art Glass web site with a fresh new look! As we continue to merge the old site with the new design, we would appreciate receiving your thoughts and suggestions on the new look! Send us your comments: askfenton@fentonartglass.com.
Fenton eBay Auctions
Own a unique Fenton creation, including rare, one-of-a-kind pieces, through our weekly eBay Auctions! Items featured this week...
---