FENTON GIFT SHOP
SPECIAL OFFERINGS!

Z5318HPE
3-1/4''Opal Iridized Birthstone Kitten
with Green Eyes
$29.50, Buy Now!

How adorable is this opal iridized birthstone kitten with handpainted green eyes? Produced as a new Gift Shop Exclusive with your choice of birthstone necklace. Be sure to note the birth month you want in the comment box upon checkout.
Z5065HPD
5'' Hyacinth Stylized Cat
$39.75, Buy Now!
Perfect as a gift or as an addition to an established collection. This new Gift Shop Exclusive Hyacinth Stylized Cat has a lovely handpainted floral design.

Z5165HPM
3-3/4'' Opal Iridized Sitting Cat Figurine
Fluttering Floral Design
$38.50, Buy Now!

Opal Iridized glass is the perfect canvas for the vibrant Fluttering Floral design on our most popular cat mould. Makes a purr-fect gift for special someone!
Z5039T6
4'' Robin's Egg Blue Cat
$21.50
Buy Now!

A new Gift Shop Exclusive, this cat is a must for figurine collectors or for anyone who loves cats!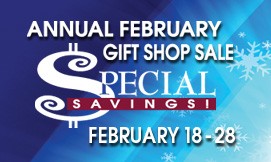 Click on the above image for details on the February Gift Shop Sale!
Fenton USA Presents. . . Floral-N-Flight on Orange Slice!
For Spring 2011, Fenton USA offers
a vibrant new color called Orange Slice,
an artistic color with its own personality!
What we love best about Orange Slice: vibrancy and variety! Shades go from gold to orange at times, and it may look as if it has
an opalescence on the finished edge.

Our Floral-n-Flight on Orange Slice
assortment features Michelle Kibbe's handpainted design of delicate flowers and dragonflies. Michelle chose the colors of Orange, Amber, Buttercream, and added a touch of Blue to enhance this lovely design. Click on each image for details or, to view more new items from Fenton USA, click here.


All handpainted Orange Slice items are available unadorned so you may mix and match for a colorful tabletop display!

Can't find it online? Contact one
of our Fenton dealers! To locate a
dealer near you, click here.
Internet Exclusive . . .
Lotus Mist Burmese Vase

Our Internet Exclusive 7'' Lotus Mist Burmese Aurora Vase is a must have for collectors of Burmese or Lotus Mist! Award-winning Fenton designer Robin Spindler has made this beautiful piece even more special with her handpainted design of lush flower blooms on the front and back (shown below) of this vase. Each vase is signed by the artist who handpainted it.



Lotus Mist Burmese was the brainchild
of George Fenton.
First produced in

2001 as a Historic Collection color, Lotus Mist Burmese features the distinctive gold-created pink blush of the our classic Burmese glass.


X7691HPB Lotus Mist Aurora Vase
Internet Exclusive Price: $89.50 Buy Now!
To view all Internet Exclusives,
click here.
---
Fenton eBay Auctions
Own a unique Fenton creation, including rare, one-of-a-kind pieces, through our weekly eBay Auctions! Items featured this week...
---
For questions or comments, please do not reply to this email. Instead, email: askfenton@fentonartglass.com. This email has been sent to you because you have agreed to receive offers and information from the Fenton Art Glass Company. We respect your privacy and do not sell your personal information. For details, please review our privacy policy.

How to unsubscribe: If you prefer not to receive offers or information from Fenton Art Glass, please use this page.

If you use a Challenge-Response system for email, please make certain that you can receive our email by adding askfentononline@fentonartglass.com to your Allow List. For specific instructions for major ISPs, click here.

The sender of this email is the Fenton Art Glass Co., 700 Elizabeth St., Williamstown, WV, 26187