FENTON GIFT SHOP
SPECIAL OFFERINGS!
There's still time to find the perfect Valentine's gift for
a Fenton Collector! View our specials below or visit www.fentonartglass.com

Z5058HPL
3-1/2'' February Elephant
$45.00, Buy Now!

Have you "herd" about our newest Gift Shop Exclusive?
The second in our new monthly series, this adorable, handpainted February baby elephant just might bring a little luck into your home.
Z5148HPT
3'' February Calendar Mouse
$37.50, Buy Now!
Don't Miss Out...Mark Your Mouse Calendar Now! Our new series of 12 handpainted mouse figurines... this one is for February. Limited in quantity and signed by the artist, this adorable creature will create quite a stir among avid Fenton figurine collectors.

Z5148HPD
3'' Rosalene Natural Mouse
$36.00, Buy Now!

Produced as a Gift Shop Exclusive, this 3" Rosalene Mouse figurine has handpainted details for a natural look. His expressive blue eyes make this little guy the perfect keepsake for that someone special!

Z5151HPRU
3-1/2'' Ruby Amberina
Bear Figurine
$38.00, Buy Now!

This adorable 3-1/2" Ruby Amberina Bear figurine is all decked out with handpainted gold bowtie and cuffs. This Bear Cub will make a great addition to any bear collection.
Fenton eBay Auctions
Own a unique Fenton creation, including rare, one-of-a-kind pieces, through our weekly eBay Auctions! Items featured this week...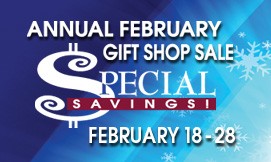 Click on the above image for details on the upcoming February Gift Shop Sale. . . Family Signing Events, Discounts and More!
Fenton USA Presents. . .Valentine's Day Gift Ideas!

04962U7
4-1/4'' Ruby Opalescent
Heart Optic Vase
$79.50, Buy Now!


05786RF
5'' dia. Lavender Satin
Treasure Box
$59.50, Buy Now!


025169T
14'' Studio Fenton Hanging Hearts Vase
by Dave Fetty, Limit: 250
$450.00, Buy Now!
You still have time to find that perfect gift for your someone special! Our new Spring 2011 line includes these special Valentine's Day offerings. Our beautiful heart-shaped Treasure Box is handcrafted in Lavender Satin glass with a handpainted design by Michelle Kibbe. Lavender contains neodymium, so pieces
will be different colors under various lighting conditions. This characteristic is called dichroic, and it makes Lavender a great conversation topic! Each handpainted Treasure Box is signed by the artist who completed it. Fill this Treasure Box with your own treasures: chocolates, jewelry or place a special message or memento inside to make this gift even more unique!

The Heart Optic looks lovely in our handcrafted Ruby Opalescent 4-1/4" vase. This vase features a graceful six-point crimp. The unique Heart Optic effect can only be achieved in handblown glassware, and skilled Fenton glassworkers have mastered the technique. The molten glass is allowed to chill briefly before being reheated, and our artisans must reply upon their eyes and experience to create the perfect result.

Hanging Hearts – an iconic Fenton design from the 1920's – is revived in this
tall elegant vase by master glass artisan Dave Fetty. Handcrafted in Robin's Egg Blue glass with hand-applied Black hearts in multiple time consuming steps. It is finished with a satin iridescence, another Fenton hallmark. Limited to 250 pieces, this dramatic 14'' Vase is included in the 2011 Studio Fenton collection. Each piece has Dave Fetty's personal stamp on the bottom.

To view more new items from Fenton USA, click here. Can't find it online? Contact one of our Fenton dealers! To locate a Fenton dealer near you, click here.

X5414HPA French Opalescent Vase
Robin Spindler Design
Internet Exclusive Price: $99.50
Buy Now!
The lovely handpainted scene on this 7'' French Opalescent Vase makes one want to take a Springtime walk in the woods. Award-winning Fenton designer Robin Spindler captures the beauty of Spring woodland blooms on this elegant vase. A limited quantity (fewer than 20) is available as an Internet Exclusive. To view all of our Internet Exclusives, click here.
Fenton USA on QVC February 8th!
Fenton Art Glass will be featured on QVC on February 8, 2011. Guest host George Fenton will present items made especially for QVC, including this 4-1/2'' Mini Basket handcrafted in our refreshing Key Lime glass. These hour-long shows will broadcast from 3:00-4:00 a.m. and from 1:00-2:00 p.m. (Eastern time). Watch these newsletters for a preview of Fenton USA items to be offered during these two shows!
New Fenton pieces made especially for a QVC show will be on QVC.com not long before the show begins to air, and may be ordered at that time and any later time until they are gone. However, purchases of new items on the day of the show are what is most watched. We appreciate the help of Fenton collectors in their support of Fenton on QVC! Click here to view items made exclusively for QVC!
---