FENTON GIFT SHOP
SPECIAL OFFERINGS!
Z6540OY
6-1/2'' Marigold Carnival
Grape Leaf Box
$79.50, Buy Now!

This 6-1/2" Fenton Gift Shop Exclusive Marigold Carnival Grape Leaf Box is sprayed with metallic salts for a vivid iridescent effect.

Z5085HPA
4'' Buttercup Satin Lab Puppy
$41.00, Buy Now!
This adorable 4" Buttercup Satin Lab Puppy figurine features a bright red neck collar. It will make a wonderful addition to your Fenton animal collection.
Z1909CK
7-1/2'' Limited Edition Founder's Chocolate Water Set
$195.00, Buy Now!
No Chocolate collection is complete without our Limited Edition Founder's Water Set. Our Gift Shop 2005 Centennial Exclusive was limited and individually numbered to 500 sets. The
7-1/2" pitcher has the stamp "F. L. Fenton - Founder 1905" as well as the signatures of his son, Frank M. Fenton, and his grandson, George Fenton. Four 4" tumblers are included.

Z5161CK
4'' Chocolate Swan
$31.25
Buy Now!

An ugly duckling transforms into a lovely, graceful Fenton Chocolate glass Swan. Produced as a Fenton Gift Shop Exclusive, each piece is unique in coloration due to the swirls in this beautiful glass.

Fenton eBay Auctions
Own a unique Fenton creation, including rare, one-of-a-kind pieces, through our weekly eBay Auctions!
Items featured this week...
Fenton USA Presents. . . Spring Color Frenzy!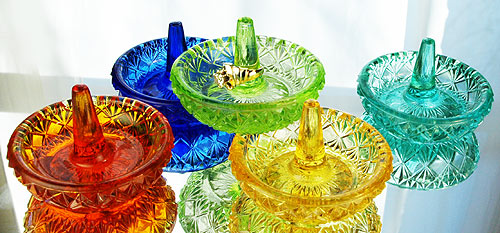 Fenton is having a color frenzy for Spring! There's no room for the ''blahs'' with these great spots of color from Fenton USA. Forever Gifts are affordable, handcrafted glass accessories in four vibrant trend colors. . . for that special Forever Gift! Perfect for an impulse gift! These 3'' Ringholders are handcrafted in four of our newer colors: Robin's Egg Blue, Key Lime, Buttercup, and Orange Slice and in Cobalt Blue (ring not included!).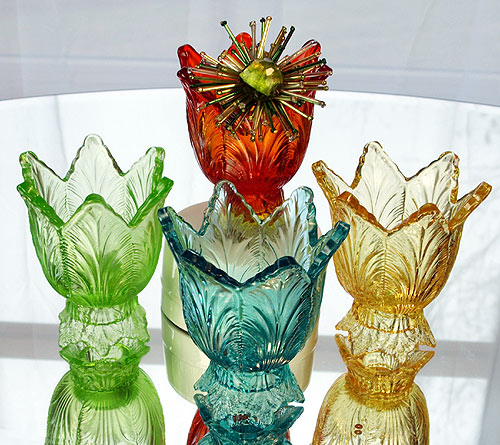 These versatile, two-way 4-1/2'' Leaf Votives are also handcrafted in four of our newer colors: Robin's Egg Blue, Key Lime, Buttercup, and Orange Slice. NOTE: The Orange Slice Votive will be available in a few weeks. Each six-panel Leaf Votive is packed with a tea light.

To view more new Spring 2011 glass items from Fenton USA, click here. Can't find it online? Contact one of our Fenton dealers! To locate a Fenton dealer near you, click here.
Fenton's Finest to be on display at Parkersburg Art Center!
Visiting in our area soon? You might want to take in an unique Art Show! The finest of Fenton Art Glass will be on display at the Parkersburg Art Center in Parkersburg, West Virginia. The show, Fenton's Finest, will run from January 21 through March 1. Included in this show will be limited edition cameo carved creations designed by Kelsey Murphy and Robert Bomkamp, as well as selections from Dave Fetty and Frank Workman. All of these pieces were handcrafted at our factory in Williamstown.
Click here for a link to the Parkersburg Art Center.
Internet Exclusive. . . Blue Lagoon Three-Piece Set
Our Internet Exclusive for this week is a three-piece grouping that is a spectacular tribute to one of our favorite creatures of the sea, the dolphin. This set includes a 6'' Swung Vase,
a 4'' Dolphin, and Topaz gems. The Swung Vase is achieved by swinging the vase while the glass is very hot. The Dolphin figurine nestled inside the vase provides the illusion of a dolphin jumping up from the waves! To view all of our Internet Exclusives, click here.

CV824JW - 3-piece Set
Swung Vase and Dolphin Figurine
in Blue Lagoon with Topaz Gems
Internet Exclusive Price: $85.00+FREE Shipping
Limited Quantity Available! Buy Now!
Fenton USA on QVC in February, 2011!
Fenton Art Glass will be featured on QVC on February 8, 2011.
Guest host George Fenton will present items made especially for QVC, including this charming Mini Bell, handcrafted in our new Orange Slice color. The two hour-long shows will broadcast from 3:00-4:00 a.m. and 1:00-2:00 p.m. (Eastern time). Watch these newsletters for a preview of Fenton USA items to be offered during these two shows!
New Fenton pieces made especially for a show will be on QVC.com
not long before the show begins to air, and may be ordered at that time and any later time until they are gone. However, purchases of new items on the day of the show are what is most watched. We appreciate the help of Fenton collectors in their support of Fenton on QVC! Click here to view Fenton items made exclusively for QVC!
---