FENTON GIFT SHOP
SPECIAL OFFERINGS!
Z5151HPE
3-1/2'' Lavender Satin Bear
$37.25, Buy Now!

Produced as a Fenton Gift Shop Exclusive, this Bear figurine features the Fluttering Florals on Lavender design by Michelle Kibbe. You can see why
we called these pieces Fluttering Florals. . .because the flower petals resemble delicate butterfly wings!

Z51511G
3-1/2'' Frank Workman
Multi-Colored Frit
Handblown Bear
$150.00, Buy Now!
Glass artisan Frank Workman used multi-colored frit to make these fabulous blown Bears with the mould for our popular Birthstone Bear. No two of these great Bears will be exactly alike, but each is a unique beauty! Frank's personal stamp is embossed on the underside, and only a few of these remain available, so don't miss out.
260041
4-1/2'' Dave Fetty
Lotus Mist Burmese Egg
Originally $75.00, Now $52.50
Buy Now!
This shiny Lotus Mist Burmese Egg (4.5" tall) was created by master glass artisan Dave Fetty. It's embossed with Dave's personal stamp, and personally signed by Dave, too ("Dave Fetty 2004").
130003
7'' Sea Mist Green Bear
Figurine on a Fount
Originally $90.00, Now $50.00
Buy Now!

Fenton animal figurines are made by a special process called "pressing through a fount." After the glass has been annealed and cooled to room temperature, the fount is cut off with a diamond saw and recycled, and the animal figurine is ground and polished. Many collectors enjoy having animal figurines on the fount, so we try to obtain
a few perfect examples.
An example like this one. . . perfect from top to bottom
. . . is a real treasure!

Fenton eBay Auctions
Own a unique Fenton creation, including rare, one-of-a-kind pieces, through our weekly eBay Auctions! Items featured this week...
Fenton USA Presents. . . Studio Art Glass Creations

02509DO
6'' Lavender Haze Vase in
Lavender Opaque and Black Vase
by Dave Fetty
$395.00 - Limited to 250


02545B6
11-3/4'' Water's Edge Vase
in Robin's Egg Blue Opalescent
by Frank Workman
$375.00 - Limited to 250
Two of our Fenton
glass artisans,
Dave Fetty and Frank Workman, continue to awe Fenton factory visitors with their skill and talent. Their beautiful creations are included in our most recent Studio Art Glass collection.
The magnificent 6''
Studio Art Glass Vase by master glass artisan Dave Fetty is called Lavender Haze. Dave revisited one of his favorite off-hand decorative techniques, Pulled Feather, which
he learned when working with Robert Barber in the mid-1970s. Milk Glass and our new opaque Lavender provide the perfect background for the hand-applied threading that is transformed into "feathers" with special tools in Dave's skilled hands. This technique requires both sharp eyes and steady hands to create the desired effect. This vase is limited to 250 pieces and has Dave's personal stamp on the bottom. To learn more about Dave Fetty, click here.
The majestic 11-3/4'' Studio Art Glass Vase, called Water's Edge, was created by
Frank Workman. Looking at this vase, you can almost feel the gently moving waves
as you run your hand through the water. Starting with Robin's Egg Blue glass, Frank developed special techniques to create the final look. After applying rope-like threading, made of Milk Glass that has been rolled in golden brown frit, Frank uses a rib optic mould. After reheating the body of the vase, Frank deftly rotates the glass with stops and starts and reverse motion to achieve the remarkable twisting pattern and color distribution you see here. He makes it look easy when we watch him work, but this technique is very difficult, indeed, and few glassmakers in the world can match Frank's skill in this regard. This Vase is limited to 250 pieces with Frank's personal stamp on the bottom. To learn more about Frank Workman, click here.
To view more new items from Fenton USA, click here. Can't find it online? Contact one of our Fenton dealers! To locate a Fenton dealer near you, click here.
Fenton's Finest to be on display at Parkersburg Art Center!
Visiting in our area soon? You might want to take in an unique Art Show! The finest of Fenton Art Glass will be on display at the Parkersburg Art Center in Parkersburg, West Virginia. The show, Fenton's Finest, will run from January 21 through March 1. Included in this show will be limited edition cameo carved creations designed by Kelsey Murphy and Robert Bomkamp, as well as selections from Dave Fetty and Frank Workman. All of these pieces were handcrafted at our factory in Williamstown. Click here for a link to the Art Center. More information on the show will follow in Thursday's newsletter.
Internet Exclusive. . . Lotus Mist Burmese Mini Pitcher

XV840HPC 4-3/4'' Lotus Mist Burmese Mini Pitcher
Internet Exclusive Price: $99.50 Limited Quantity Available!
Buy Now!
Our Internet Exclusive Lotus Mist Burmese Mini Pitcher is a must have
for Burmese or Lotus Mist glass collectors! Award-winning Fenton designer Robin Spindler made this piece even more special with lovely handpainted anemone blooms. Each Lotus Mist Mini Pitcher is signed by the artist who handpainted it. To view all of our Internet Exclusives, click here.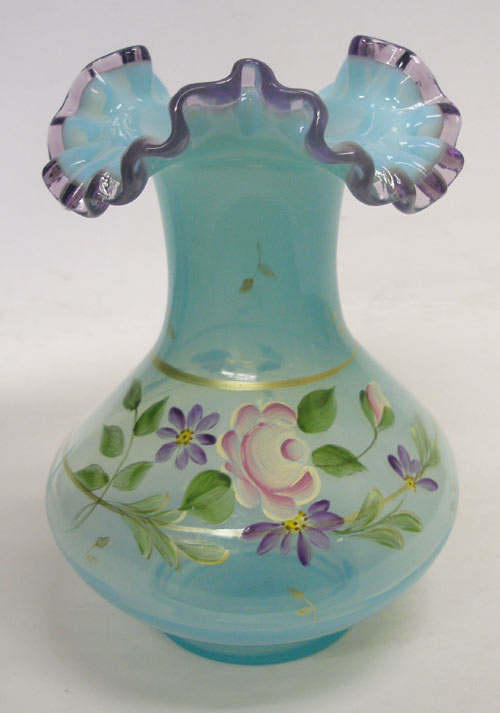 Fenton USA on QVC in February, 2011!
Fenton Art Glass will be featured on QVC on February 8, 2011.
Guest host George Fenton will present items made especially
for QVC, including this lovely Robin's Egg Blue Vase which will
be inscribed with the signatures of George Fenton and
Nancy Fenton. The two hour-long shows will broadcast from 3:00-4:00 a.m. and 1:00-2:00 p.m. (Eastern time). Watch these newsletters for a preview of Fenton USA items to be offered during these two shows!
New Fenton pieces made especially for a show will be on QVC.com not long before the show begins to air, and may be ordered at that time and any later time until they are gone. However, purchases of new items on the day of the show are what is most watched. We appreciate the help of Fenton collectors in their support of Fenton on QVC! Click here to view Fenton items made exclusively for QVC!
---