FENTON GIFT SHOP
$ave 20%
on these Pear
Ceramic Offerings!
Click here to view more Pear selections and other fine ceramic collections!
Much loved gallery designers Romy and Clare have brought their signature Pear design to Fenton International's ceramic line. Sophisticated styling in handmade accessories. Imported.
GS80041
10-1/2'' Dinner Plate
Originally $15.00, Now $12.00
Buy Now!

Our 10-1/2'' Dinner Plate in Pear by Romy and Clare is black ceramic with a green Pear design.

GS80084
15'' long Oval Platter
Originally $49.50, Now $39.60
Buy Now!
Our 15'' Oval Platter in Pear by Romy and Clare features a Green Pear design with darker green dots on the platter edges.

GS80054
2-Pc. Set, Nested Long Platters
(18'' and 24'')
Originally $69.50, Now $55.60
Buy Now!
Our Nested Long Platter Set in Pear by Romy and Clare includes two platters, a black 24'' long platter with green Pear design and an 18'' green platter with
a black and white Harlequin design inside.

9'' Tall Teapot
Originally $27.50, Now $22.00
Buy Now!
Our 9'' Tall Teapot in Pear by Romy and Clare is Black with a Green Pear design. The handle and spout are green with darker green polka dots and the lid features a black and white Harlequin design.
Fenton Gift Shop
Patriotic Gift Exclusives!

Z5228HPAB
7'' Cobalt Blue Patriotic Butterflies Bridesmaid Doll, $54.50

Z5145HPC
3-3/4'' Opal Iridized
American Flag Egg, $38.50
Fenton USA Salutes Our Veterans. . .
Past and Present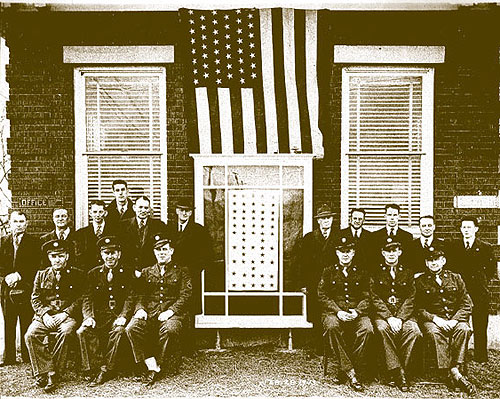 The above photo was taken in front of the Fenton Art Glass factory office in the early 1940s.
The seated men in uniform were employees who were serving in the military during World War II. Frank M. Fenton is the very tall man standing in the back row on the left. His father, company founder Frank L. Fenton, wearing a hat, is in the second row at the right, next to the Service Stars display. Some of these gentlemen have family members working at the Fenton factory today.
November 11 serves as a day to honor living veterans for their service to this country and to remember the sacrifice of the many soldiers who have given their lives in the service of our country. It is both a Federal legal holiday and a state holiday in all 50 U.S. states.

In Canada, Australia, New Zealand, South Africa, and much of Europe, November 11 is celebrated as Remembrance Day. The United Kingdom honors its war veterans the second Sunday of November, Remembrance Sunday.

Quite a few retired and current Fenton employees have served in our nation's military. Some of our current employees have sons or daughters who have been deployed to one of the areas of conflict around the world or are now stationed on military bases in the U.S. or abroad. We salute them all and thank them for their service to our country.

A Veteran's Day Internet Special. . .
$5.00 Shipping on Fenton Lamps!
Nobody does lamps like Fenton! Beautiful lamps in a wide variety of colors and decorations can be found in today's Fenton line. Most recently, lamps have been
an important part of our limited edition collections and other groupings. Each Fenton lamp is mouth blown by
a skilled craftsman in our 105-year-old factory. Decorated shades are handpainted by talented Fenton artists who proudly sign each completed piece.
Our Opal Satin 20-1/2'' Student Lamp shown at right features a delightful handpainted scene, designed by
Stacy Williams, of two children fishing. Sure to be a conversation starter about the good ole days! So be sure to take advantage of our $5.00 shipping special and light up someone's life with a Fenton lamp this holiday season! To view more Fenton lamps,
click here. Can't find it online? Please contact one of our Fenton dealers! To locate a Fenton dealer near you, click here.
02141LS 20-1/2'' Opal Satin Lamp with Stacy Williams design, $289.00


Internet Special. . . Opal Satin Fawn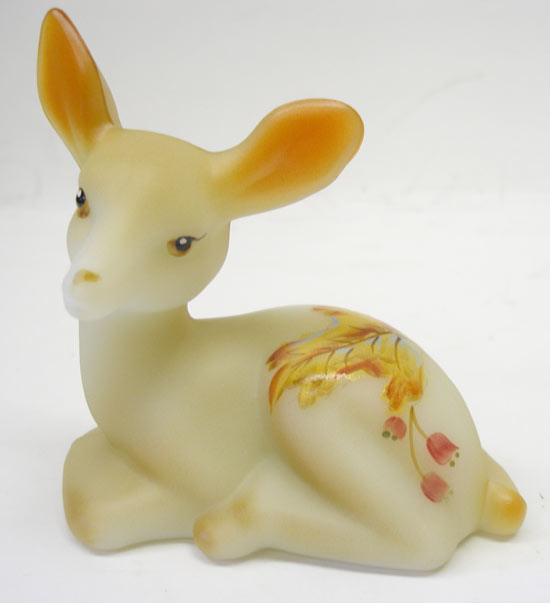 Figurine
Our Fawn figurine is the perfect accent piece for your Autumn display. Handcrafted in Opal Satin glass, this
3-1/2" Fawn figurine features a seasonal handpainted design by Michelle Kibbe. The figurine is blushed with Persimmon paint and then handpainted with gold and beige colors in a seasonal leaf design. You'll not be able to resist those doe-like handpainted eyes!

Click on the ware number or image to order or click here to view all our current Internet Specials. Don't delay! Quantities are very limited! Free shipping while supplies last!
C5160DA 3-1/2'' Opal Satin Fawn Figurine, $32.50 and Free Shipping!
Never before have we created a piece of Fenton glass this magnificent . . . with artistry and craftsmanship of the highest level . . . now offered to select Fenton collectors. . . the Artistry Vase.
Designed by Kelsey Murphy and Robert Bomkamp, the exquisite shading and details on the Artistry vase are achieved through advanced cameo carving techniques developed by Kelsey and Robert over many years. Distinct stages of cameo carving create the remarkable perspective, variety of depth, meticulous details and delicate shading. These stages are demanding, and the cameo carver must posses artistic talent and keen eyes as well as great dexterity and stamina. Each time you look upon your Artistry vase, you'll discover dramatic details and subtle shading. You'll marvel at the perspective and depth inherent in cameo carved art glass. This special vase is strictly limited to 250 numbered pieces. Click here to find out more about our special Artistry Vase or visit www.fentonartglass.com
---
Fenton eBay Auctions
Own a unique Fenton creation, including rare, one-of-a-kind pieces, through our weekly eBay Auctions! Items featured this week...
---
Fenton Family 2010 Fall Signing Event
George and Nancy Fenton will personally sign your Signing Event Exclusive Rosalene Basket and all your Fenton purchases during two special events on Saturday, November 20. These events will be held in Buena Park and Hesperia, California. Click here for details on these special Family Signing Events!


Rosalene Basket - $49.50
Click here to see
how it's made!