FENTON GIFT SHOP
$ave 20%
on these Pear
Ceramic Offerings!
Click here to view more Pear selections and other fine ceramic collections!
Much loved gallery designers Romy and Clare have brought their signature Pear design to Fenton. Sophisticated styling in handmade accessories. Imported.
GS80043
Pear design 8-1/2'' Salad Plate
Originally $12.00, Now $9.60
Buy Now!

GS80044
Pear design
10-1/4'' Water Pitcher
Originally $49.50, Now $39.60
Buy Now!

GS80086
Pear design 5'' long Spreaders
Four-piece Set
Originally $23.50, Now $18.80
Buy Now!

GS80068
Two-Pc. Pear design
Square Bowl Set
12'' diameter and 8'' diameter
Originally $69.00, Now $55.20
Buy Now!
Experience Glassmaking...
as a student at the Fenton Glassmaking Night School on Friday, November 12 from
5-9 p.m. You'll gain a new appreciation of the technique and skill required to create a unique handcrafted work of glass art! Under the guiding hands of our skilled artisans, students will create their very own glass piece to take home! Click here for details.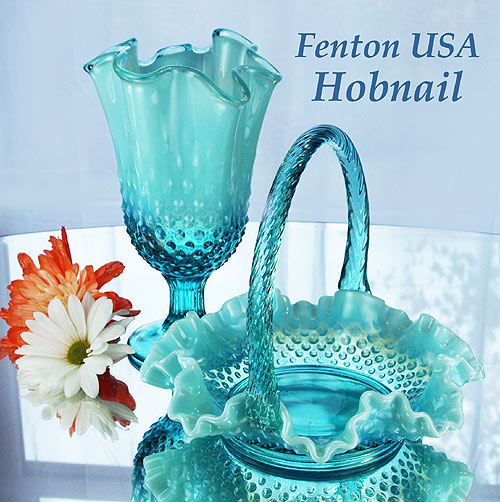 Fenton USA Presents . . .
Special $avings on Opalescent Hobnail!

Daylight Savings Time has ended, but we're offering you another savings! Receive special savings on
our Opalescent
Hobnail glass.
For Fall 2010,we
are offering two Hobnail groupings, handcrafted in cool, striking Robin's Egg Blue or select items handcrafted in our popular French Opalescent.
Hobnail, one of the best known and collected Fenton patterns, has been in and out of the Fenton line since the late 1930s. Many collectors recall memories of Hobnail collections belonging to their parents or grandparents. By the early 1940s, company president Frank L. Fenton created the fledgling No. 389 Hobnail line, which included numerous items. Throughout the years, new items have been added to our Hobnail line. We're proud to present these new pieces in Robin's Egg Blue and French Opalescent. . . sure to join the list of collector favorites.

To view more Hobnail and other new items from our Fall 2010 line, click here. Can't find it online? Please contact one of our Fenton dealers! To locate a Fenton dealer near you, click here.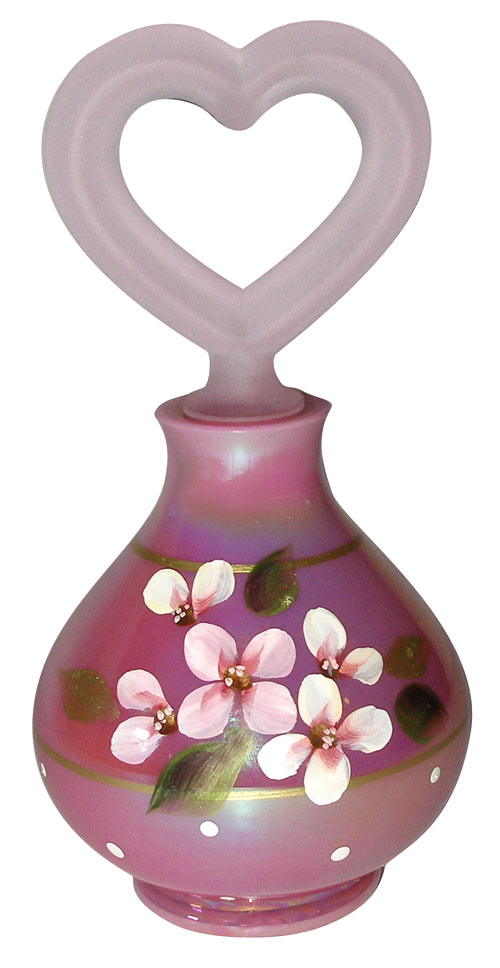 CV837NJ - Raspberry Opalescent
Perfume Bottle
Internet Special - $70.00
FREE Shipping while supplies last!
Internet Special. . .
Heart-shaped Perfume Bottle
Win your way to the heart of someone special with this beautiful 6'' Perfume Bottle. Handcrafted in Raspberry Opalescent glass and iridized for added sparkle, this perfume bottle will add a touch of elegance to any dressing table! Kim Barley's handpainted design features hydrangeas with white dots and golden band accents around the bottle.

The heart-shaped stopper, handcrafted with a satin finish, was designed in 1993 by Cathy Parochio Butler. The perfume bottle is a mould we acquired from Indiana Glass Company.

Click on the ware number or image to order or
click here to view all our current Internet Specials. Don't delay! Quantities are very limited!

---
Fenton Family 2010 Fall Signing Event
George and Nancy Fenton will personally sign your Signing Event Exclusive Rosalene Basket and all Fenton purchases during two special events on Saturday, November 20. These events will be held
in Buena Park and Hesperia, California.
Click here for details on these special events.


Rosalene Basket - $49.5
Click here to see
how it's made!
---
Fenton eBay Auctions
Own a unique Fenton creation, including rare, one-of-a-kind pieces, through our weekly eBay Auctions! Items featured this week...
---