FENTON GIFT SHOP
Save 30%
on these As Seen on TV offerings! Click here
to view more selections!

C5299ZJ
8'' Sea Mist Green Santa Figurine
Originally $$70.00, Now $49.00
Buy Now!

Our popular Santa, handcrafted in Sea Mist Green, has been handpainted with a traditional decoration. This piece is a perfect addition to any Christmas collection!

310009
12'' Daisy and Button
Blue Lagoon Bowl
Originally $69.00, Now $48.30
Buy Now!

This historic Daisy and Button pattern Blue Lagoon Bowl will grace any table and become a family decorating tradition. A wonderful utilitarian treasure to use now and hand down to new generations with love and pride.
CV58807
7'' French Opalescent Pitcher
Originally $99.75, Now $69.83
Buy Now!

Our French Opalescent Spiral Optic Pitcher has a Celeste Blue edge and a straight ribbed handle. . . the design is like a breath of Spring. The handpainted design, by talented Fenton artists, features a white flower motif with blue and violet accents.
C975466
6-1/2'' Lavender Opaline Vase
Originally $63.00, Now $44.10
Buy Now!
French Opalescent glass has been covered with a layer of Violet glass to create a lovely Lavender Opaline color. This
6-1/2'' Caprice Vase features
a double crimp and the embossed bow has been handpainted in a plaid pattern of pink, yellow and green.

Experience Glassmaking...
as a student at the Fenton Glassmaking Night School on Friday, November 12 from
5-9 p.m. Gain a new appreciation of the technique and skill required to create a unique handcrafted work of glass art! Under the guiding hands of our skilled artisans, students will create their very own glass piece to take home! Click here for details.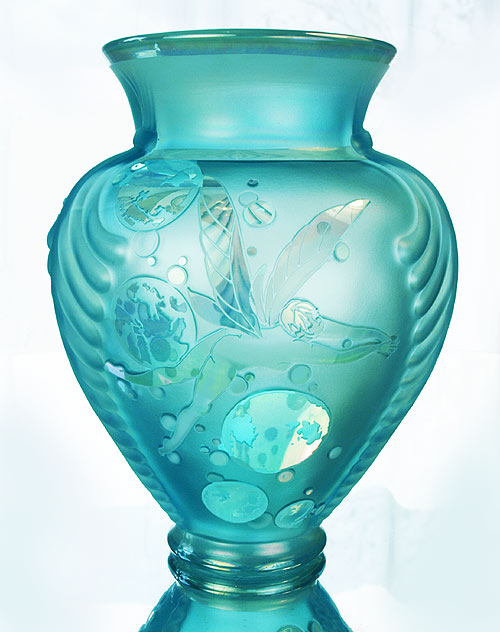 Fenton USA Presents . . . Bubble Magic!
Included in our 2010 Cameo Gallery
Collection, this whimsical cameo carved vase is handcrafted in cool, striking Robin's Egg Blue glass which has been beautifully iridized. This intricate design, created by cameo artists Kelsey Murphy and Robert Bomkamp, features a trio of lovely fairies at play.

The lead fairy has successfully perched herself atop a large bubble and sails gleefully through a cloud of bubbles. Meanwhile, her sister flits about seeking a bubble of her own as a third, more introspective fairy, contemplates her options before making her final selection. This is a charming acquisition with which to start collecting or to expand an existing cameo collection.

Cameo carving is a painstaking process. After the glass has been annealed, a special mask is taped to the surface of the glass. Using an advanced vignetting technique, each piece is carefully sandcarved, by hand, using aluminum oxide crystals under pressure to take away some of the surface. Great individual skill and experience are needed to control this operation, as many distinct stages of successive cameo carving are required to create the remarkable depth and the intricate details.
02756CJM
9-1/2'' Cameo Carved Bubble Magic
Feather Vase
in Robin's Egg Blue Opalescent

Limited to 75 pieces

Design by Kelsey Murphy
and Robert Bomkamp

$790.00
To learn more about Kelsey Murphy and Robert Bomkamp, click here. To view more
cameo carved creations, click here. To find out about our special Artistry Vase designed by Kelsey and Robert, click here or visit www.fentonartglass.com. Can't find it online? Please contact one of our Fenton dealers! To locate a Fenton dealer near you, click here.

Internet Special. . . Hobnail Salt & Pepper Set

C3609BW - Free Shipping on this set!
3-1/2'' Hobnail Salt & Pepper Set - $35.00
This Salt & Pepper Set is handcrafted in our popular Hobnail pattern. The Salt is made of Milk Glass and the Pepper is made of Black Glass. The tops are chrome plated zinc. Hobnail is one of the best known and collected of Fenton patterns. Hobnail has been in and out of the Fenton line since the late 1930s. The black
and white combination goes back to the 1960s. Perfect gift for weddings, a housewarming, host/hostess gift, or a great addition to a Hobnail collection! Click
on the ware number or image to order or click here to view all our current Internet Specials. Don't delay! Quantities are very limited!
---
Fenton Family 2010
Fall Signing Event
Shelley Fenton Ash will personally sign your Signing Event Exclusive Rosalene Basket and all Fenton purchases during this special event on November 7 to be held at Rider's Pharmacy in Fairmont, West Virginia.
Click here for details and the Signing Event schedule. Right: 2010 Family Signing Event Exclusive Basket; Click here to see how it's made!
---
Fenton eBay Auctions
Own a unique Fenton creation, including rare, one-of-a-kind pieces, through our weekly eBay Auctions! Items featured this week...
---