FENTON GIFT SHOP
SPECIAL OFFERINGS

280002
5''Mulberry Vase
$40.50, Buy Now!

Mulberry glass has always been popular with our collectors. Handpainted with an attractive metallic floral design this Gift Shop Exclusive Vase will be a nice addition to any collection.

A5064HP1
3-1/2'' Violet Sleeping Kitten Figurine, $23.75, Buy Now!

Lovely translucent Violet glass, handpainted with a white floral design, makes this kitten a real Sleeping Beauty. Don't miss adding this Gift Shop Exclusive to your collection.
220012
13'' Aubergine Vase
$149.50, Buy Now!
This 13" elegant Aubergine Vase features beautiful handpainted florals that will be a standout in your Fenton collection. This large vase is sure to attract the attention of guests who see it on display in your home.
Z9262IP
6-1/4'' Plum Opalescent Iridized Rose Pattern Bell
$37.25, Buy Now!
Here's a real bell ringer of an item in iridized Plum Opalescent glass! Our Rose pattern 6-1/4" bell is beautifully crimped and iridized with a spray of metallic salts to create a most vivid effect. Produced as a 2008 Fenton Gift Shop Exclusive.
Experience Glassmaking...
as a student at the Fenton Glassmaking School on Friday, November 12 from 5 p.m. until 9 p.m. You'll gain a new appreciation of the technique and skill required to create a unique handcrafted work of glass art! Under the guiding hands of our skilled artisans, students will create their very own glass piece to take home! Click here for details.
Fenton eBay Auctions
Own a unique Fenton creation, including rare, one-of-a-kind pieces, through our weekly eBay Auctions! Items featured this week...
02141IG
20-1/2'' Violet Overlay Student Lamp
$289.00
Fenton USA Presents . . .
Handcrafted Student Lamp
in Violet Overlay

Our 2010 Fall Lamp Special includes this Violet Overlay 20-1/2'' tall Student Lamp
with a beautiful handpainted design by
Kim Barley. Violet continues to be a desirable color for home decor. This warm color emits high energy when displayed in natural light or warm synthetic light.

Fenton has produced overlay colors for more than half a century. Typically, a core of Milk Glass is gathered and shaped by a skilled glassworker called a blocker. Then,
a layer of colored glass is gathered over the Milk Glass. Our glass technologists assure us that the two layers of glass will match perfectly, expanding and contracting at the same time.
As you can see, the results using Violet with Milk Glass are beautiful to behold! The lamp shade measures 7'' diameter and has a six-point crimp and a 10'' tall chimney comes with each lamp. Each handpainted shade is signed by the talented Fenton decorator who completed it. The antique brass plated lamp base is made in the USA.
Each handcrafted Fenton lamp is created
in the fiery furnaces of our factory in Williamstown, West Virginia. Using traditional American glassmaking techniques
and tools, our talented craftsmen transform sand, soda ash and lime into beautiful works of art for generations to enjoy. Each Fenton lamp reflects the history and craftsmanship inherent in its creation. To view more of our Fall Lamp Specials,
click here. Can't find it online? Please contact one of our Fenton dealers! To locate a Fenton dealer near you, click here.
Fenton's American Christmas Tree . . .
05556NT
4'' Jolly Green Tree (NEW color!)
with Birdhouse accent - $29.50

05535NP
6-1/2'' Robin's Egg Blue Tree
with Birdhouse accent - $39.50

05563NN
7'' Pink Tree with glitter
$45.00
Our jewel-toned pines are back for 2010 with sparkling new coats! Some of our trees are graced with glitter to catch the festive notes of the holiday season.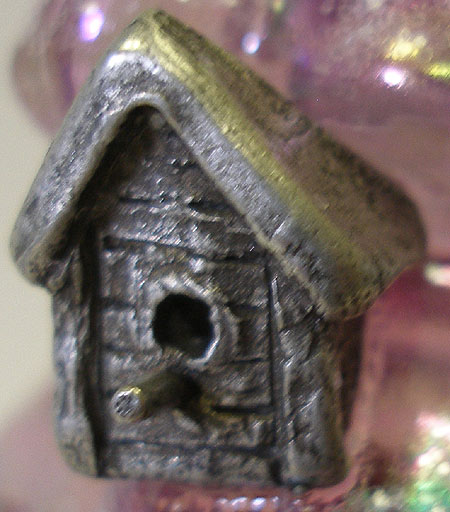 For 2010 we also added a birdhouse accent to some of the trees, a practice that started in the 1990s of placing a small novelty item on the tree. The birdhouse is solid pewter with incredible detail including a perch for the bird! Sculpted by Fenton designer Stacy Williams, the birdhouse is made by Cathedral Art Metal company, a well-known company in the gift industry.

Mix and match the rainbow of colors and sizes (4'', 6-1/2'' and 7'') to create your own shimmering Fenton Christmas tree display! Click on each image for details or click here to view Fenton USA's Christmas 2010 items. To view our full 2010 glass line, click here.

Fenton Family 2010 Fall Signing Events
A Fenton family member will personally sign your Fenton Family Signing Event Exclusive and all Fenton purchases during these special events.

Our next Fenton Family Signing Events will be held October 30-31
in New Hampshire. Shop early for Fenton for the holidays and meet Mike Fenton at these two dealer locations: The Glass Cottage in Alton and the Hedge House in Dublin. Click here for details and Event schedule.


2010 Family Signing Event Exclusive 6'' Rosalene Basket available only at Fenton Family Signing Events for $49.50.
Click here to see how it's made!
---