FENTON GIFT SHOP
SPECIAL OFFERINGS
Christmas Lights Puppy
$38.50, Buy Now!

Somebody's been caught playing in the Christmas lights! This adorable Opal Satin Puppy figurine was produced as a Fenton Gift Shop Exclusive for 2009.
Z5160HPEA
3-1/2'' Emerald Green Fawn
$35.25, Buy Now!

Give a gift that is sure to be treasured. This Fenton Gift Shop Exclusive Fawn figurine is handcrafted in Emerald Green glass and features a handpainted metallic Holly design.
Z5145HPE
3-3/4'' Winter Aura
Egg on a Stand
$47.00, Buy Now!
The handpainted Winter Aura design by Michelle Kibbe graces this Gift Shop Exclusive Egg on a Stand. Fenton eggs have always been popular and this piece will be a great addition
to your collection.
GS394HP
3-1/4'' Merry Christmas
Ruby Mini Bell
$37.00, Buy Now!
A simple Merry Christmas
and pine cone design is handpainted on this Ruby
glass miniature ornament Bell. Produced exclusively for the Fenton Gift Shop.
Fenton eBay Auctions
Own a unique Fenton creation, including rare, one-of-a-kind pieces, through our weekly eBay Auctions!
Items featured this week...
Fenton USA
Presents . . .
Bethlehem on Ruby

The rich beauty of Ruby glass
is enhanced in this new Limited Edition collection for Christmas 2010. Fenton designer Michelle Kibbe's Bethlehem on Ruby scene features glitter accents which add a touch of elegance and sparkle to each piece.

This three-piece grouping includes a Fairy Light, Bell
and Ornament. The Fairy Light comes packed with a tea light and the Ornament includes a white ribbon suitable for hanging. Each handcrafted piece is signed by the artist who completed it.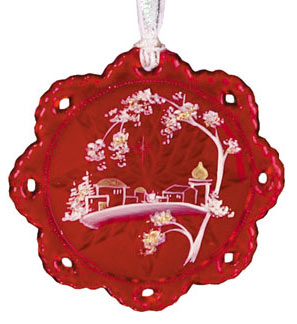 Get a jump on your holiday gift list! For Christmas 2010, Fenton USA offers everything from bells and fairy lights to ornaments and vases, all in a rainbow of seasonal colors and designs. To view more items for Christmas, click here. Can't find it online? Please contact one of our Fenton dealers! To locate a Fenton dealer near you, click here.
01714RQ - 3-1/2'' Ruby Ornament, $39.50, Buy Now!
Fenton Family 2010 Fall Signing Events
Fenton family members will personally sign your Fenton Family Signing Event Exclusive and all Fenton purchases during these special events. Click here for the complete Event schedule.

| | | |
| --- | --- | --- |
| | Our next Fenton Family Signing Events will be held October 15-19. Stop in and meet members of the Fenton family in Indiana and Pennsylvania. | |


2010 Family Signing Event Exclusive 6'' Rosalene Basket available only at
Fenton Family Signing
Events for $49.50.
Click here to see
how it's made!
Fenton USA on QVC on October 20th!
Handcrafted glass from Fenton USA will be offered on QVC on Wednesday, October 20th, from 6-7 a.m. (Eastern Time). George Fenton will appear as guest host. Included in the show will be this adorable handpainted Squirrel figurine. Watch for preview of all of the items in an upcoming newsletter. Click here to learn more about QVC and Fenton USA. Click here for a great QVC and Fenton reference book. To view other Fenton Art Glass items available from QVC, click here.
---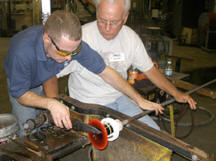 Experience Glassmaking...
as a student at the Fenton Glassmaking School on Friday, November 12 from 5 p.m. until 9 p.m. You'll gain a new appreciation of the technique and skill required to create a unique handcrafted work of glass art! Under the guiding hands of our skilled artisans, students will create their very own piece of glass to take home! Click here for details.

---