FENTON GIFT SHOP
SPECIAL OFFERINGS

X5403HP4N
3-3/4'' Aquamarine Opalescent Covered Box
Originally $69.50, Now $52.00
Buy Now!
Perfect for storing life's littlest treasures! The beautiful handpainted spring daisies
are the perfect design for this Aquamarine Opalescent box.
05066WB
4-1/2'' Stargazer Butterfly on French Opalescent Hummingbird
Originally $35.00, Now $26.00
Buy Now!
Inspired by Stargazer Lilies, Robin Spindler created a
flowing design with a butterfly on a sky of French Opalescent Iridized Satin glass.
300034
6'' Aubergine Vase
Originally $38.25, Now $24.75
Buy Now!
This 6'' Vase, handcrafted in our elegant Aubergine glass, will look lovely displayed with your favorite array of flowers.

C6390I7
3'' Milk Glass Shellflower
Trinket Box
Originally $58.50, Now $40.00
Buy Now!

This intricate 3" Milk Glass Trinket Box is a mold acquired from Indiana Glass. The raised petals entwined with the handpainted daisies make this
a lovely keepsake for any Fenton collector.

Experience Glassmaking
. . . as a student at the Fenton Glassmaking School on Friday, November 12 from 5 p.m.
until 9 p.m. Gain a new appreciation of the technique and skill required to create a unique handcrafted work of glass art and create your very own piece of glass to take home! Click here for details.
01809KO Cobalt and French Opalescent
16-1/2'' Daisy & Fern Handkerchief Lamp
$269.00, Buy Now!
Fenton USA Presents . . .
2010 Fall Lamp Special!
Nobody does lamps like Fenton Art Glass!
Our 2010 Fall Lamp Special includes this beautiful 16-1/2'' Daisy and Fern Handkerchief Lamp, handcrafted in Cobalt and French Opalescent glass.

Each handcrafted Fenton lamp is created
in the fiery furnaces of our factory in Williamstown, West Virginia. Using traditional American glassmaking techniques and tools, our talented craftsmen transform sand, soda ash and lime into beautiful works of art for generations to enjoy. Each Fenton lamp reflects the history and craftsmanship
inherent in its creation.

This Cobalt and French Opalescent lamp is sure to cast a soft warm glow in any room of your home. There are more than 60 different Blues in the Fenton product line. Cobalt creates a dark blue and copper imparts a light blue. In combination with each other or with additional coloring agents, cobalt and copper are used for almost all of our blue colors.

To view more lamps, click here. Can't find it online? Please contact one of our Fenton dealers! To locate a Fenton dealer near you, click here.
08100A0
7-1/2'' Guest Set
Floral Fantasy on Ruby
Limited: 250 Sets
Nancy Fenton signature
$199.00, Buy Now
Internet Exclusive Ruby Glass
Guest Set from Fenton USA!
Our rich Ruby glass provides the perfect canvas for Kim Barley's fresh and evocative Floral Fantasy on Ruby design on this Guest Set. The pitcher has a fine rib crystal handle. The glass tumbler fits snugly in the top
of the pitcher. . . simply remove to use! Kim's floral design features vibrant colors and exquisite forms.
Each pitcher is signed by the artist who handpainted it. Limited to 250 Sets. We now have only three sets left, and each has Nancy Fenton's personal signature on the bottom of the pitcher. NOTE: Now 1 set remains!
Internet Exclusives and Special Offers are very limited quantity items available while supplies last. To view other Internet Exclusives, click here.
---
Fenton Family 2010 Fall Signing Events
Fenton family members will personally sign your Fenton Family Signing Event Exclusive and all Fenton purchases during these special events. Click here for the complete schedule.

The next Fenton Family Signing Events are this weekend (Oct. 9-10)! Stop in and meet members
of the Fenton family in Michigan, New York and West Virginia!


2010 Family Signing Event Exclusive 6'' Rosalene Basket available only at Fenton Family Signing Eventsfor $49.50.
Click here to see
how it's made!
---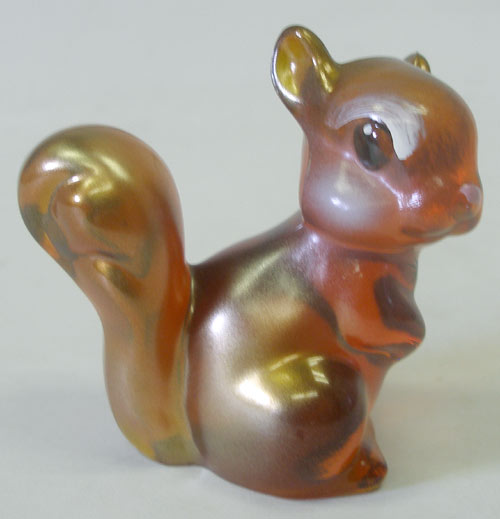 Fenton USA on QVC on October 20th!
Handcrafted glass from Fenton USA will be offered on QVC on Wednesday, October 20th, from 6-7 a.m. (Eastern Time).
George Fenton will appear as guest host. Included in the show will be this handpainted Squirrel figurine. Watch for preview of all of
the items in an upcoming newsletter. Click here to learn more
about QVC and Fenton USA. Click here for a great QVC and Fenton reference book. To view other Fenton Art Glass items available from QVC, click here.
Fenton eBay Auctions
Own a unique Fenton creation, including rare, one-of-a-kind pieces, through our weekly eBay Auctions! Items featured this week...
---