FENTON GIFT SHOP
SPECIAL OFFERINGS

Don't Miss Out...Mark Your Mouse Calendar Now. . .
for our new series of 12 handpainted mice. Produced
as Fenton Gift Shop Exclusives, these mouse figurines are limited in quantity and signed
by the artist. These adorable creatures will create quite a
stir among our avid Fenton figurine collectors.

Shown below are mouse figurines for the months of October, September, August, and July. These figurines make great holiday stocking stuffers or a way to introduce Fenton
as a collectible to someone!

Z5148HPP
3'' October Calendar Mouse
$37.50, Buy Now!

Z5148HPO
3'' September Calendar Mouse
$37.50, Buy Now!

Z5148HPN
3'' August Calendar Mouse
$37.50, Buy Now!
Z5148HPM
3'' July Calendar Mouse
$37.50, Buy Now!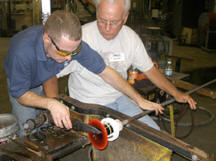 Experience
Glassmaking. . .
as a student at the Fenton Glassmaking School on Friday, November 12 from 5 p.m.
until 9 p.m. You'll gain a new appreciation of the technique and skill required to create a unique handcrafted work of glass art! Under the guiding hands of our skilled artisans, students will create their very own piece of glass to take home! Click here for details.
Fenton eBay Auctions
Own a unique Fenton creation, including rare, one-of-a-kind pieces, through our weekly
eBay Auctions!
Items featured this week...
Fenton USA Presents . . . Bunny Wonderland!

3-1/2'' Milk Glass Ornament
$39.50, Buy Now!
All items are dated 2010


6'' Milk Glass Bell, $59.50, Buy Now!
5-1/2'' Milk Glass Fairy Light, $69.50, Buy Now!
Fenton designer Kim Barley's handpainted Bunny Wonderland scene is perfect on
our Opal Satin glass. Start an ornament tradition for newlyweds or a child with this 3-1/2'' Ornament which looks great displayed on a holiday tree or as a suncatcher. The Bell has a crimped edge. The Fairy Light base is handcrafted in crystal glass and comes with a tea light. All three pieces are dated 2010 and are sure to become holiday keepsakes! Each handpainted piece is signed by the artist who completed it. To view more Christmas 2010 items, click here. Can't find it online? Please contact one of our Fenton dealers! To locate a Fenton dealer near you, click here.
Internet Exclusive Dave Fetty Vase from Fenton USA!

I5457X9 4-1/4'' Open Heart and Arches Vase
in Chameleon Green with Black Glass
Regular Price: $225
Internet Special: $185.00 + Free Shipping!
Buy Now!
We recently discovered seven Chameleon Green and Black Vases in our warehouse. These vases were handcrafted by glass artisan Dave Fetty just prior to our 2008 Glassmaking School. The vases were made with our popular Open Heart Arches mould. The inside is lustrous Black glass and Chameleon Green is on the outside. As its name implies, our opaque Chameleon Green glass features subtle color changes amidst the characteristic striations of this interesting hue.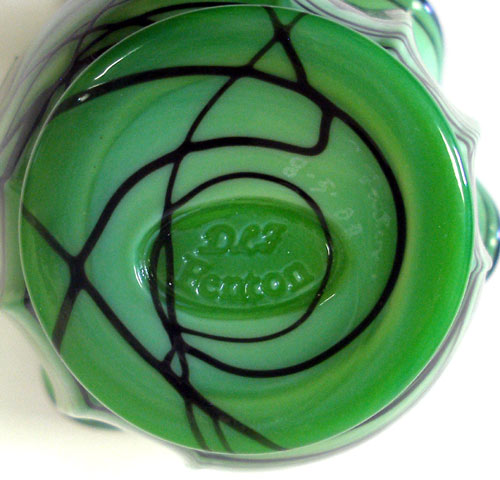 Black glass pulled hearts and threading completes the piece. To create the hanging hearts, Dave applies small bits of molten Black glass to the body of the vase and uses an special tool to create the heart shapes. The threading effect is created by gathering Black glass and applying it to the surface while the vase is being rapidly rotated. As a result, no two vases are exactly alike!

Each vase has Dave Fetty's personal stamp on the bottom (shown at right) and is signed by Tom Fenton and dated 8-5-08. Tom was "headmaster" of our Fenton Glassmaking Schools and has since retired. This is your chance to own a beautiful, one-of-a-kind handcrafted Dave Fetty creation from Fenton USA. Don't delay, with only seven in stock at this special price with FREE shipping, these vases won't last very long! To view other Internet Exclusive Offers, click here.
---
Fenton Family 2010 Fall Signing Events
Fenton family members will personally sign your Fenton Family Signing Event Exclusive and all Fenton purchases during these special events. Click here for the complete schedule.

| | | | |
| --- | --- | --- | --- |
| | The next Fenton Family Signing Events are this weekend! Stop in and meet members of the Fenton family in Michigan, New York and West Virginia! | | |


2010 Family Signing Event Exclusive 6'' Rosalene Basket available only at Fenton Family Signing Eventsfor $49.50.
Click here to see
how it's made!
---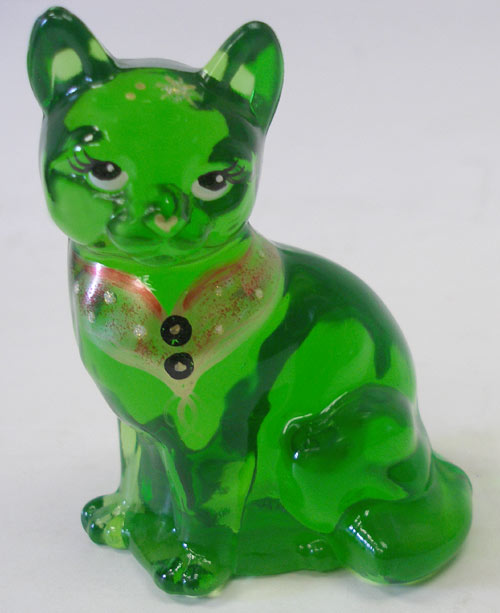 Fenton USA on QVC on October 20th!
Fenton USA handcrafted glass will be offered on QVC on Wednesday, October 20th, from 6-7 a.m. (Eastern Time).
George Fenton will appear as guest host. Included will be this handpainted Jolly Green cat figurine. Watch for preview of the items in an upcoming newsletter. Click here to learn more about QVC and Fenton USA. Click here for a great QVC and Fenton reference book. To view other Fenton Art Glass items available from QVC, click here.
---