FENTON GIFT SHOP
SPECIAL OFFERINGS

Z5148HPD
3'' Rosalene Natural Mouse
$36.00, Buy Now!
Produced as a Gift Shop Exclusive, this 3" Rosalene Mouse has handpainted details for a natural look. His expressive blue eyes will make this little guy
the perfect keepsake for someone special.
218229
5-1/2'' Pansy Fairy Light
$42.50, Buy Now!

Delicate handpainted pansies on Milk Glass are
the perfect complement to the soft pink hue of this Fairy Light's Rosalene base. Produced as a Gift Shop Exclusive, this Fairy Light will add a warm
touch to your home and a delightful welcome for guests.
310014
10'' Iridized Raspberry Opalescent Vase
$139.00, Buy Now!

The deep lustre of our iridized Raspberry Opalescent speaks for itself. Handpainted with
an elegant comtemporary floral design, this vase will make a stunning addition to your collection. Inscribed with the signature of
Nancy Fenton.
GSC503413
5'' Opal Satin Angel
Shelley Fenton Signature
Originally $34.50, Now $25.00
Our Opal Satin Angel is nearly 5" tall, and Shelley Fenton has personally signed each of those we have to offer. The Angel has been airbrushed and handpainted with splendid Spring colors, and each is signed by the talented Fenton artist who completed it. Note the details of the face and eyes and the sparkling glass "ice" on the wings.
Fenton eBay Auctions
Own a unique Fenton creation, including one-of-a-kind pieces, through our weekly eBay Auctions!
Items featured this week...
Fenton USA Presents . . .
Christmas Limited Editions

Our beautiful 6-1/2'' Angel figurine is even more so
when handcrafted in Rosalene glass. Stacy Williams designed a lovely winter scene of snowdrifts and pine trees for this attractive figurine. Her design is topped off with sparkling gem accents. Rosalene has pure gold in the batch, and our glassworkers coax the pink tone from within the molten glass by special reheating techniques. 05014KG 6-1/4" Angel, $69.50, Buy Now!
This beautiful Burmese Chickadee Ornament was handblown for Fenton USA
by West Virginia glass artisan Ron Hinkle. The ornament is handcrafted in our classic Burmese glass, which contains pure gold in the formula. The handpainted realistic winter scene designed by Stacy Williams features a friendly Chickadee sitting on a berry-filled branch. Glitter accents complete this beautiful seasonal design. The perfect holiday gift for a birdwatcher, an ornament collector or treat yourself! 01804FW 4-1/2" Chickadee Ornament, $79.50, Buy Now!
To view more Christmas 2010 items, click here. Can't find it online? Please contact one of our Fenton dealers! To locate a Fenton dealer near you, click here.
Treat Yourself to a Halloween Special from Fenton USA!

Offer ends September 29th!

0527869 - Buy Now!
Black Glass 5-1/2''
Night Owls Ghost Figurine
$49.50, NOW $39.50!

052431S - Buy Now!
Milk Glass 3-1/2'' Devilish
Curious Cat Figurine
$39.50, NOW $31.50!

0532348 - Buy Now!
Milk Glass 6'' Webs
Pumpkin Head Figurine
$49.50, NOW $39.50!
There's still time to take advantage of our "Treat Yourself" Halloween discount offer! We have a limited quantity of Halloween glass available at a 20% discount. These pieces are offered only online through September 28. To take advantage of this special offer, you must click here to view the complete listing and to place your order from the items shown on this list. Note: The 20% discount is the price shown in red on each product description, no additional discounts apply. Discount applies to online orders only. All 2010 Halloween items and non-Halloween items are not included in this offer.
---

Fenton Family 2010 Fall Signing Events
A Fenton family member will personally sign your Fenton Family Signing Event Exclusive and all Fenton purchases during these special events. Click here for the complete schedule.

The next Fenton Family Signing Events are listed below. Stop in and meet
Mike Fenton in West Virginia or meet Lynn Fenton in Michigan and
Ohio at the following Fenton Dealers:


2010 Family Signing Event Exclusive 6'' Rosalene Basket available only at Fenton Family Signing Events for $49.50.
Click here to see
how it's made
Mike: 10/9/2010: Noon - 3 p.m., Aggie's, Lewisburg, WV
Lynn: 10/9/2010: 9 a.m. - Noon, Lakeview Card & Gift, Battle Creek, MI
10/9/2010: 2:30 - 5:30 p.m., Candy Cane Christmas/Unique Little Gift Shop, Archbold, OH
10/10/2010: 1 - 4 p.m., Victorian Garden, Blissfield, MI
---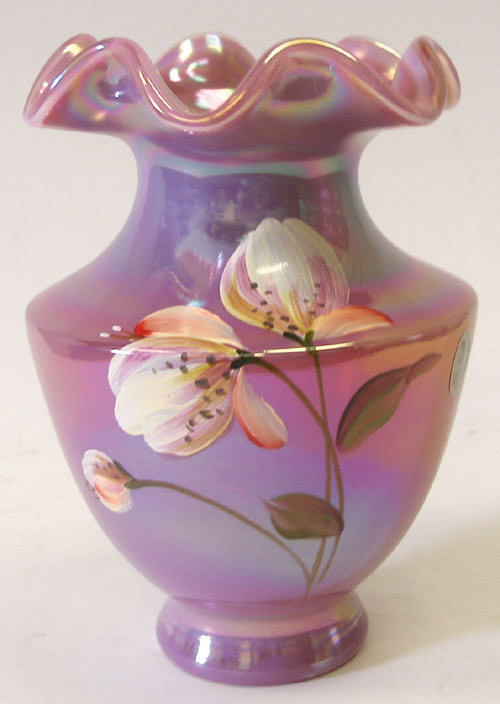 Fenton USA on QVC on October 20th!
Fenton USA handcrafted glass will be offered on QVC on Wednesday, October 20th, from 6-7 a.m. (Eastern Time).

George Fenton will appear as guest host.

Included will be this handpainted Raspberry Iridized Vase inscribed with the signature of George Fenton.

Watch for preview of the items in this newsletter.

To learn more about QVC and Fenton USA, click here.

To view other Fenton Art Glass items available from QVC, click here

---