FENTON GIFT SHOP
SPECIAL OFFERINGS

Z5294HPB
4-1/4'' Cobalt Blue Satin Santa
$39.50, Buy Now!
Add a little delight to your Fenton Collection with this handpainted Cobalt Satin Santa. A limited quantity remains of this 2009 Fenton Gift Shop Exclusive.
Z5294HPA
4-1/4'' Cobalt Blue
Canaan Valley Santa
$45.00, Buy Now!

The picturesque Canaan Valley of West Virginia is celebrated once again for Christmas. Ice-covered trees and frosty woodlands come to life in this popular handpainted motif. Each Canaan Valley item features the red male Cardinal (West Virginia's state bird) within Robin Spindler's original design which was freshened with new design highlights by Michelle Kibbe. A limited quantity remains of this 2009 Gift Shop Exclusive.

Z88387O
6-3/4'' Cobalt Dancing Ladies Vase, $85.00, Buy Now!

Inspired by a classic Northwood motif, our company's founder, Frank L. Fenton, designed moulds for Dancing Ladies vases that became popular Fenton products in the 1930's. A few years ago, we searched in
vain for these moulds. However, sculptor Suzi Whitaker was able to work from Frank L. Fenton's original sketches and we made a new mould for a Dancing Ladies vase. Our skilled glassworkers have produced this Dancing Ladies vase in vivid Cobalt Blue glass with a wonderful Milk Glass edge. This vase really makes a statement!
220045
8'' Cobalt Flip Vase
with Floral Design
$69.50, Buy Now!
Preferred Second. This
Cobalt Flip Vase features a lovely handpainted floral design. We've had more than 60 different Blues in our product line. Cobalt creates a dark blue and copper imparts a light blue. In combination with each other or with additional coloring agents, cobalt and copper are used for almost all of our blue colors

Fenton eBay Auctions
Own a unique Fenton creation, including one-of-a-kind pieces, through our weekly eBay Auctions!
Items featured this week...
Fenton USA Presents . . .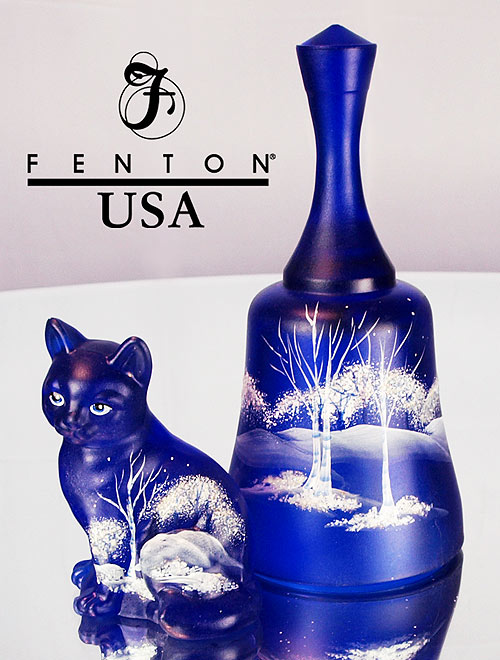 Moonlight Wonder on Cobalt
Moonlight Wonder on Cobalt. . .
The name says it all for this beautiful new Cobalt glass collection. Cobalt, a decorating favorite, returns for Christmas 2010 with several new pieces, including our 3-3/4'' Cat figurine and 7'' Bell.
Cobalt glass provides the perfect canvas for Michelle Kibbe's Moonlight Wonder on Cobalt design. Michelle's handpainted design features a snow-covered landscape, which is painted
in several layers using a sponge,
a scroller (long brush) and a stippler tool.

05165IB 3-3/4" Cat, $35.00, Buy Now!
07714IB 7'' Bell, $55.00, Buy Now!
The background trees are sponged and fade to the ground. Then small wispy trees are added, followed by the tall trees which had a shading of blue added. The spongy images in the foreground represent bushes and ground cover. Small white dots of paint provide the illusion of a star-filled sky. After each piece is fired, glitter is applied to the background trees and to the ground. This has the effect of moonlight shining on snow. So you can see how easily the name Moonlight Wonder on Cobalt was chosen! Each piece is signed by the talented artist who completed it. To view more Christmas 2010 items, click here. To view other new items from Fenton USA, click here. Can't find it online? Please contact one of our Fenton dealers! To locate a Fenton dealer near you, click here.


Treat Yourself to a Halloween
Special Offer from Fenton USA!
0505460 - Buy Now!
3-1/2'' Milk Glass Halloween
Cat in Bag figurine,
$39.50, NOW $31.50!

05291BG - Buy Now!
4-1/2'' Black Glass
Scaredy Cat figurine
$39.50, NOW $31.50!

07737EG - Buy Now!
4-1/2'' Black Glass
Spiderweb Shoe
$33.50, NOW $26.50!
Fenton's Halloween magic continues with sparkly decorations on our whimsical group of figurines. For a limited time, we're treating YOU to a special online offer on selected past Halloween products from Fenton USA. Note: Quantities are limited on these items. You'll receive a 20% discount on these Halloween items offered online from September 22 through September 28. To take advantage of this special offer, you must click here to view the complete listing and to place your order from discounted items shown on this list. Note: The 20% discount is the price shown in "red" on each product description, no additional discounts apply. Discount applies to online orders only. Halloween items from 2010 and all non-Halloween items are not included in this offer.
---

Fenton Family 2010 Fall Signing Events
A Fenton family member will personally sign your Fenton Family Signing Event Exclusive and all Fenton purchases during these special event. Click here for current schedule.


2010 Family Signing Event Exclusive 6'' Rosalene Basket available only at Fenton Family Signing Events for $49.50.
Click here to see
how it's made
11 a.m. - 2 p.m. on Sept. 25: Collectables Unlimited, Danville, PA (877) 750-9394
4:30 - 6:30 p.m. on Sept. 25: Kathie's Christmas, Camp Hill, PA (717) 975-0505
11:30 a.m. - 2 p.m. on Sept. 26: The Green Cow, Green Castle, PA (717) 593-9600
---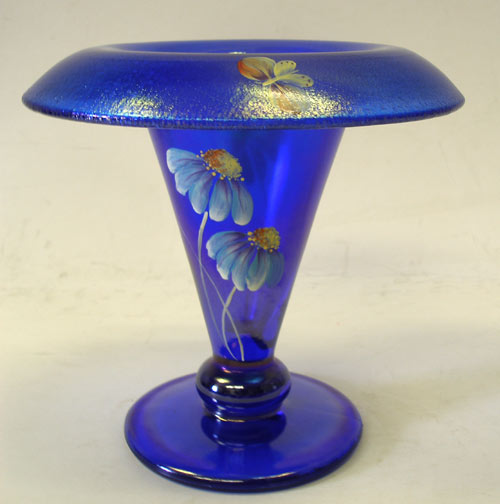 Fenton USA on QVC on October 20th!
Fenton USA handcrafted glass will be offered on QVC on Wednesday, October 20th, from 6-7 a.m. (Eastern Time).

George Fenton will appear as guest host.

Included will be this Cobalt Stretch Trumpet Vase with
a lovely handpainted floral design.

Watch for a preview of the items in this newsletter.

To learn more about QVC and Fenton USA, click here.

To view other Fenton Art Glass items available from QVC, click here.

---