FENTON GIFT SHOP
SPECIAL OFFERINGS

Z3995KF
6'' Aubergine Hobnail Slipper
$17.50, Buy Now!
Our classic Hobnail Cat Slipper handcrafted in Aubergine glass is sure to please the princess in your life! This is an enchanting collectible and a charming gift. Treat yourself - you deserve it!
I7737HPE
4-1/2'' Black Satin Slipper
Originally $29.50, Now $22.00
Buy Now!

This 4 1/2" Black Satin Slipper has been handpainted with a whimsical blue and green design. A charming gift for someone special or yourself!
C7773RM
6'' - 7'' Aubergine Stretch
Swung Vase
Signing Event Exclusive
$39.50, Buy Now!

A collectible Aubergine Stretch Vase made even more special when signed by Fenton family member! During the glass manfufacturing process, this vase is sprayed with a mixture of metallic salts before being reheated and brought to its final shape. This finishing procedure creates a myriad of striations which adds to its beauty. Don't miss the chance to add this iridescent beauty to your collection!
07150YM
4-1/2'' Pomegranates
on Black Candy Box
Originally $59.50, Now $44.50
Buy Now!
Fenton designer Kim Barley used Swarovski crystals to add a sparkling dimension to these vivid Pomegranates. They virtually come to life on the sleek black surface of the glass.
Fenton eBay Auctions
Own a unique Fenton creation, including one-of-a-kind pieces, through our weekly eBay Auctions!
Items featured this week...
Fenton USA Presents . . . Glass Slippers Fit for a Princess!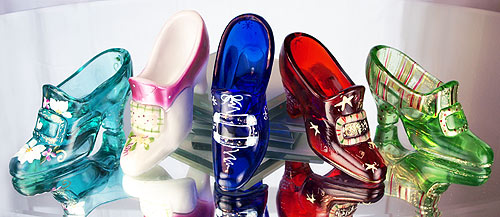 For details, or to place your order, please click on each slipper image.
Prince Charming awaits with the royal slipper! The lure of a Glass Slipper transforms
a girl into a princess, with each sparkling piece truly one of a kind. An enchanting collectible and a charming gift. Our popular 4-1/2'' Buckle Slipper (or Shoe) returns for 2010, handcrafted in five popular Fenton colors: Robin's Egg Blue, Milk Glass, Cobalt, Ruby, and new Jolly Green. Each slipper is handpainted with a design by Michelle Kibbe and signed by the artist who completed it. This mould was designed by Jon Saffell and introduced in 2006.
The first glass slipper from Fenton Art Glass was produced in 1937 when the 1995 Daisy and Button Cat (or Queen) Slipper made its debut. Since then, we have introduced new slippers in a rainbow of colors and patterns. They remain highly collectible and are sure to please the youngest collector! To view other new items from Fenton USA, click here. Can't find it online? Please contact one of our Fenton dealers! To locate a Fenton dealer near you, click here.
Internet Special: Fenton USA Mouse Figurine

Who can resist that cute
heart-shaped nose and
those adorable eyes?!!

C5148OK

Key Lime 3'' Mouse figurine
$27.00, Buy Now!
Not a creature was stirring,
not even a mouse. . .except
at Fenton USA! We have the perfect holiday stocking stuffer or unique gift for someone special! This cute 3" Mouse figurine is handcrafted in refreshing Key Lime glass and handpainted as a "girl mouse" with long black eyelashes, a polka dot outfit, red shoes and a ladybug on a leaf adorning her ear! The face even has a heart-shaped nose. The mould was designed by Tony Rosena in 1984. The design is by Kim Barley. Each handpainted figurine is signed by the artist who completed it. We have a limited quantity available, so order today!
---

Fenton Family 2010 Fall Signing Events
A Fenton family member will personally sign your Fenton Family Signing Event Exclusive and all Fenton purchases during these special event. Click here for current schedule.


2010 Family Signing Event Exclusive 6'' Rosalene Basket available only at Fenton Family Signing Events
for $49.50.
Click here to see
how it's made
9/25: Collectables Unlimited, Danville, PA (877) 750-9394
9/25: Kathie's Christmas, Camp Hill, PA (717) 975-0505
9/26: The Green Cow, Green Castle, PA (717) 593-9600
---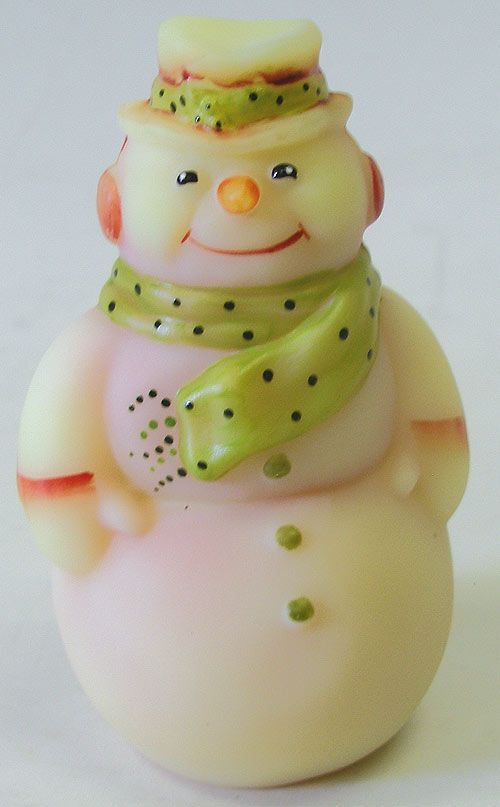 Fenton USA on QVC on October 20th!
Handcrafted glass from Fenton USA will be offered on QVC on Wednesday, October 20th, from 6-7 a.m. (Eastern Time).

George Fenton will appear as guest host.

Included in the show will be this whimsical Snowman figurine.

Watch for preview of the items in this newsletter.

To learn more about QVC and Fenton USA, click here.

To view other Fenton Art Glass items available on QVC, click here.

---