FENTON GIFT SHOP
SPECIAL OFFERINGS

Z5228HPAH
7'' Lavender Satin
Bridesmaid Doll in
Fluttering Floral on Lavender
$61.00, Buy Now!
Our 7'' Bridesmaid Doll features a Fluttering Floral on Lavender design by Michelle Kibbe. You can see why we call these pieces Fluttering Floral, since the flower petals resemble delicate butterfly wings! Move it from one lighted area to another and watch for surprised reactions! Lavender glass contains neodymium, so your pieces will be different colors under various lighting conditions. This characteristic
is called "dichroic."
Z5228HPY
7'' Lavender Satin Doll
Whisper of Spring
$61.00, Buy Now!

This 7" Gift Shop Exclusive Lavender Satin Bridesmaid
Doll figurine is titled Whisper
of Spring. This charming young lady wears a dress adorned with pretty crocuses and will make a lovely addition to your doll collection.
Z5148PJ
3'' Madras Pink Mouse Figurine
$20.75, Buy Now!

A high quality glass figurine with a whimsical touch. . .only from Fenton! Produced as a new Gift Shop Exclusive, this adorable Madras Pink Mouse figurine will make the perfect gift for the young and young
at heart.
Z6563HPA
4-1/2'' Burmese Mini Basket
$69.50, Buy Now!
Produced as a Fenton Gift Shop Exclusive, this lovely
4-1/2'' Burmese Mini Basket has been handpainted with
a beautiful rose pattern.
Each basket is signed by the artist who completed it. A perfect piece for someone
you treasure.
Fenton eBay Auctions
Own a unique Fenton creation, including one-of-a-kind pieces, through our weekly eBay Auctions!
Items featured this week...
Fenton USA Presents . . . Christmas Limited Editions!



Limited Edition Santa Head
Fairy Light, $79.50, Buy Now!


Limited Edition Santa Figurine
$79.50, Buy Now!
Each year, Fenton USA
offers charming Christmas Limited Editions. This year is no exception as we present our latest Santa Fairy Light and Santa figurine. Both of these pieces are handcrafted in Milk Glass and feature a realistic design by Michelle Kibbe. Glitter accents complete their festive look.

Warm up your holiday display with our two-part Santa Fairy Light. This 4-3/4'' fairy light comes with a cleverly concealed tea light candle which adds a rosy glow to Santa's cheeks! This mould was designed by Jon Saffell.
Our delightful 8-1/2'' Santa figurine has his hand inside a stocking, perhaps he's adding a gift for someone who's been extra good this year! This mould was designed by Suzi Whitaker. The figurine features a deep red ermine-trimmed robe over a soft gold glittered gown. Each handpainted piece is signed by the artist who completed it. To view other 2010 items from Fenton USA, click here. Can't find it online? Please contact one of our Fenton dealers! To locate a Fenton dealer near you, click here.

Internet Special Ruby Mortar and Pestle Set


Internet Special: $50.00
FREE shipping while supplies last! Buy Now!

Handcrafted in our rich Ruby glass, this mortar and pestle set really shines! This set makes the perfect gift for someone in the medical profession (pharmacist, physicians, nurses, medical student, EMT, or other medical personnel) or for someone who collects Ruby glass! A great conversation piece! Use it for Halloween to store treats. . .or keep in the kitchen (grinding herbs, potpourri) . . .or bath (store bath salts, cotton balls and small soaps). Made as a Special Order, Fenton collectors now have the opportunity
to own one of the remaining sets in our inventory.

Fenton Family 2010 Fall Signing Events
A Fenton family member will personally sign your Fenton Family Signing Event Exclusive and all Fenton purchases during these special events. Click here for current schedule.

The next Fenton Family Signing Events are listed below. Stop in and meet company president George Fenton and his wife Nancy Fenton, Director of Design,
at these Fenton Dealers:

9/25: Collectables Unlimited, Danville, PA (877) 750-9394
9/25: Kathie's Christmas, Camp Hill, PA (717) 975-0505
9/26: The Green Cow, Green Castle, PA (717) 593-9600


2010 Family Signing
Event Exclusive 6'' Rosalene Basket
available only at Fenton Family Signing Events
for $49.50.
Click here to see
how it's made!
---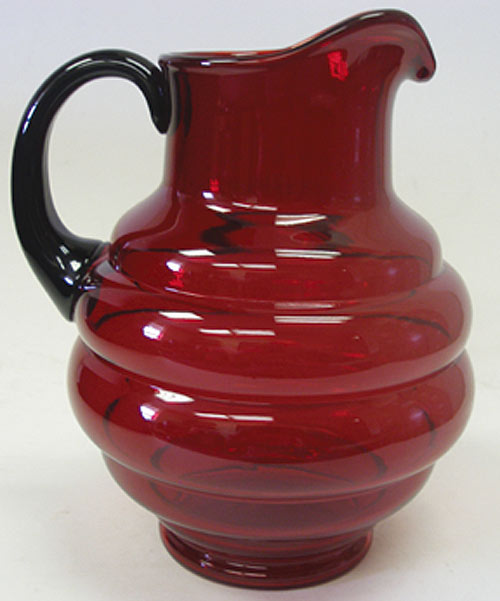 Fenton USA to be Featured on QVC
on Wednesday, October 20th!
A quality selection of glass pieces from Fenton USA will be offered on QVC on Wednesday, October 20th, from 6-7 a.m. (Eastern Time). George Fenton will appear as guest host. Choose from beautiful handcrafted pieces made exclusively for QVC in our Williamstown, West Virginia factory. Included in the show will be this Rings Pitcher. Go retro and relive the 1920s, an Age of Elegance in glass with this Ruby glass pitcher with an applied Black handle. Watch for a preview of the items to be offered in an upcoming October issue of this newsletter. To learn more about QVC and Fenton USA, click here. For a great reference book on Fenton and QVC, click here. To view other Fenton Art Glass items currently available from QVC, click here.
---