FENTON GIFT SHOP
SPECIAL OFFERINGS
Z5148HPO
3'' September Calendar Mouse
$37.50, Buy Now!
Don't Miss Out... Mark Your Mouse Calendar Now... for our new series of 12 mouse figurines...all handpainted and signed by the artist. is Our September mouse figurine is now available! Limited in quantity, these adorable creatures have created quite a stir among Fenton figurine collectors.
Z3995KF
6''Aubergine Hobnail Slipper
$17.50, Buy Now!

Prince Charming awaits with the royal slipper! Our classic Hobnail Cat Slipper in Aubergine transforms a girl into a princess, with each sparkling piece truly unique. This Gift Shop Exclusive is an enchanting collectible and a charming gift. Treat yourself - you deserve it!

Z9761HPA
5-1/2'' Aubergine Handpainted Lily and Cross Bell
$48.50, Buy Now!

This Fenton Gift Shop Exclusive handpainted 5-1/2" Lily and Cross Aubergine Bell will make a perfect addition to a bell collection.
GS098354Q
6'' American Beauty Rose Aubergine Carnival Basket
Signed by Lynn Fenton
Originally $59.50, Now $45.00 Buy Now!
Lynn Fenton's signature is on each of these attractive Carnival glass baskets, which stand about 6" tall. We have only 35 to offer. Each is signed "Lynn Fenton '10" on the underside. The base glass color is our rich Aubergine, and the iridescence on the interior has a splendid matt quality with gold tones and purple highlights. The mould used to make this basket originated at Imperial Glass in Bellaire, Ohio, about 1910. Collectors call this pattern American Beauty Rose. The baskets are finished with a graceful six-point crimp, and the applied handle is our fine rib twisted style.

Express your creativity at our Decorating Workshops!
Decorate your own Fenton Bell or Ornament at our Decorating Workshop on Saturday, Sept. 11 at 1:30 pm and 3:00 pm. Click here for details.

Fenton eBay Auctions
Own a unique Fenton creation, including one-of-a-kind pieces, through our weekly eBay Auctions!
Items featured this week...
Fenton USA Presents . . . Rich Ruby Glass!
Handcrafted in Fenton's classic Ruby glass, these pieces will make an elegant statement as part of your holiday display. Our Thumbprint Candy Box really sparkles! The Fenton Thumbprint pattern was developed in the 1960s, when Frank M. Fenton worked with designer Tony Rosena. It is based on a c. 1870s pattern that was made in flint glass, probably by the Adams Co. in Pittsburgh. The Sunray Bowl retains its original name and is made with a mould that originated at the Fostoria Glass Co. in Moundsville, WV. These beautiful glass creations are sure to become treasured family heirlooms!

The Ruby 3-1/2'' Votive shown at right features a fancy pattern that really sparkles. We acquired this mould from the Indiana Glass Company. Each votive is packed with a 3'' candle. This votive is also available in our new Jolly Green. Click here for details.
How did Ruby glass come about? In the first half of the 20th century, glassmakers strived to make a uniform ruby color suitable for railroad signals, lantern globes and auto taillights. Today, Fenton's Ruby glass is made with special ingredients, and this glass batch is sensitive to heat and interesting color variations often occur. To view other items in the 2010 Fenton USA glass line, click here. Can't find it online? Contact one of our Fenton dealers! To locate a Fenton dealer near you, click here.

We've located a limited quantity (fewer than 15) of our popular Alley Cat. This Alley Cat stands about 11" tall, and he looks great in vivid iridized Emerald Green glass. The iridescent effect is achieved by spraying the Alley Cat while very hot, right after it's taken out of the mould. The spray consists of special metallic salts, and it imparts a rainbow of colors to the glass. First made it in 1970, the Alley Cat has been one of Fenton's most popular items. The mould originated at the U.S. Glass Co. plant in Tiffin, Ohio, during the 1920s, and we acquired the mould in the mid-1960s. Since that time, we have made the Alley Cat in many different colors and decorative treatments, and each has been greeted with much enthusiasm by Fenton collectors, who just can't get enough of the Alley Cat's mischievous grin.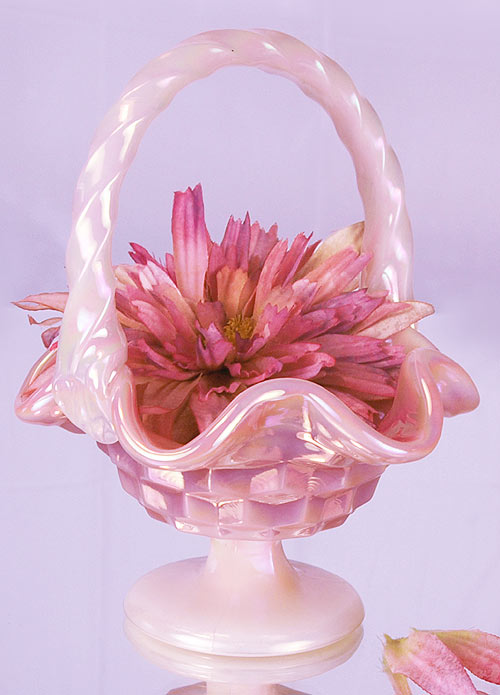 Fenton Family 2010 Fall Signing Events
Our Fall 2010 Fenton Family Signing Events are underway!
A Fenton family member will personally sign your Fenton Family Signing Event Exclusive and all Fenton purchases during these special events. The next events will be held on September
25-26 with George Fenton making appearances at three locations in Pennsylvania. Click here for the current schedule. The 2010 Family Signing Event Exclusive is a beautiful 6'' American Pattern Basket handcrafted in Rosalene glass from a mould that originated at Fostoria Glass. Rosalene contains pure gold in the formula. Our glassworkers coax the pink tone from within the molten glass by special reheating techniques. This iridized Basket will be available only at participating Family Signing Event dealers for $49.50 U.S. Click here to see how our skilled craftsmen create this beautiful basket!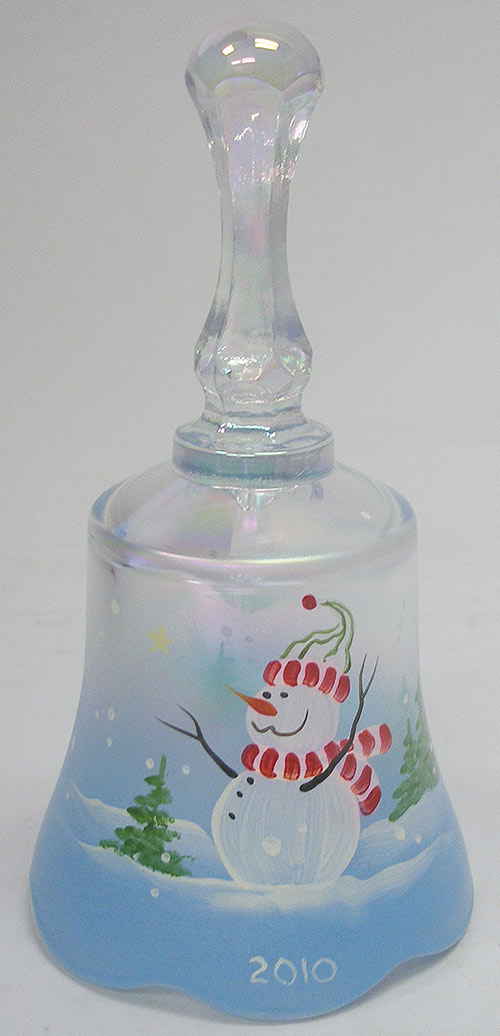 Fenton USA on QVC Wednesday, October 20th!
Set your alarm clock and watch our next QVC show! Fenton USA products will be offered on QVC on Wednesday, October 20th, from 6-7 a.m. (Eastern Time). George Fenton will appear as guest host. Choose from beautiful handcrafted pieces made exclusively for QVC in our Williamstown, West Virginia factory. Included in the show will be this iridized Crystal Satin Bell, handpainted with a smiling snowman and dated 2010. Watch for a preview of the items to be offered in an upcoming October issue of this newsletter. To learn more about QVC and Fenton USA, click here. For a great reference book on Fenton and QVC, click here. To view other Fenton Art Glass items currently available from QVC, click here.
---