FENTON GIFT SHOP
SPECIAL OFFERINGS
Z2955CJA
Numbered and Limited to 25
9-3/4'' Gift Shop Exclusive Canaan Valley Cameo Vase
$495.00, Buy Now!
This spectacular cameo carved vase by Kelsey Murphy and Robert Bomkamp captures all the splendor of West Virginia's scenic Canaan Valley in Winter. Everything about this 9-3/4" tall vase is special. . . from the graceful shape and vivid cobalt blue glass perfectly cased with Milk Glass. . .
to the deep, meticulously detailed cameo carving and the bright red handpainted Cardinal foraging for seeds amidst the majesty of a snow-covered landscape. Limited to just 25 individually numbered pieces, our Canaan Valley Cameo Vase is inscribed with the signatures of cameo artists Kelsey Murphy and Robert Bomkamp.

Z9262IP
6-1/4'' Plum Opalescent
Iridized Rose Patterned Bell
$37.25, Buy Now!

Here's a real "bell ringer" of an item in iridized Plum Opalescent glass! Our Rose pattern 6-1/4" Bell is beautifully crimped and iridized with a spray of metallic salts to create a most vivid effect. Produced as a 2008 Fenton Gift Shop Exclusive.
Z5151HPD
3-1/2'' Hyacinth Bear Figurine
$35.75, Buy Now!

Perfect as a gift or as an addition to an established collection. This new Gift Shop Exclusive Hyacinth Bear has a lovely handpainted floral design. Proudly handcrafted by the artisans at Fenton.
Z5145HPE
3-3/4'' Winter Aura
Egg on a Stand
$47.00, Buy Now!
The handpainted Winter Aura design by Michelle Kibbe continues to grace our glass, including this Gift Shop Exclusive Egg on a Stand. Fenton eggs have always been popular, and this piece will be a great addition to your collection.
Fenton eBay Auctions
Own a unique Fenton creation, including one-of-a-kind pieces, through our weekly eBay Auctions!
Items featured this week...
Fenton USA Celebrates
the Skill and Tradition of the
American Glassworker
To continue our celebration of the Labor Day holiday,
we are saluting our skilled and talented craftsmen at Fenton Art Glass. In this newsletter, we honor the Glassblower. The vase shown at right is an example of
the glassblower's skill. Click on the vase for details.
Few occupations match the romance and beauty of the glassblower. Seemingly without effort, the glassblower shapes a gob of orange-red molten glass on the blowpipe before expanding it with a puff of his own breath.
At Fenton, most of our blown glassware is made with cast iron moulds. However, our skilled glassblowers must shape and manipulate the molten glass on their blowpipes before using the mould. These operations require both patience and skill, and such qualities come only after many years of experience. The blower must have the proper amount of glass for the piece to be made, and he must anticipate the final shape of the piece. This means distributing the molten glass on the blowpipe, and creating a long shape for a tall vase or a short, slightly rounded shape for a rose bowl.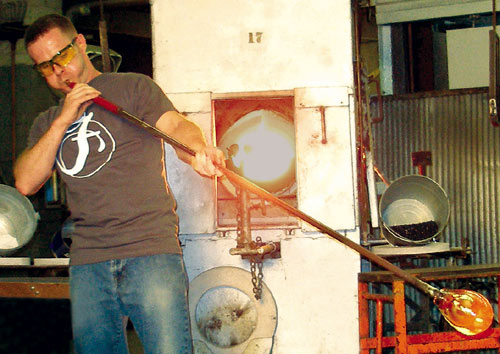 To view the 2010 Fenton USA glass line, click here. Can't find it online? Contact one of our Fenton dealers! To locate a Fenton dealer near you, click here.
In addition to creating
beautiful individual pieces
that have become collector favorites, glass artisan
Frank Workman is an accomplished glassblower.
To learn more about Frank,
click on the photo.


Create Your Own "Cameo Carved" Halloween Display!
Included in the 2010 Studio Fenton collection, this smiling 5-1/2'' cameo carved Ghost figurine is limited to 350 pieces. The Scaredy Cats design is by cameo artists Kelsey Murphy and Robert Bomkamp. Front and back images are shown in the above photo. Exquisitely carved details include cats, pumpkins, spider webs and spooky trees. Cameo carving is a painstaking process. After the glass has been annealed, a special mask is taped to the surface of the glass. Each piece is carefully sandcarved, by hand, using aluminum oxide crystals under pressure to take away some of the surface. Great individual skill and experience are needed to control this operation, as stages of cameo carving are required to create the depth and intricate details. Click on the image for details or, to view more cameo carved creations from the Fenton USA, click here. To view more Halloween items, click here!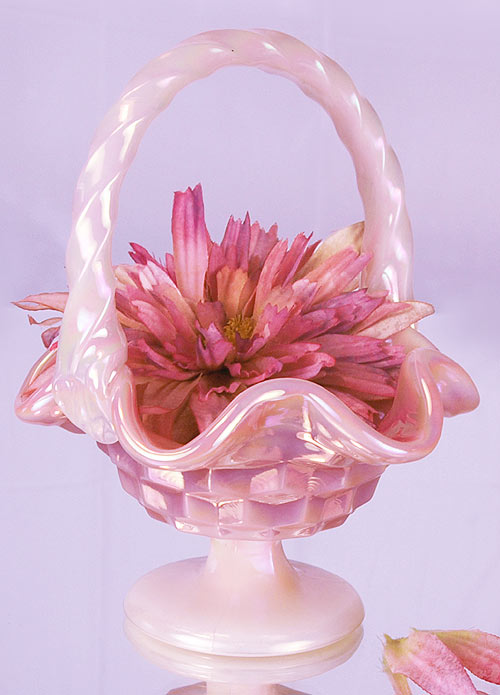 Fenton Family 2010 Fall Signing Events
Our Fall 2010 Fenton Family Signing Events are underway! A Fenton family member will personally sign your Fenton Family Signing Event Exclusive and all Fenton purchases during these special events.
The next events will be held on September 25-26 with
George Fenton making appearances at three locations in Pennsylvania. Click here for the current schedule.
The 2010 Family Signing Event Exclusive is a beautiful 6'' American Pattern Basket handcrafted in Rosalene glass from a mould that originated at Fostoria Glass. Rosalene contains pure gold in the formula. Our glassworkers coax the pink tone from within the molten glass by special reheating techniques. This iridized Basket will be available only at participating Family Signing Event dealers for $49.50 U.S. Click here to see how our skilled craftsmen create this beautiful basket!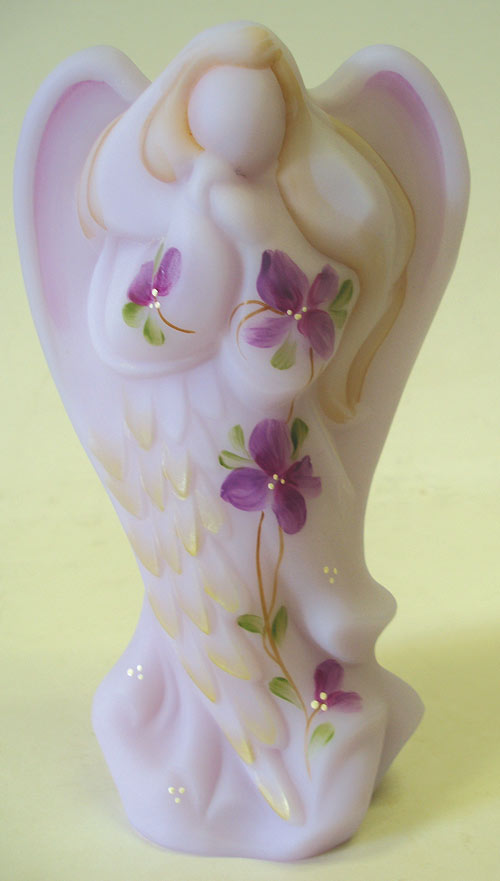 Mark Your Calendar! Fenton USA on QVC
Wednesday, October 20th!
Set your alarm clock to watch our next QVC show! Fenton USA products will be offered on QVC on Wednesday, October 20th, from 6-7 a.m. (Eastern Time). George Fenton will be guest host. You'll have your choice of beautiful handcrafted pieces made exclusively for QVC in our Williamstown, West Virginia factory. Included in the show will be this beautiful handpainted Lavender Satin Radiant Angel figurine, shown at right. Watch for a preview of the items to be offered in an October issue of this newsletter. To learn more about QVC and Fenton USA, click here. For a great reference book on Fenton and QVC, click here. To view other Fenton Art Glass items currently available from QVC, click here.
---