FENTON GIFT SHOP
SPECIAL OFFERINGS
191512
Marbles with 3-3/4''
Storage Pouch
$10.50, Buy Now!
Our marbles are made with Fenton Glass and proudly produced in WV. This Marble Set includes a generous amount of regular size marbles plus two shooters and the storage pouch.
02376UZ
2-3/4'' Stars & Stripes
Cranberry Opalescent Hat Vase
$89.50, Buy Now!
This Stars and Stripes Hat Vase is a lasting symbol of American pride! The French Opalescent design of Stars and Stripes against our classic Cranberry glass is complemented beautifully with the Cobalt rim. Each piece is marked on bottom Stars & Stripes 2001. This Hat Vase will make a wonderful addition to any patriotic collection.

Z5063HPA
3'' Patriotic Hippo
$39.75, Buy Now!

Hip-Hip-Hurray...it's the American Way! Handcrafted with pride in Williamstown, WV. Handpainted and signed by the artist, this adorable Fenton Gift Shop Exclusive is sure to bring a smile to the face of any proud patriotic American!

Z5245RU
5'' Ruby Amberina Cardinal
$26.25, Buy Now!
This 5" Ruby Amberina Cardinal figurine will make a lovely gift for a birdwatcher or figurine collector or treat yourself! Our Ruby glass is heat-sensitive and this feature creates the wonderful amberina effect.
As a result, the glass color may vary.
Fenton eBay Auctions
Own a unique Fenton creation, including one-of-a-kind pieces, through our weekly eBay Auctions!
Items featured this week...
Fenton USA Celebrates
the Skill and Tradition
of the American Glassworker
To celebrate the Labor Day holiday, we would like
to salute our skilled and talented craftsmen at Fenton Art Glass. In this newsletter we will salute
the Basket Handler. Fenton started creating baskets in the late 1930s. Attaching basket handles requires a great deal of skill. There's less than 30 seconds to attach and shape a handle before the glass cools down and is no longer workable.

Nobody does baskets like Fenton Art Glass! The basket shown at right is a Panel Grape Basket, handcrafted in rich Ruby glass, from our Christmas 2010 line. Click on the basket image for details.

In the 1950s, company President Frank M. Fenton
and his brother Bill Fenton, who was Vice-President, decided that each Fenton basket handler should have a distinctive mark so collectors could identify the artisan who created their basket. These marks are impressed at the base of each side of the handle. Each handler's mark is essentially circular in shape, but the designs within the circle are quite varied. Some of our handler's marks (past and present) are shown below. If you own a Fenton basket, be sure to look at the handles to help identify the Fenton craftsman who helped create it!
| | | | | |
| --- | --- | --- | --- | --- |
| Jon Anderson | Brian Green | Tom Ingram | Frank Workman | Butch Wright |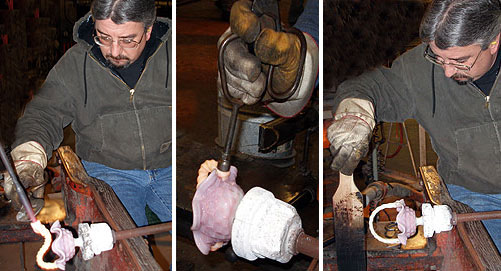 Above: Fenton glassworker Brian Green attaches, applies his handler's mark and shapes the handle of a 2010 Family Signing Event Exclusive Rosalene Basket. To view more Fenton baskets, click here. To learn more about our basket handler marks, click here. To view the 2010 Fenton USA glass line, click here. Can't find it online? Contact one of our Fenton dealers! To locate a Fenton dealer near you, click here.

Fenton USA Internet Specials!
Our Fenton USA Internet Specials include
limited quantities of select glass pieces.

This Swung Vase is a patriotic tribute to America! Cobalt Blue glass provides the perfect canvas
for Michelle Kibbe's design on this 7''-8'' Footed Diamond Optic Swung Vase. The American flag waves majestically in the air as fireworks light up
the background. The subtle diamond optic interior and glitter on the fireworks add extra sparkle
to this beautiful piece. Display year round!

Internet Exclusive Price: $55.50


Internet Special Price:
$55.50
Click image for details or
click here to view all
Fenton USA Internet Specials.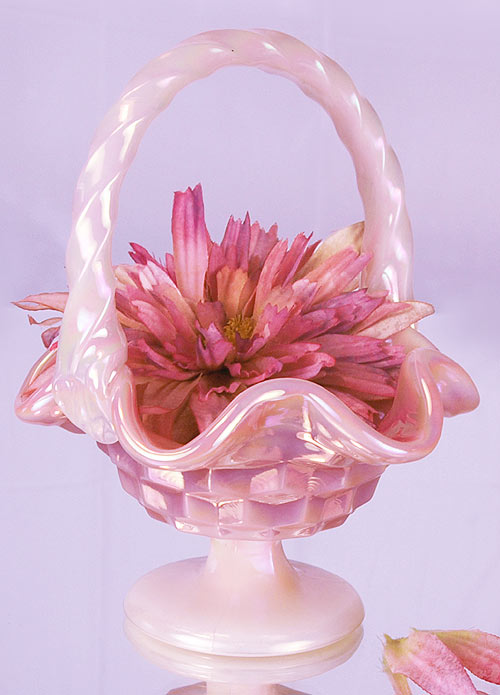 Fenton Family 2010 Fall Signing Events
Our Fall 2010 Fenton Family Signing Events will soon be underway! Meet a member of the Fenton family and learn more about Fenton Art Glass. A Fenton family member will personally sign your Fenton Family Signing Event Exclusive and all Fenton purchases during these special events. The next events are scheduled for September 25-26 with George Fenton making appearances
at three Pennsylvania locations. Click here for the current schedule and be sure to check back for updates! The 2010 Family Signing Event Exclusive is this beautiful 6'' American Pattern Basket handcrafted in Rosalene glass from a mould that originated at Fostoria Glass. Rosalene contains pure gold in the formula. Our glassworkers coax the pink tone from within the molten glass by special reheating techniques. This iridized Basket will be available only at participating Family Signing Event dealers for $49.50 U.S. Click here to see how our skilled craftsmen create this beautiful basket!
---