FENTON GIFT SHOP
SPECIAL OFFERINGS
Z5268KH
4'' Indigo Blue
Silver Birch Snowman
$39.50, Buy Now!

Z5269KH
4'' Indigo Blue
Silver Birch Snowlady
$39.50, Buy Now!

A shimmering winter wonderland on Indigo Blue. These new Gift Shop Exclusive Snowman and Snowlady figurines feature birch trees and new-fallen snow glittering in the moonlight.
Z52284B
7'' Indigo Blue
Cherry Blossom Doll
$61.25, Buy Now!

Nothing signals the arrival of Spring more than the sweet scent of cherry blossoms. Produced as a Gift Shop Exclusive, this Doll figurine will surely be a collector favorite!

Z82846O
5-3/4'' Indigo Blue
Footed Leaf Bowl
$49.50, Buy Now!
This Indigo Blue Stretch Footed Leaf Bowl with a beautiful center butterfly design would be a perfect addition to any collection. Stretch glass, first made
in 1917, has always been popular with collectors. The effect is simply breathtaking due to the striations created as it catches the light and shimmers.
Fenton eBay Auctions
Own a unique Fenton creation, including one-of-a-kind pieces, through our weekly eBay Auctions! Items featured this week...
Fenton USA Presents. . . Snowman Frolic on Cobalt
The fun spirit of winter is enhanced in this Snowman Frolic on Cobalt trio. These three pieces are handcrafted in our Cobalt glass, which provides the perfect canvas for Stacy Williams' colorful design. The jolly snowman holds a candy cane in one hand and waves a cheery hello to you with the other hand. Collect all three for a bright seasonal display in your home!

We have had more than 60 different Blues in our product line. Cobalt creates a dark blue and copper imparts a light blue. In combination with each other or with additional coloring agents, cobalt and copper are used for almost all of our blue colors. Click on each image for details or click here to view Christmas 2010 items. To view our entire 2010 Fenton USA glass line, click here. Can't find it online? Call a Fenton dealer! To locate a Fenton dealer near you, click here.
Internet Specials!
Our Fenton USA Internet Specials include limited quantities of select glass pieces produced by Fenton USA.

New to our Internet Specials is this 3'' Rose Bowl handcrafted in Lavender glass. The Rose Bowl is sanded for a satin finish with a scalloped top.
The mould was designed by Tony Rosena in 1993. Lavender glass contains neodymium, so your pieces will be different colors under various lighting conditions. This characteristic is called dichroic, and it makes Lavender a great conversation topic! The handpainted floral
design is by Kim Barley.

Internet Special Price: $42.50
Click on the image for details or, to view all of our
Fenton USA Internet Special Offers, click here. Remember, quantities are extremely limited!
---
Fenton Family 2010 Fall Signing Events
Our Fall 2010 Fenton Family Signing Events will soon be underway! Meet a member of the Fenton family and learn more about Fenton Art Glass. A Fenton family member will personally sign your Fenton Family Signing Event Exclusive and all Fenton purchases during these special events. The first events will be held on September 3-6 at the Fenton Gift Shop in Williamstown, West Virginia, and on September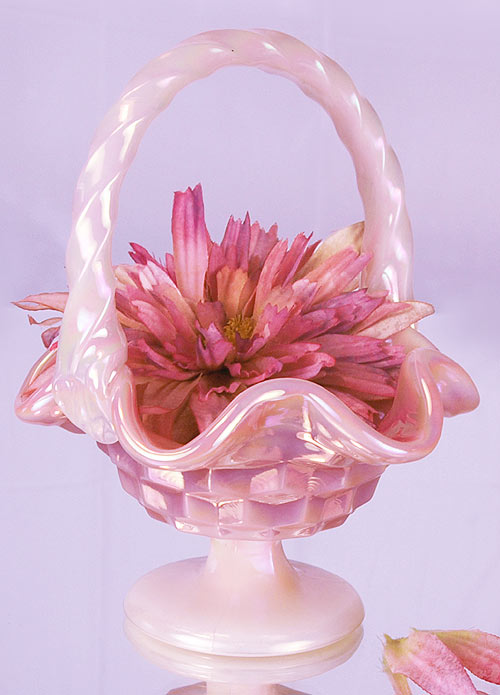 4 at Fenton's Collectibles in Springfield, Missouri. Click here for the current schedule and be sure to check back for updates!
The 2010 Family Signing Event Exclusive is this sparkling 6'' American Basket handcrafted in Rosalene glass. Rosalene glass contains pure gold in the formula. Our glassworkers coax the pink tone from within the molten glass by special reheating techniques. This iridized Basket will be available only at participating Family Signing Event dealers for $49.50 U.S. Click here to see how our skilled craftsmen create this beautiful Rosalene Basket!

Fenton Gift Shop
Labor Day Sale!
Click here for details!

Fenton Family Member Signing Events:
George Fenton - 9/3
Randy Fenton - 9/4
Mike Fenton - 9/5
Christine Fenton - 9/6

---