FENTON GIFT SHOP
SPECIAL OFFERINGS
200021
5-1/2'' Floral Fantasy on Ruby Vase, $62.50, Buy Now!
Preferred Second. Our
5-1/2" Ruby Vase with the
Floral Fantasy on Ruby design. This fresh and evocative handpainted decoration on rich Ruby glass features vibrant colors and exquisite forms . . .
it's sure to become a favorite!

200023
6-1/2'' Floral Fantasy on Ruby
Pitcher, $84.75
Buy Now!
Preferred Second. This
6-1/2" Ruby Pitcher also features the Floral Fantasy
on Ruby design. Mix and match with the vase (shown above)
or other undecorated Ruby pieces to create a beautiful tabletop display!
220043
9-3/4'' Buttercup Overlay
Basket,$60.00
Buy Now!

Preferred Second. This Buttercup Overlay Basket features a handpainted
cherries and leaves design and will make a wonderful addition to your Fenton collection. Buttercup, a new color for 2010, is a vibrant yellow made with special ingredients captures the warmth of Spring sunshine and the excitement
of nature's awakening. We've produced several shapes in
this new Buttercup color, including this basket and the vase below.
220028
10-1/2'' Buttercup Overlay Handpainted Vase
$50.75, Buy Now!
Preferred Second. This
10-1/2" Buttercup Overlay Vase with a fuschia floral and purple butterfly motif will add beauty and charm to any room in your home.
Fenton eBay Auctions
Own a unique Fenton creation, including one-of-a-kind pieces, through our weekly eBay Auctions! Click on the link below for items featured this week...
Fenton USA Presents. . . 2010 Christmas Trees
Our jewel-toned pines are back for 2010 with sparkling new coats! We've also revived a Fenton Christmas Tree tradition! Two of our Christmas Trees for 2010 feature a delightful birdhouse ornament amidst their branches.
The 5535 Christmas Tree is 6-1/2'' tall, and the 5556 Christmas Tree is 4'' tall. Both trees are available in three different iridescent colors: Robin's Egg Blue, Jolly Green (our NEW color), and Pink. These trees are decorated with glitter. The highly-detailed birdhouse was created by Fenton designer Stacy Williams and is made of genuine pewter.

This tradition began in 1992 when we introduced the
5535 Christmas Tree that was designed by Cathy See and decorated with a tiny gold chickadee. We added smaller trees the next year, and later trees had various gold ornaments, ranging from various birds or a squirrel to an angel! Collectors waited eagerly for each year's new offering to see what we'd have for them! We're delighted to renew the tradition, and we think the birdhouse ornament will be a great start for this new generation of Fenton Christmas Trees.

The 5563 Christmas Tree is 7'' tall. The sparkling tree shown above is iridized in our new Jolly Green glass. Mix and match the colors and sizes to create your own display of shimmering Fenton Christmas trees! Click on each image for details or click here to view Fenton USA's Christmas 2010 items. To view our full 2010 glass line, click here.

Fenton USA Internet Specials!
Our Fenton USA Internet Specials
include limited quantities of select
glass items produced by Fenton USA.

This beautiful Hummingbird Treasure Box
is sure to become a favorite among Burmese
glass collectors! The 4" across Hummingbird Treasure Box has ribbed sides and was designed by Tony Rosena in 1987. Sanded for a satin
finish, this Treasure Box features handpainted floral accents designed by Michelle Kibbe.

A great gift for someone special! Click on
the image for details or, to view all of our
Fenton USA Internet Special Offers, click here.

Internet Special Price: $48.00
with Free Shipping while supplies last!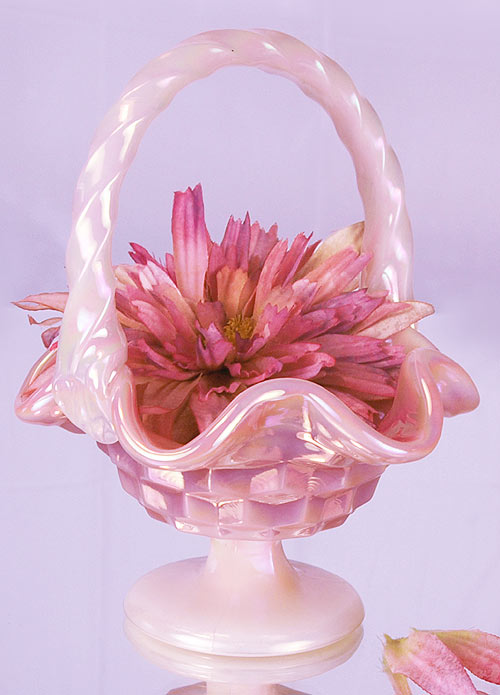 Fenton Family 2010 Fall Signing Events
Our Fall 2010 Fenton Family Signing Events will soon be underway! Meet a member of the Fenton family and learn more about Fenton Art Glass. A Fenton family member will personally sign your Fenton Family Signing Event Exclusive and all Fenton purchases during these special events. The first events will
be held on September 3-6 at the Fenton Gift Shop in Williamstown, WV, and on September 4 at Fenton's Collectibles in Springfield, Missouri. Click here for the
current schedule and be sure to check back for updates!
The 2010 Family Signing Event Exclusive is this beautiful 6'' American Pattern Basket made with a mould that originated at Fostoria Glass. The basked is handcrafted in Rosalene glass that contains pure gold in the formula. Our glassworkers coax the pink tone from within the molten glass by special reheating techniques. This iridized Basket will be available only at participating Family Signing Event dealers for $49.50 U.S. Click here to see how our skilled craftsmen create this beautiful Rosalene Basket!


Fenton Gift Shop
Labor Day Sale!
Click here for details!

Fenton Family Member Signing Events:
George Fenton - 9/3
Randy Fenton - 9/4
Mike Fenton - 9/5
Christine Fenton - 9/6

---