FENTON GIFT SHOP
SPECIAL OFFERINGS
Great ideas for Fenton Bell or Slipper collections!
220067
4'' Violet Mini Bell
$22.50, Buy Now!
Preferred Second. This 4" Violet Mini Bell features a lovely purple floral motif.

220066
4'' Robin's Egg Blue Mini Bell
$22.50, Buy Now!
Preferred Second. This 4" Robin's Egg Blue Mini Bell has a purple floral motif.
220065
4'' Buttercup Mini Bell
$22.50, Buy Now!
Preferred Second. This 4" Buttercup Mini Bell has a handpainted rose decoration.
220068
4'' Milk Glass Slipper
with Pink Roses
$22.50, Buy Now!
Preferred Second.
4" Milk Glass Slipper with handpainted pink roses.

Fenton eBay Auctions
Own a unique Fenton creation, including one-of-a-kind pieces, through our weekly eBay Auctions! Items featured this week...
Fenton USA Presents. . .Jolly Green for the Holidays!
We are introducing a new color for Christmas 2010 called Jolly Green. Shown above are a few of the new Jolly Green items. Add glass ornaments or holiday treats to this beautiful, elaborately crimped 12'' Ribbed Bowl and make your holiday display extra festive. The Flower Band Candlesticks are Fenton moulds based on an early American pattern glass motif from the 1890s.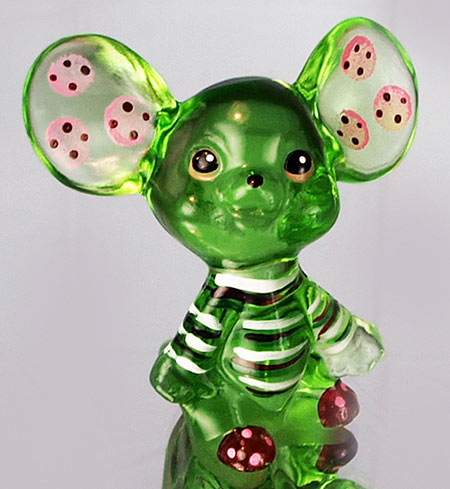 Other handcrafted Jolly Green pieces include an adorable
Holiday Chums Mouse figurine (shown at right) as well as the ever-popular Christmas trees (available in three sizes!), our glass Slipper, a swung vase, and a votive.
Plan ahead for the holidays or a special occasion. Click on each image for details or click here to view all of Fenton USA's Christmas 2010 items. To view our full 2010 glass line, click here.
Internet Specials!
Our Fenton USA Internet Specials include limited quantities of select glass pieces produced
by Fenton USA.

This beautiful Limited Edition 4-1/2" Blown Ornament is a must have for Burmese collectors. Fenton's classic Burmese glass contains pure gold in the formula, which creates the soft pink blush. This ornament is hand blown by West Virginia glass artisan Ron Hinkle and has
a rib optic, which adds to its beauty. No two are alike! Burmese is the perfect canvas for Fenton designer Kim Barley's elegant Magnolia floral motif. Each ornament is numbered and includes a display stand. Display all year long! Don't delay, fewer than 20 remain in inventory!


Internet Special Price: $48.75
Click on the image for details or,
to view all of our Fenton USA
Internet Special Offers,
click here.

Remember, quantities
are extremely limited!


Fenton Gift Shop Labor Day Sale! Click here for details!
---
For questions or comments, please do not reply to this email. Instead, email: askfenton@fentonartglass.com. This email has been sent to you because you have agreed to receive offers and information from the Fenton Art Glass Company. We respect your privacy and do not sell your personal information. For details, please review our privacy policy.

How to unsubscribe: If you prefer not to receive offers or information from Fenton Art Glass, please use this page.

If you use a Challenge-Response system for email, please make certain that you can receive our email by adding askfentononline@fentonartglass.com to your Allow List. For specific instructions for major ISPs, click here.

The sender of this email is the Fenton Art Glass Co., 700 Elizabeth St., Williamstown, WV, 26187