FENTON GIFT SHOP
SPECIAL OFFERINGS
Z5535RJ
6-1/2'' Rosalene Iridized Tree
$40.75, Buy Now!
Christmas trees are the heart of the American holiday tradition. Collect
and enjoy this 6-1/2" Iridized Rosalene Tree for your holiday celebrations. Mix and match this new Gift Shop Exclusive with other Fenton trees for an attractive holiday display.

Z6853HPA
8-1/2'' Opal Satin Cottage Vase
$108.00, Buy Now!

We only had 40 made of
this beautiful 8-1/2" tall
Opal Satin Vase, so we're pleased to offer the remaining stock. The handpainted scene combines a lush landscape with rich purples and greens with a depiction of a cozy cottage in the country. Each vase is personally signed by the talented Fenton artist who handpainted it.
ZV769HPA
3-3/4'' Burmese Top Hat
$99.00, Buy Now!

Only 40 of these beautiful
3-3/4" tall Top Hats were made, so we're pleased to offer those we have remaining in stock. The handpainted floral features violets along with a nest containing bird eggs. Burmese glass has pure gold in its formula, and Fenton glassworkers have mastered the reheating technique needed to create the pink blush. Each Top Hat is personally signed by the talented Fenton artist who completed it.
Z51511G
3-1/2'' Frank Workman
Multi-Colored Frit Bear
$150.00, Buy Now!
Glass artisan Frank Workman used multi-colored frit to make these fabulous handblown Bear figurines using our popular Birthstone Bear mould. No two will be alike, but each is a unique beauty! Frank's personal stamp is on the underside, and only a few remain available, so don't miss out!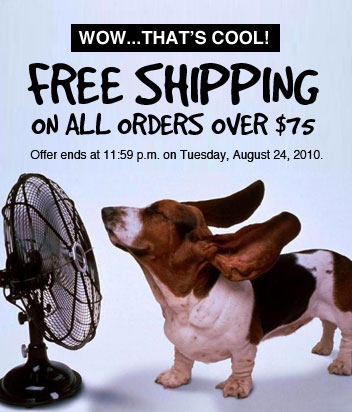 Fenton USA Presents. . .
FREE SHIPPING
on Qualifying Orders!

The Dog Days of Summer are upon us, and it's time to cool off with a FREE SHIPPING offer from Fenton! Here's how: Place your online order with a total of $75 or more and simply enter FF333 in the coupon code box. Remember, your order must total at least $75 to qualify for this offer! Online orders only. Now's the time to stock up for upcoming special occasions and the holidays! This offer ends at 11:59 p.m. on Tuesday, August 24, 2010.
How do I take advantage of Fenton's
FREE Shipping offer for online orders?
1. Place at least $75 of fentonartglass.com
products in your Shopping Cart from 12:01 a.m. Eastern Time on Sunday, August 22
to 11:59 p.m. (just before midnight!) on Tuesday, August 24th.
2. Proceed to checkout.
3. Ship your items to a single U.S. address.
4. Enter FF333 when prompted for a coupon code (it will be added automatically if
your order qualifies).
5. Place your order, and enjoy the free shipping!
6. Free Shipping is for GROUND delivery only, not for Express 3-Day Delivery.
Plan ahead for the holidays or a special occasion. Above are a few gift ideas. Click on each image for details or click here to view all of Fenton USA's Christmas 2010 items. To view our full 2010 glass line, click here.

Fenton USA Internet Specials!
Our Internet Specials include very limited quantities of select glass pieces produced by Fenton USA. This lovely 7-1/2" Burmese Basket features a flared top and six-point crimp. Our classic Burmese glass contains pure gold in the formula, which creates the soft pink blush. Burmese provides the perfect canvas for this delicate handpainted design of summer wildflowers.

Summer Sizzler Internet Exclusive Price: $78.50
Click on the image for details or, to view all of our special Internet Offers from Fenton USA, click here. Remember, quantities are extremely limited!

Qualifies for FREE SHIPPING through 8/24/2010!

Fenton eBay Auctions
Own a unique Fenton creation, including one-of-a-kind pieces, through our weekly eBay Auctions! Items featured this week...
---