FENTON GIFT SHOP
SPECIAL OFFERINGS
220026
4'' Carnival Puppy
$16.25, Buy Now!
Preferred Second. This 4'' Lab Puppy figurine is handcrafted in Marigold Carnival glass. A special spray of metallic salts creates various effects on different base glass colors. This figurine has a base color of Cobalt.

220025
10-1/2'' Cobalt Blue Carnival
Holly Pattern Plate
$25.00, Buy Now!
Preferred Second. This 10-1/2'' Cobalt Blue Carnival Holly Pattern Plate will add a little charm to your table and make a great addition to your Carnival glass collection. Stand not included.

201311
4-1/2'' Autumn Gold Tumbler
$16.50, Buy Now!
Preferred Second. This beautiful 4-1/2" Gold Iridized Tumbler is so versatile! Use this tumbler as a small vase and fill with flowers or use it as a unique pencil holder for your desk.
200012
3-1/4'' Chocolate Glass Kitten
$11.25, Buy Now!
Preferred Second. This adorable Chocolate Kitten is the perfect piece to introduce a young collector to the wonders of Fenton Art Glass.
Fenton eBay Auctions
Own a unique Fenton creation, including one-of-a-kind pieces, through our weekly eBay Auctions! Items featured this week...
Fenton USA Presents. . . Halloween Figurines!
It's about that time again!
No, not Christmas...
Halloween!

Enjoy Halloween with
our latest whimsical group of Fenton figurines. Each piece is meticulously handpainted and signed by the talented Fenton artist who has completed it.
The figurine designs are
by Michelle Kibbe.

Shown at right are Polka,
the Curious Cat and his buddy, Dot the Kitten. Both are handcrafted in Black glass.

Jacko the Ghost figurine welcomes one and all to
your Halloween festivities with ''open arms'' (in a manner of speaking!). This figurine is handcrafted in Buttercup,
one of our newer colors.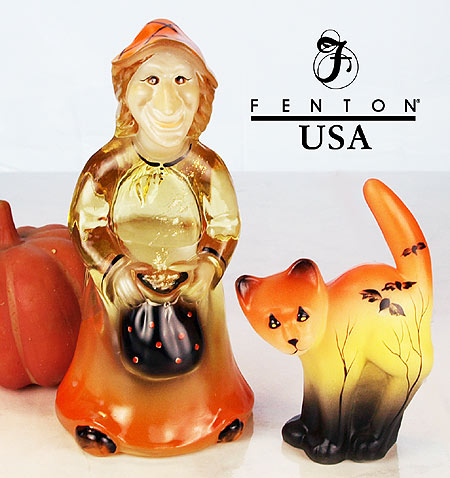 Kandy the Witch and Thriller the Scaredy Cat will add a touch of whimsy to your Halloween display! Our 6-1/2'' Witch figurine is handcrafted in Buttercup glass.
The Witch figurine was designed
by Jon Saffell and introduced in 2002. Our 4-1/2'' Scaredy Cat is handcrafted in Opal Satin glass.
The Cat sports candy corn eyes and bats and trees on its back.
The cat figurine was designed by Jon Saffell and debuted in 2002.
Not ready for Halloween?
Click here to view our 2010 product line. Can't find it online? Call one of our authorized Fenton dealers! To locate a Fenton dealer near you, click here.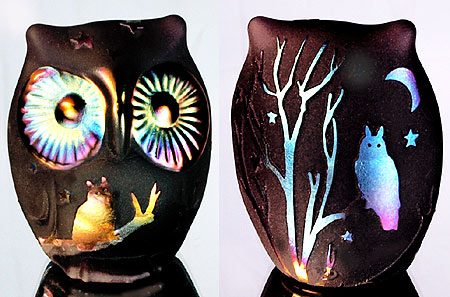 ''Owloween''
from Fenton USA
Included in the 2010 Studio Fenton collection, this 3'' Owl figurine is named Owloween and is limited
to 500 pieces. Designed by
cameo artists Kelsey Murphy and
Robert Bomkamp. Front and back views are shown in the photo.
Cameo carving is a painstaking process. After the glass has been annealed, a special mask is taped to the surface of the glass. Using an advanced vignetting technique, each piece is sandcarved, by hand, using aluminum oxide crystals under pressure to take away some of the surface.
Great individual skill and experience are needed to control this operation, as stages of successive cameo carving are required to create the
remarkable depth and the intricate details.

Fenton USA Internet Specials!

Very limited quantities are available of select glass
pieces produced by Fenton USA. Included in the grouping
is this sparkling 6" Opal Satin Owl. It is handpainted to resemble a real owl in soft grays with glitter accents.
Click on the image for ordering details.

To view all of our special Internet Offers
from Fenton USA, click here. Remember,
quantities are extremely limited!
---
For questions or comments, please do not reply to this email. Instead, email: askfenton@fentonartglass.com. This email has been sent to you because you have agreed to receive offers and information from the Fenton Art Glass Company. We respect your privacy and do not sell your personal information. For details, please review our privacy policy.

How to unsubscribe: If you prefer not to receive offers or information from Fenton Art Glass, please use this page.

If you use a Challenge-Response system for email, please make certain that you can receive our email by adding askfentononline@fentonartglass.com to your Allow List. For specific instructions for major ISPs, click here.

The sender of this email is the Fenton Art Glass Co., 700 Elizabeth St., Williamstown, WV, 26187