FENTON GIFT SHOP
SPECIAL OFFERINGS
220062
8'' Ruby Vase with Grape Design
$51.50, Buy Now!
Preferred Second. This stately 8'' Vase features a handpainted vining grape design. This vase is handcrafted in our classic
Ruby glass.
220059
7'' Ruby Basket with
Crystal Handle
$25.25, Buy Now!
Preferred Second. This Ruby Basket with Crystal handle will make a wonderful addition to your Fenton collection.

220064
3'' Black Mini Kitten with Handpainted Green Sweater
$20.50
Buy Now!
Preferred Second.
This Black Mini Kitten is wearing a handpainted green sweater design. It will make a nice addition to any cat collection.
220047
6-1/2'' Emerald Green Bell
with Floral Design
$25.50, Buy Now!
Preferred Second. This 6-1/2'' Emerald Bell features a handpainted floral design. It
will make a wonderful addition to your Fenton collection.
Fenton USA Presents. . . Crown Candle Bowls!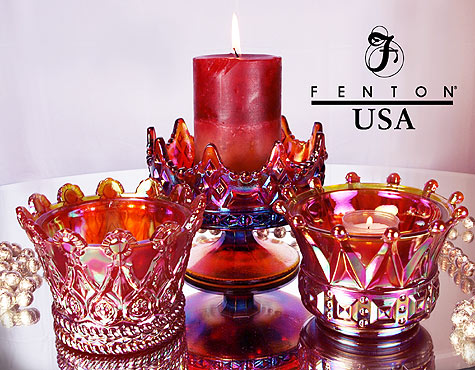 We are delighted to introduce three new items for our 2010 Christmas collection, Crown Candle Bowls. These candle bowls will be the crowning glory when used for home decorating. Each Crown Candle Bowl is handcrafted in rich Ruby glass and sprayed while hot with a special solution of metallic salts for a vivid iridized effect.
The crowns are made with Fostoria moulds designed in the late 1950s by the famous designer George Sakier (1897-1988). Sakier was an artist and industrial designer, and author. Leslie Pina credits him with work for Fostoria from 1929 to 1979. Sakier was seldom actually at the Fostoria plant, as he had studios in New York and Paris (and lived mostly in Paris from 1950 until his death).

To view available Fenton USA Christmas 2010 items, click here. Not ready for Christmas? Click here to view our 2010 product line. Can't find it online? Call one of our authorized Fenton dealers! To locate a Fenton dealer near you, click here.

Fenton USA Special Ornament Offer

Very limited quantities (fewer than 15) are available of this beautiful hand blown Ruby ornament by West Virginia glass artisan Ron Hinkle. This ornament features a handpainted scene by Michelle Kibbe of reindeer flying above a wintry landscape. The reverse side of the ornament shows snow-covered pine trees. Each ornament is 4-1/2'' in diameter (varies) and includes a 9" brass stand. Sure to become a treasured family heirloom! Click on the image for ordering details. Click here to view all of our special Internet Offers from Fenton USA. Remember, quantities are extremely limited!
---
Fenton eBay Auctions
Own a unique Fenton creation, including one-of-a-kind pieces, through our weekly eBay Auctions! Items featured this week...
---
For questions or comments, please do not reply to this email. Instead, email: askfenton@fentonartglass.com. This email has been sent to you because you have agreed to receive offers and information from the Fenton Art Glass Company. We respect your privacy and do not sell your personal information. For details, please review our privacy policy.

How to unsubscribe: If you prefer not to receive offers or information from Fenton Art Glass, please use this page.

If you use a Challenge-Response system for email, please make certain that you can receive our email by adding askfentononline@fentonartglass.com to your Allow List. For specific instructions for major ISPs, click here.

The sender of this email is the Fenton Art Glass Co., 700 Elizabeth St., Williamstown, WV, 26187