FENTON GIFT SHOP
SPECIAL OFFERINGS
220044
5-1/4'' Cobalt Chessie Box
$20.00, Buy Now!
Preferred Second. Our Cobalt Chessie Cat footed Vase is perfect for displaying wrapped candies, seashells, glass gems, flowers, or other goodies! Or, use it for a pen/pencil holder!
220045
8'' Cobalt Flip Vase
with Floral Design
$69.50, Buy Now!
Preferred Second. Cobalt glass collectors will love this Cobalt 8'' Flip Vase with a diamond optic and handpainted floral design.

220046
6-1/2'' Cobalt Bell
with Floral Design
$24.50, Buy Now!
Preferred Second. Our Cobalt Bell features a lovely handpainted floral design.
220057
4-1/2'' Cobalt Football
Paperweight, $4.00
Buy Now!
Preferred Second. This Cobalt Football Paperweight makes a perfect gift for the football fan
in your life!
Click here for details on the Sewing B's Fabric Flea Market under the Fenton Tent on
August 7th!
Fenton USA Presents. . . 2010 Holiday Chums!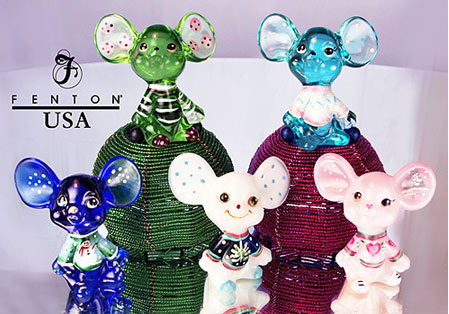 Our 2010 Holiday Chums Mouse collection brings merry holiday wishes to all!
Each 3'' mouse sports a bright handpainted whimsical design by Kim Barley.

Available in a rainbow of our newest colors, including Jolly Green and Robin's Egg Blue, these sweet accent figurines will add to your holiday decor or make perfect gifts for fun-filled friends. Click on each Mouse for details (Note: the Robin's Egg Blue figurine is currently not available, so please check later) or click here to view all Fenton USA mouse figurines.
Our popular 4-1/2'' Penguin figurine returns for 2010 with a new realistic design by Michelle Kibbe. Handcrafted in Black glass, each handpainted Penguin is signed by the artist who completed it. Mix and match with our other holiday figurines for a delightful tabletop display! To view 2010 items available from Fenton USA, click here. Can't find it online? Contact one of our authorized Fenton dealers! To locate a Fenton dealer near you, click here.
Special Internet Offers
from Fenton USA
We have very limited quantities available of select glass pieces handcrafted by the skilled glass artisans at our historic factory in Williamstown, West Virginia. Each handpainted item is signed by the artist who completed it.
Shown at left is a beautiful three-piece set which includes a 6'' Swung Vase and 4'' Dolphin figurine handcrafted in Blue Lagoon glass. Add a set of Topaz gems (handcrafted in Fenton's Topaz glass by the Marble King company in Paden City, WV) and you have the perfect display for someone who loves the ocean or sea life! Click here to view all of our special Internet Offers from Fenton USA. And remember, quantities are extremely limited!
Mike Rowe Works Paperweight
During filming at the Fenton factory for the Discovery Channel's TV show Dirty Jobs in 2008, host Mike Rowe gained a new appreciation for the art of glassmaking.
We've collaborated with Mike's organization, mikeroweWORKS, to create some special pieces, including this mikeroweWORKS Black Glass Logo Paperweight.

Handcrafted in lustrous black glass by
the skilled craftsmen at Fenton Art Glass Company in Williamstown, West Virginia, this mikeroweWORKS paperweight (3-1/2'' diameter) is a must have for all of Mike's fans. The paperweight lies flat and is suitable for display on desks, counters, vanities, you name it! This paperweight is a great reminder of all the skilled trades that have made our nation what it is today. All the employees at Fenton Art Glass in Williamstown, West Virginia, are proud to collaborate with Mike Rowe to offer this great reminder of our appearance on the Dirty Jobs program. To learn more about mikeroweWORKS and products available from Fenton USA, click here.
---
Fenton eBay Auctions
Own a unique Fenton creation, including one-of-a-kind pieces, through our weekly eBay Auctions! Items featured this week...
---