FENTON GIFT SHOP
SPECIAL OFFERINGS
Check out our
Christmas in July offerings from the Fenton Gift Shop!
Z5160HPEA
3-1/2'' Emerald Green Fawn Figurine
Originally $35.25, Now $28.00
Buy Now!
Give a gift that is sure to be treasured. This Fawn figurine is handcrafted in Emerald Green glass and features a handpainted metallic holly design. Produced as a Fenton Gift Shop Exclusive.
260051
4'' Dave Fetty Ornament
in Black & Chameleon Green
Originally $100.00, Now $80.00
Buy Now!
Our Black and Chameleon Green glass colors combine perfectly in this handsome ornament created by master glass artisan Dave Fetty. The diamond design and random threading are Dave's special touches. Dave Fetty personally signed each ornament "Dave Fetty 08". Display all year!

GS395HP
8'' Silver Crest Handpainted
Heart Bon-Bon Dish
Originally $99.00, Now $79.00
Silver crest has always been popular and this piece is a must for collectors! This 8" Milk Glass Bon Bon Dish with a crystal crest and small handle is handpainted with a beautiful poinsettia motif. Produced as a Gift Shop Exclusive, it has the FGS 2006 Exclusive Logo on the bottom.
Z5225HPA
3-1/2'' Opal Satin
Christmas Lights Puppy
Originally $38.50, Now $30.75
Buy Now!
Christmas in July! Somebody's been caught playing in the Christmas lights! This adorable Opal Satin puppy was a 2009 Fenton Gift Shop Exclusive.
Fenton USA Presents. . . A New Color for Christmas 2010!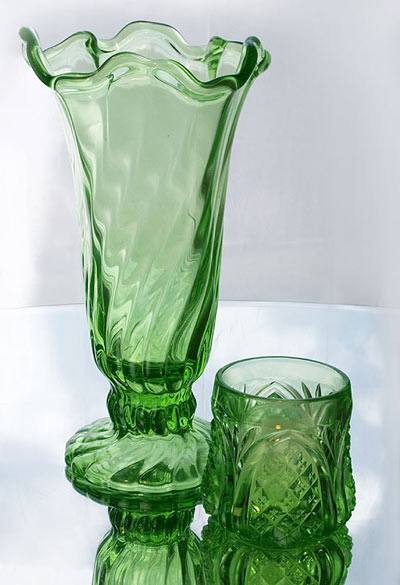 Our Christmas 2010 grouping is now shipping to Fenton dealers throughout the U.S. These items will be available
to order online very soon! You may browse the Christmas 2010 catalog
by clicking here. Please check back
as we will post ''breaking news''
on the Fenton Art Glass web site
as items become available.
We are also introducing a new color
for Christmas 2010 called Jolly Green. Several handcrafted Jolly Green pieces
will be available, including our popular Christmas trees, a Holiday Chums Mouse figurine and a glass Slipper.
Shown here are some new Jolly Green items. This lovely Swung Colony
Vase will vary from 10''-12'' inches.
The vase is a Fostoria mould. Our votive sparkles with or
without a candle!
Add glass ornaments to this beautiful 12'' Ribbed Bowl and make your holiday display extra festive. The Flower Band candlesticks are Fenton moulds based
on an early American pattern glass motif from the 1890s.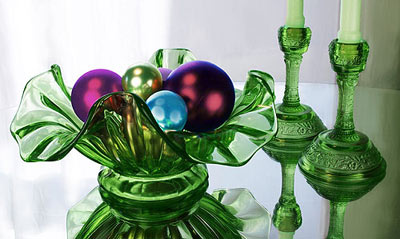 Fenton USA Presents. . . Special Cranberry Offer!
You'll have two Fenton classics when you own
this Cranberry Opalescent Hobnail Pitcher!
A longtime collector favorite, Cranberry
contains pure gold in the formula. However, Fenton stopped making Cranberry glass in Williamstown, West Virginia around 2005, so
this is your chance to own a piece of history!

Hobnail, one of the best known and
collected Fenton patterns, has been in and
out of the Fenton line since the late 1930s.

Receive FREE SHIPPING on this pitcher
while supplies last! Click on the image for
details or click here to view more special offers
from Fenton USA. To view 2010 items currently available from Fenton USA, click here. Can't
find it online? Call a Fenton dealer! To locate a Fenton dealer near you, click here.
"Get Ready to Get Dirty™". . .
During filming at the Fenton factory for the
Discovery Channel's TV show Dirty Jobs in 2008,
host Mike Rowe decorated his own Dirty Jobs
logo t-shirt paperweight under Fenton designer
Kim Barley's supervision. We joined with Mike's organization, mikeroweWORKS, to create some
special pieces, including this T-Shirt paperweight.
Handcrafted in lustrous black glass by our skilled glassworkers, this Get Ready to Get Dirty™ T-Shirt paperweight is 4-3/8'' long and 4-1/4'' wide at the sleeves. It is decorated with one of Mike's favorite sayings, Get Ready to Get Dirty™ by both sandcarving and handpainting. Each T-Shirt is personally signed by the talented Fenton artist who completed it. All the employees at Fenton Art Glass in Williamstown, West Virginia, are proud to collaborate with Mike Rowe to offer this great reminder of our appearance on the Dirty Jobs program. Click here to view more items for mikeroweWORKS.
---
Fenton eBay Auctions
Own a unique Fenton creation, including one-of-a-kind pieces, through our weekly eBay Auctions! Items featured this week...
---