FENTON GIFT SHOP
SPECIAL OFFERINGS
CV196OJ
6-1/4'' Emerald Green Carnival
Grape Bell, $44.00, Buy Now!
This Emerald Green Carnival Grape Bell has the Fenton 100th logo. The deep shade of Emerald Green is sprayed with metallic salts while the glass is still hot. As the spray is applied, a rich color rainbow emerges. The grapes & leaves have gold highlights. Proudly signed by the Fenton artist who completed it.
Z5151HPE
3-1/2'' Emerald Green Bear Figurine with Daisy Design
$34.75
This adorable 3-1/2" Emerald Green Bear figurine has been handpainted with a fresh daisy pattern. This Fenton Gift Shop Exclusive for 2009 makes a beary special gift or addition to your Fenton figurine collection!
Z9262IP
6-1/4'' Plum Opalescent Iridized Rose Patterned Bell
$37.25
Buy Now!
Here's a real bell ringer. . . a bell handcrafted in iridized Plum Opalescent glass! Our Rose pattern 6-1/4" bell is beautifully crimped and iridized with a spray of metallic salts to create a
most vivid effect. A 2008 Fenton Gift Shop Exclusive.
Z5151IP
3-1/2'' Plum Opal Iridized
Bear Figurine
$32.00
Produced as a new Gift Shop Exclusive, this Plum Iridized Bear will be the plum perfect addition to your collection. Proudly handmade by the artisans at Fenton USA.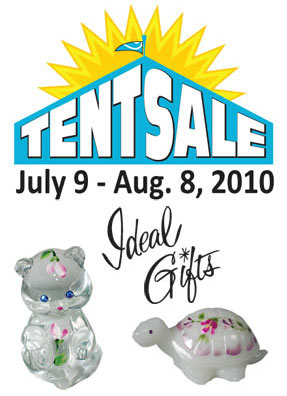 Click on image for details!
Fenton USA Presents. . . Ring in Summer
with Beautiful Handcrafted Bells!

Ring in the summer with a "made in the USA" handcrafted Bell from Fenton USA! Bells are appealing to the eye and pleasing to the ear, delightful to use to decorate and to enjoy. Bells have always been part of the Fenton product line, and bell collectors are an important part of the glassmaking industry history.

Fenton USA bells are handcrafted and handpainted in a variety of styles and sizes at our historic factory in Williamstown, West Virginia. Each bell is signed by the artist who completed it.
The first Fenton handpainted bell was introduced in 1971 in the Bluebells pattern on Milk Glass. This pattern was developed by Louise Piper and was in the Fenton line in 1971 and 1972. Louise was instrumental in restarting the Decorating Department at Fenton in 1968. Fenton began as a "handpainting" business in 1905, but we shut down that department during the Great Depression of the 1930s.
Collectors will want to add our new 2010 bells to their collections! Shown above is our lovely Fluttering Floral on Lavender Bell. Move it from one lighted area to another to see your guests' reactions! Lavender contains neodymium, so your pieces will be different colors under various lighting conditions. This characteristic is called "dichroic."
Shown above are 2010 bells handcrafted in two new colors: Buttercup and Robin's Egg Blue. Click on each image for details. To view all Fenton USA bells currently available in a wide variety of styles and colors, click here. Can't find it online? Contact one of our Fenton dealers! To locate a Fenton dealer near you, click here.

Fenton USA on QVC - Sunday, July 4!
Our next QVC shows will air Sunday, July 4. Show times are 7-8 a.m. and 4-6 p.m. (Eastern Time). George Fenton will be guest host. Fenton USA glass, handcrafted in Williamstown, West Virginia, exclusively for QVC, will be featured. The offering will include this beautiful Footed Bowl with Nymph figurine handcrafted in Robin's Egg Blue. Watch for a preview of the items to be offered in the July 1 issue of this newsletter. To learn more about QVC and Fenton USA, click here. For an great reference book on Fenton and QVC, click here. To view other Fenton Art Glass items currently available from QVC, click here.

Fenton eBay Auctions
Own a unique Fenton creation, including one-of-a-kind pieces, through our weekly eBay Auctions! Items featured this week...

---