FENTON GIFT SHOP
SPECIAL OFFERINGS
027243Z
8'' Black Marigold Lion Bowl
$71.50, Buy Now!
Avid Carnival glass collectors will especially love our striking Black Marigold Lion Bowl. Produced as 2008 Gift Shop Exclusive, this piece is a must have for any Carnival collector!
063474Q
2'' Aubergine Marigold Nappy
$49.50, Buy Now!
This Aubergine Marigold Nappy is sprayed with metallic salts for a vivid iridescent effect. Carnival glass has been a Fenton hallmark since 1907.
GS098354Q
6'' American Beauty Rose Aubergine Carnival Basket
Signed by Lynn Fenton
Originally $59.50, Now $45.00
Buy Now!

Lynn Fenton engraved her signature on these attractive Carnival glass baskets, which are about 6" tall. We have only 50 to offer. Each is signed "Lynn Fenton '10" on the underside. The base glass color is our rich Aubergine, and the iridescence on the interior has a splendid matt quality with gold tones and purple highlights. The mould used to make this basket originated at Imperial Glass in Bellaire, Ohio, about 1910. Many collectors call this pattern American Beauty Rose. The baskets are finished with a graceful six-point crimp and a fine rib twisted handle.
08395CN
7'' Amethyst Carnival
Cornucopia Feather Vase
Originally $69.50
Now $45.00
Buy Now!
Enjoy the vibrant beauty of Amethyst Carnival glass with this classic Cornucopia Feather Vase. The deep shade of Amethyst glass is sprayed with metallic salts while the glass is still hot. A rainbow of rich color emerges.
Fenton USA Presents. . . Colorful Carnival Glass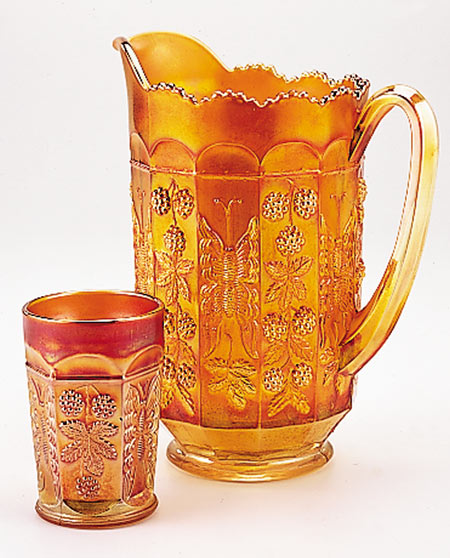 In 1907, the fledgling Fenton Art Glass Company entered the marketplace with a new line of glassware called "Iridescent Ware." This new glass featured vivid, ever-changing metallic hues on highly-patterned pressed glass articles. Popular from 1908 to about
1914, Fenton's "Iridescent Ware" enjoyed great success. Shown at right is the No. 1124 Butterfly and Berry Pitcher and Tumbler in Marigold Carnival, circa 1910. By the 1950s, this glassware was eagerly sought after by American glass collectors. Stories abound
that the glass was used for midway game prizes
and the phrase "Carnival glass" was coined.
When Fenton resumed production of their iridescent glass in 1970, it was decided
to rename it "Carnival glass," and it has been called that ever since. The secret of Fenton's Carnival glass is a special spray of metallic salts on different base glass colors while it is very hot. Using today's technology, Fenton's glass chemists have rediscovered the striking vivid effects of some of the first sprays used in 1907.
We continue to make our Carnival glass by hand, the old-fashioned way. We
never cease to marvel at the rainbow of colors of this beautiful glass.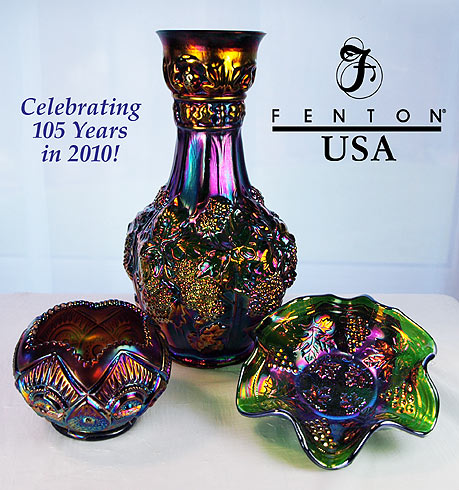 We regard
the enthusiasm of today's collectors
as a great tribute to our company founder
Frank L. Fenton, who first ventured into the marketplace with "Iridescent Ware" more than a
century ago.
As we celebrate 105 years of business
in 2010, we offer several new pieces in Marigold Carnival. Shown here are
four of our new items: a Rosebowl,
a Grape Vase,
a Grape Leaf Bowl and a Footed
Drape and Tie Bowl
(shown below).
Click on each image
for details or to view all 2010 items from Fenton USA,
click here.

Can't find it online?
Try one of our Fenton dealers! To locate
a Fenton dealer
near you, click here.
Mark Your Calendar! Fenton USA on QVC, Sunday, July 4th

Fenton Art Glass will be featured on QVC on Sunday,
July 4. Show times are 7-8 a.m. and 4-6 pm (Eastern Time). George Fenton will be appearing as guest host. Fenton USA glass handcrafted in Williamstown, WV will be featured. Figurine collectors will want to add this adorable handpainted puppy figurine to their collection. The July 1 issue of this newsletter will have a full preview of items
to be offered. To learn more about QVC and Fenton USA, click here. For an excellent reference book on Fenton and QVC, click here. To view other Fenton Art Glass items currently available from QVC, click here.

Fenton eBay Auctions
Own a unique Fenton creation, including one-of-a-kind pieces, through our weekly eBay Auctions! Items featured this week...
---