FENTON GIFT SHOP
SPECIAL OFFERINGS
300046
4'' French Opal Satin Cat
Originally $30.50, Now $25.75 Buy Now!
French Opalescent satin glass with handpainted details and golden accents make this piece the cat's meow! Great gift for figurine collectors!
310011
5'' Key Lime Opalescent
Blown Egg
Shelley Fenton signature
$75.00, Buy Now!
Produced as part of the Good Fortune Collection, this Handpainted Key Lime Opalescent Blown Egg is a striking beauty. Inscribed with the signature of Shelley Fenton.
310014
10''Handpainted Iridized Raspberry Opalescent Vase
Nancy Fenton signature
$139.00, Buy Now!

The deep lustre of iridized Raspberry Opalescent speaks for itself. Handpainted with an elegant comtemporary floral design, this vase will make a stunning addition
to your collection. Inscribed
with the signature of Nancy Fenton.
K2988HP2H
6''Milk Glass Vase
with Emerald Green Ring
$49.50, Buy Now!
Just in time for fresh
seasonal flowers! This
Milk Glass vase is ringed
with Emerald Green and handpainted with purple daisies.

Fenton eBay Auctions
Own a unique Fenton creation, including one-of-a-kind pieces, through our weekly eBay Auctions!
Items featured this week...
Fenton USA Presents. . . Special Keepsakes for Best Friends
Celebrate the bond you have with a special someone by giving a gift of Fenton.
The Best Friends Forever collection for 2010 from Fenton USA are meaningful handpainted gifts for all the special friends in your life! These handcrafted glass figurines and treasure boxes feature bright designs by Michelle Kibbe.
Each piece has a handpainted saying. Our adorable 4'' Lab Puppy figurine in Buttercup has the words Best Friends handpainted on his chest. The 3-1/4'' Sitting Elephant figurine in Blush Rose has Hope on his footpad and the Robin's Egg Blue Elephant Treasure Box has a bright floral design and the word Memories handpainted on the side. This 4'' Treasure Box is perfect for storing precious momentos or adding a personal note for someone special. Click on each image for details or click here to view all available 2010 items. Can't find it online? Click here to locate a Fenton dealer near you.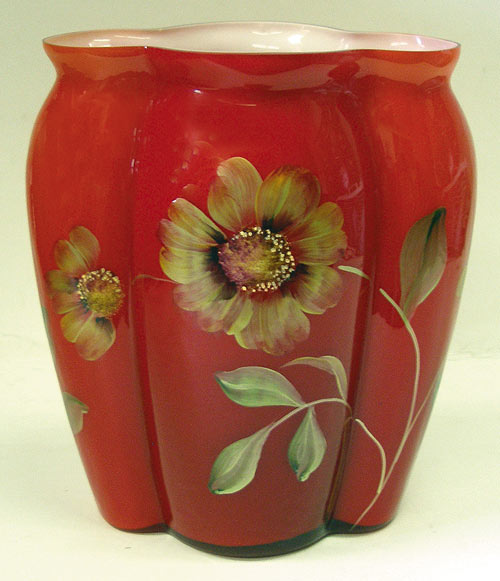 Fenton USA on QVC, Sunday, July 4th
Fenton Art Glass will be featured on QVC on Sunday, July 4. Show times are: 7-8 a.m. and 4-6 p.m. (Eastern Time). George Fenton will be appearing as guest host. Glass handcrafted in Williamstown, WV will be featured, including this elegant vase with a handpainted floral scene. Watch this newsletter for a preview of items to be offered! To learn more about QVC and Fenton USA, click here. For an excellent reference book on Fenton and QVC, click here. To view other Fenton Art Glass items currently available from QVC, click here.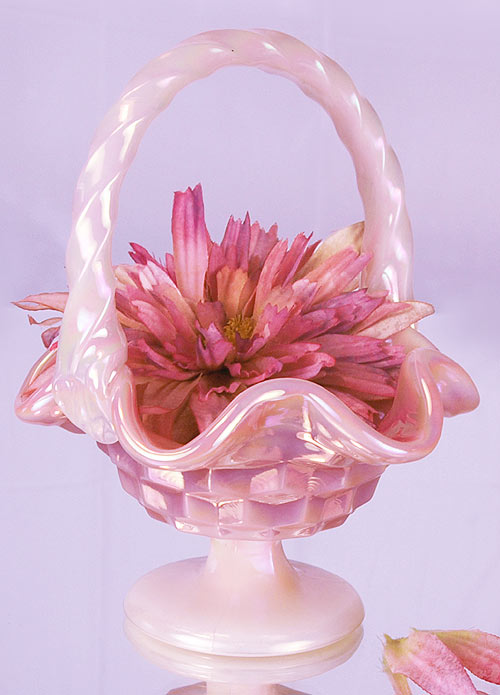 Fenton Family Signing Event on June 18th!
Meet Scott Fenton at a Fenton Family Signing Event to be held at Tamarack in West Virginia on June 18th. Scott will personally sign your 2010 Fenton Family Signing Event Exclusive Basket and all Fenton purchases during this Fenton Family Signing Event. The Event Exclusive, a 6'' American pattern Rosalene Basket, will be available for sale only at these events. Click here to see how this basket is handcrafted in our factory in Williamstown, WV.

June 18: Meet Shelley Fenton Ash at Tamarack, 500 Van Kirk Dr., I-77, Exit 45, Beckley, WV on Friday, June 18th from Noon to 2:00 ET. For details, please contact Tamarack at 800-498-6233.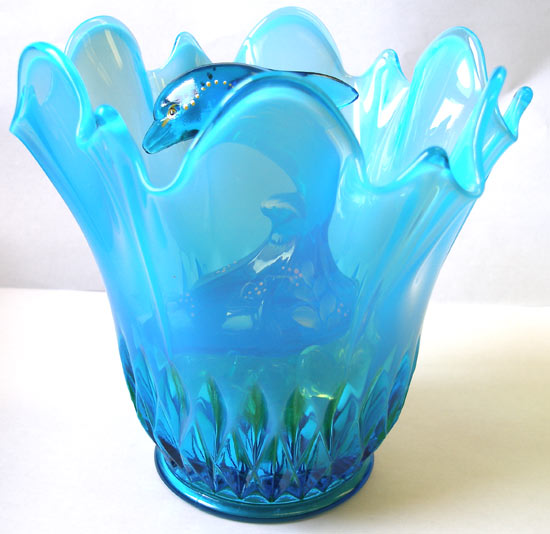 Fenton USA Internet Exclusive!
We're finishing our Spring cleaning and have located
a limited quantity of this Swung Vase and Dolphin figurine set, handcrafted in our languid and lovely Blue Lagoon glass. The three-piece set includes gems handcrafted in Fenton's Topaz glass by the Marble King company in Paden City, WV. This set
is a spectacular tribute to one of our favorite creatures of the sea, the dolphin. The Swung Vase is achieved by swinging the vase while the glass is very hot. The dolphin figurine nestled inside the vase provides the illusion of a dolphin jumping up from the waves! The figurine is handpainted in a realistic style and signed by the talented artist who completed it.



For a limited time, the Internet Exclusive price is $85 with FREE shipping! Click on the image above to order or click here to see the complete list of Internet Exclusives from Fenton USA!
---