FENTON GIFT SHOP
SPECIAL OFFERINGS
Z5228HPY
7'' Lavender Satin
Whisper of Spring Doll
$61.00, Buy Now!
Our 7" Gift Shop Exclusive Lavender Satin Bridesmaid Doll is titled Whisper of Spring. This charming young lady has her dress adorned with pretty crocuses. This figurine will make a lovely addition to your doll collection.
Z9499IP
4-3/4'' Plum Opal Iridized Logo
$41.75, Buy Now!
Produced as a Fenton Gift Shop Exclusive, our Plum Opalescent Iridized Fenton Logo is a perfect addition to any collection.

Z5057HPLY
4'' Hyacinth Foal
$38.50, Buy Now!

Our Hyacinth Foal, a Fenton Gift Shop Exclusive, may not be ready to race just yet. . . but we've gracefully detailed him to be sure he's still a winner! This figurine is handpainted and signed by the artist who completed it.
Z5065HPD
5'' Hyacinth Stylized Cat
$39.75, Buy Now!
Perfect for gift giving or
as an addition to an established collection!
Our new Gift Shop Exclusive Hyacinth Stylized Cat has a lovely handpainted floral design. Proudly handcrafted by the artisans at Fenton.

NEW. . . from
Fenton International

GS93012
5'' l. Blue Treasure Box
from Fenton International
$16.50, Buy Now!
The Fenton Gift Shop has beautiful new Gift Boxed Treasure Boxes for storing your keepsakes! Our Treasure Box collection from Fenton International includes six glass boxes in colors of Blue, Purple and Green. These boxes are available either decorated or unadorned. Each Treasure Box is packed in an attractive and sturdy Treasure Box gift box. This Treasure Box was designed by Fenton sculptor Jon Saffell (now retired).
The handpainted designs
are by Fenton designer
Stacy Williams.

Fenton International features artistic handcrafted gifts
from around the world.
To view more unique
glass items from Fenton International, click here.
Fenton eBay Auctions
Own a unique Fenton creation, including one-of-a-kind pieces, through our weekly eBay Auctions!
Items featured this week...
Fenton Annual
Tent Sale
July 9 ~ August 8, 2010
Watch this newsletter
for details!
Fenton USA Presents. . . Fluttering Floral on Lavender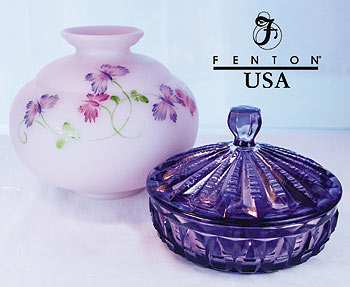 Our new Lavender
color for 2010 features a Fluttering Floral on Lavender motif by Fenton designer Michelle Kibbe. You can see why we called the floral design Fluttering, as the handpainted flower petals resemble delicate butterfly wings fluttering in the breeze!
Lavender contains neodymium, so your pieces will be different colors under various lighting conditions.
This characteristic
is called dichroic, and it makes this special color a great conversation topic!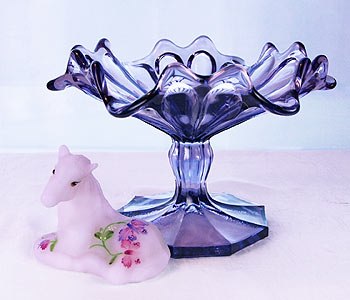 Violet glass shines like a jewel and remains a home decor staple. This warm color emits high energy when displayed in natural light or warm synthetic light. Compared to the other colors we produce, Violet tends to cool more quickly, and our skilled glassworkers adjust to this characteristic by changing their pace as needed during production.
Coordinate Violet with our new Lavender pieces and your display will be simply stunning! This new 2010 grouping from Fenton USA includes the items shown:
a 6-1/2'' Vase, a 4'' Notched Rib Candy Box, a 4'' Horse figurine, and our 5" Lucere Comport. Click on each image for details or, to view more new items from Fenton USA, click here. To locate a Fenton dealer near you, click here.
The Fenton Logo in our Glass . . . A Bit of History
Moulds are important assets in any glass factory, and especially at Fenton,
where we make glass the old fashioned way―by hand―using tools and techniques essentially unchanged from those of centuries ago. Our storage areas contain more than 11,000 cast iron moulds, most of which were made by skilled mouldmakers
in our own mould shop since we started glass production in January 1907.

Over the years, Fenton has acquired a number of historic moulds that originated at other glass companies. In the 1930s, we obtained a few moulds from the Diamond Glass-Ware Co. of Indiana, Pa., after that plant had been destroyed b
y fire.
In the 1950s, we bought moulds from the Paden City Glass Manufacturing Co., and a mould for a bird figurine became our popular 5197 Happiness Bird. In the 1960s, we purchased
quite a few moulds from two firms that ceased business―
Verlys of America and the United States Glass Co. Many
Verlys moulds have been used in the Fenton line.
Our popular 5177 Alley Cat debuted in the 1920s at U. S. Glass, where it was called Sassy Susie. When we began to mark
Fenton-made glass with the oval Fenton logo in the 1970s,
the now-familiar oval logo was put into Fenton moulds
as well as those that had originated elsewhere.

In the 1980s, we acquired moulds from the former McKee Glass Co. and during the liquidation of the Imperial Glass Corp., so we decided to denote glass made with these moulds with a distinctive, but different logo: a script F within a vertical oval. Some years later, when moulds were acquired from The Beaumont Company, the L. G. Wright Glass Co., and some other sources, this same practice was followed. A small "8" designates glass made in the 1980s, and a small "9" designates the 1990s. From 2000 through 2009, we used a small "0". We began to use a small "1" in 2010, and this will continue through 2019. We take great pride in being able to revive historic glass patterns and items from the past that originated at
great glass factories no longer with us.
Within the past few years, we've added "USA" close to the logo on all of our
moulds, both those originating at Fenton and those from other American glass companies. The "USA" characters appear only on glass made at the historic
Fenton factory in Williamstown, West Virginia.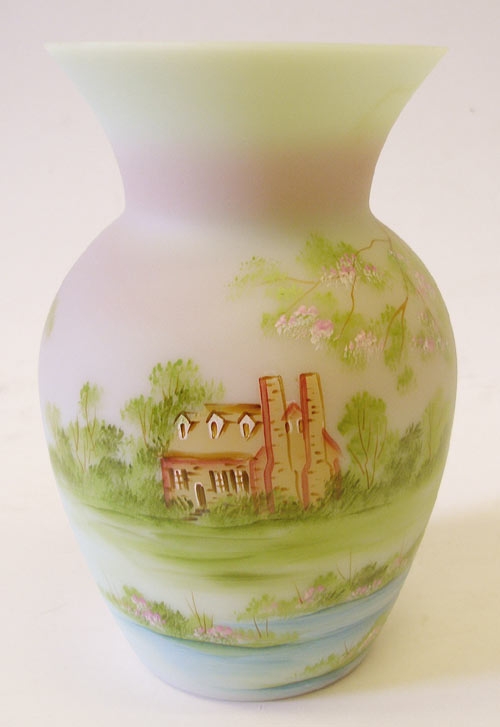 Fenton USA on QVC, Sunday, July 4th
Fenton Art Glass will be featured on QVC on Sunday, July 4. Show times are: 7-8 a.m. and 4-6 p.m. (Eastern Time). Guest host will be George Fenton. Glass handcrafted in Williamstown, WV will be featured, including this beautiful Burmese vase with a handpainted scene of an historic home. Can you guess whose house it is?? Watch this newsletter for a preview of items to be offered! To learn more about QVC and Fenton USA, click here. For an excellent reference book on Fenton and QVC, click here. To view other Fenton Art Glass items currently available from QVC, click here.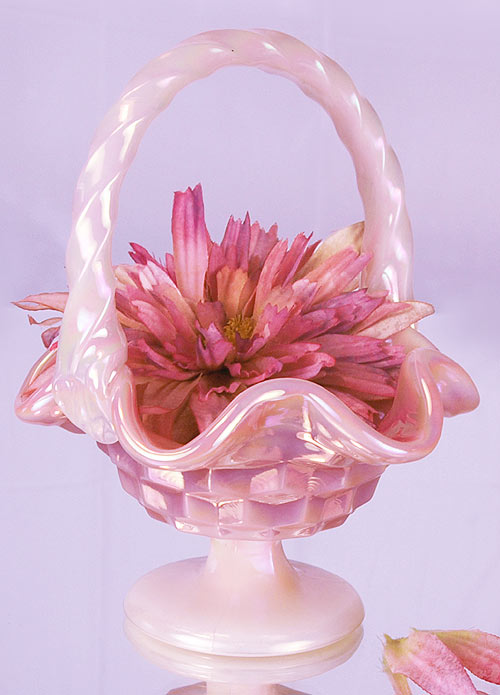 Fenton Family Signing Event on June 18
Meet Scott Fenton at a Fenton Family Signing Event at Tamarack
in West Virginia on June 18th. During this event, Scott will personally sign your 2010 Fenton Family Signing Event Exclusive Basket and all Fenton purchases. The event exclusive, a 6'' American pattern Rosalene Basket, (shown at left) will be available for sale only at these events. Click here to see how this basket is handcrafted in our factory in Williamstown, WV.
June 18: Meet Scott Fenton at Tamarack, 500 Van Kirk Dr., I-77, Exit 45, Beckley, WV on Friday, June 18th from Noon-2:00 ET. For details: Tamarack at 800-498-6233.
Fenton USA Internet Exclusives!
This grouping consists of limited quantity (usually fewer than a dozen) pieces offered at either a special price or with free shipping
. . . while supplies last! Our jewel-toned Violet Stretch Bowl makes a stunning centerpiece when filled with fresh flowers! There are just five left! The 6-1/2'' Tri-Crimp Vase in Fern Green features a Frances Burton handpainted design and there's four left! Click on each image for details or click here to see all available Internet Exclusives from Fenton USA!

---