FENTON GIFT SHOP
SPECIAL OFFERINGS
CV2261H
6-1/2'' Burmese Vase
George Fenton Signature
Originally $96, Now $72
Buy Now!
Limited time Only! Inscribed with the signature of George W. Fenton, this Burmese vase is the perfect way to display flowers. Gold in the glass causes a dramatic shift in color from yellow to pink when the glass is reheated.
A flowing triple-crimped edge with handpainted wildflowers complete this piece.
Z5266HPA
4'' Handpainted Burmese Turtle
$48, Buy Now!
Only 48 of these interesting 4" long Burmese Turtle figurines were made, so we're pleased to offer those remaining in stock. The handpainted floral motif has a bit of whimsy to it, and the Turtle seems to be smiling because of the flowers that grace its shell. Each Turtle is personally signed by the talented Fenton artist who handpainted it.

X4364HP
10-1/2'' Handpainted Burmese Vase
Originally $99 Now $75
Buy Now!

Sleek and contemporary, this 10-1/2" Burmese Vase is sure to spark a conversation in any room setting. Burmese is a classic Fenton color and pure Gold in the formula creates the pink blush.

X5034HPBR
5'' Burmese Angel
Originally $49.75
Now $37.50
Buy Now!
Blushing Burmese glass is
the perfect canvas for this precious Angel figurine. Handpainted with a floral decoration and lovely accents, this piece will be a pleasure to give or to receive.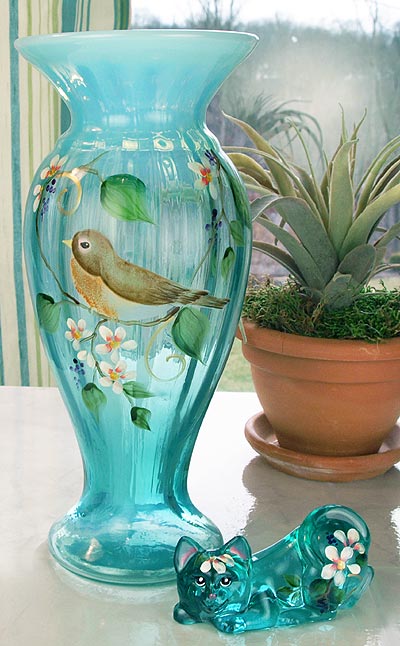 Fenton USA Presents. . .
Spring Song on
Robin's Egg Blue

The newest addition to our family
of blue glass hues, Robin's Egg Blue
will add just the right touch of color
to any area of your home. Group our handpainted Spring Song on Robin's
Egg Blue items with unadorned
pieces for a tabletop display
sure to delight one and all.
New for 2010 are our 10-3/4'' Flared Optic Vase and 4'' Stretching Kitten figurine. Both are handcrafted in
Robin's Egg Blue and feature a lovely handpainted design by Kim Barley. The cat figurine mould was designed
by Tony Rosena and modified by
Cathy See in the early 1990s.
To learn more about the artistry of Kim Barley, click here. These handpainted pieces are also available unadorned. Click image for details
or click here for available 2010 items from Fenton USA.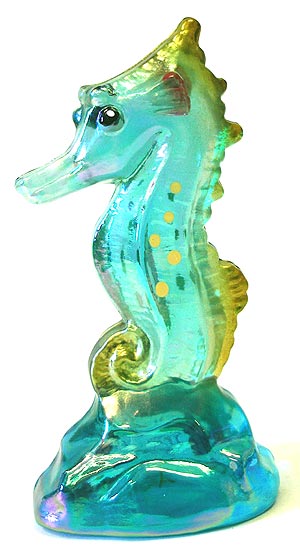 Fenton USA on QVC, Sunday, July 4th
Fenton Art Glass will be featured on QVC on Sunday, July 4. Show times are: 7-8 a.m. and 4-6 p.m. (Eastern Time). Guest host will be George Fenton. Glass handcrafted in Williamstown, WV will be featured, including this adorable Seahorse figurine in Robin's Egg Blue Iridized. Watch this newsletter for a preview of items to be offered during the two shows.

To learn more about QVC and Fenton USA, click here. For an excellent reference book on Fenton and QVC, click here. To view other Fenton Art Glass items currently available from QVC,
click here.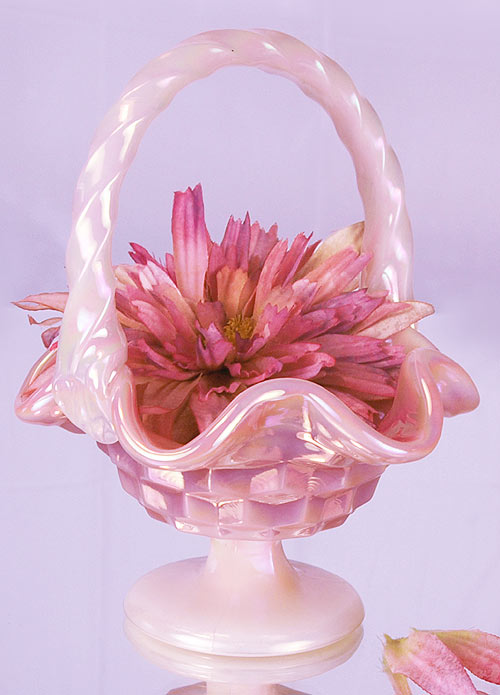 Upcoming Fenton Family Signing Events
Meet a member of the Fenton family at the two events listed below. Mike Fenton and Scott Fenton will personally sign your 2010 Fenton Family Signing Event Exclusive Basket and all Fenton purchases during their Fenton Family Signing Events. This 6'' American pattern Rosalene Basket will be available for sale only
at these events. Click here to see how this basket is handcrafted
in our factory in Williamstown, WV.

June 12, 2010: Mike Fenton will be at Remember When, located at 108 S. Public Square, Centerville, TN 37033 on Saturday, June 12th from 1:00 to 4:00 CST. For details, please contact Remember When at 931-729-0053 or email: Rem8@aol.com.

June 18: Meet Scott Fenton at Tamarack Craft Warehouse, 500 Van Kirk Dr.,
I-77, Exit 45, Beckley, WV on Friday, June 18th from 12 p.m. to 2 p.m. For details, please contact Tamarack at 800-498-6233.

Fenton eBay Auctions
Own a unique Fenton creation, including one-of-a-kind pieces, through our weekly eBay Auctions! Items featured this week...
---