FENTON GIFT SHOP
SPECIAL OFFERINGS
310012
6'' Natural Handpainted
Opal Satin Snowy Owl
$62.50, Buy Now!
Our Owl is handcrafted in Opal glass and handpainted in a natural design, then covered with sparkling frit for a snowy effect. This Owl would love to find a "perch" in your collection!
Z5258TO
6'' Yellow Topaz Owl
$47.25, Buy Now!
Produced as a new Fenton Gift Shop Exclusive, this 6" Topaz Opalescent Owl would also love to find a "perch" in your collection. Yellow Topaz, known as Vaseline Glass, has depleted Uranium in the glass formula which gives this classic color its yellow hue and produces a fluorescent glow when placed under a black light.
DS759LG
3-1/2'' White Opal Satin Father's Day Bear
$45.00, Buy Now!
DS759SM
2-3/4'' White Opal Satin
Father's Day Mini Bear
$35.00, Buy Now!
Free Shipping on each of these two items! Ready, set, golf... These Father and Son Bears are handcrafted in White Opal Satin and will make great additions to your bear collection. Proudly signed by the artist and inscribed with Collectors' Showcase logo on the bottom.
Fenton USA Presents. . .Gift Ideas for Dad!
This year, give Dad a gift he'll treasure forever. . .Fenton USA glass! Whatever the color, shape or size, Fenton USA is sure to have just the right gift idea for your Father! Click on each image to order, or, to view all available 2010 Fenton USA products, click here. To locate a Fenton dealer near you, click here.
They say a dog is man's best friend . . . give him a Fenton USA handcrafted puppy or dog figurine for his desk! Our 4'' Lab Puppy figurine is made in Marigold Carnival glass. A special spray of metallic salts creates various effects on different base glass colors. This figurine has a base color of Cobalt. Our skilled craftsmen have slipped back in time to revive this signature iridescent treatment. The results work perfectly with the warm colors used in today's home decor.
Is Dad an avid golfer or an armchair sports enthusiast? Our new Dad's Day Out Cobalt Diamond Optic Vase pays tribute to Fathers everywhere. . . on their special day they deserve a day out! Add golf tees, golf balls, or a special treat to create a unique gift! Cobalt ingredients create a dark blue glass which provides a perfect canvas for the handpainted Mary Gregory-style design by Stacy Williams. The art of painting in the Mary Gregory style, with unique shading and raised opaque details, tests the talents of the most accomplished decorators and is a tribute to the skills of Fenton artisans.
Long a favorite among collectors, rich Marigold Carnival on Ruby glass makes a welcome appearance in the Fenton line with our stately Tobacco Jar. Also great for storing golf tees, loose change, special treats. . . or place it on display for everyone to admire!
An Anniversary Keepsake. . .
from Fenton International
Need a unique and lovely Anniversary gift? Fenton International features beautiful handcrafted gifts from around the world for any occasion. Our popular Fenton International Anniversary collection features flower designs hand cut into crystal glass. Precious metal lettering is applied and the design is then handpainted and fired to create the brilliantly sparkling image. Several shapes and styles are available, ranging from Happy Anniversary to 60th Anniversary, including this 60th Anniversary Candy Box. Also available are these shapes: Bell, Candleholder, and Bud, Heart, and Rose Vases. Click here to view the entire Fenton International glass collection.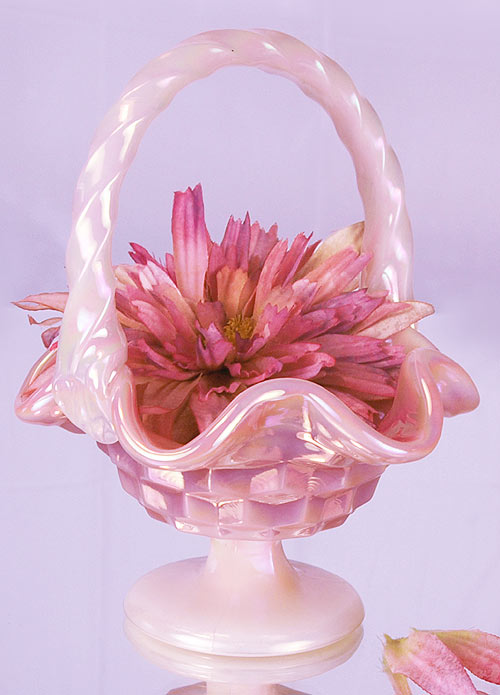 Upcoming Fenton Family Signing Events
We have some Fenton Family Signing Events in June. A member of the Fenton family will personally sign your 2010 Fenton Family Signing Event Exclusive Basket and all Fenton purchases during each event. The 6'' American pattern Rosalene Basket will be available only at these events. Click here to see how this basket is handcrafted in our factory in Williamstown, WV.

June 5: Meet George Fenton at Harris Brothers, located in the New Hartford Shopping Center, New Hartford, NY 13413. George will be on hand from 1-3 p.m. For details, call (315) 733-4686 or email: harrisbrothers@netzero.net
June 5-6: Meet cameo artists Kelsey Murphy & Robert Bomkamp at Joyce's Collectibles. The event will be held at Brian's Custom Framing, 201 Wolfe St., Syracuse, NY 13208. George Fenton will put in an appearance on June 6th. For details, call (315) 383-1878.

For Father's Day. . . A Gift He'll Never Forget!
Give Dad a glassmaking experience (or include yourself!) as a student at our 2010 Fenton Glassmaking School on Tuesday, August 3 from 6:00-9:30 a.m. Students gain a new appreciation of the technique and skill required to create a handcrafted work of glass art. Under the guiding hands of our skilled artisans, students will create their very own piece of glass! Click here for details.
Fenton eBay Auctions
Own a unique Fenton creation, including one-of-a-kind pieces, through our weekly eBay Auctions! Items featured this week...
---
Click on each image
for this week's Special Offers
from the Fenton Gift Shop!

04252P2
8-1/4'' Periwinkle Blue Urn
Originally $89.50, Now $58.00