FENTON GIFT SHOP
SPECIAL OFFERINGS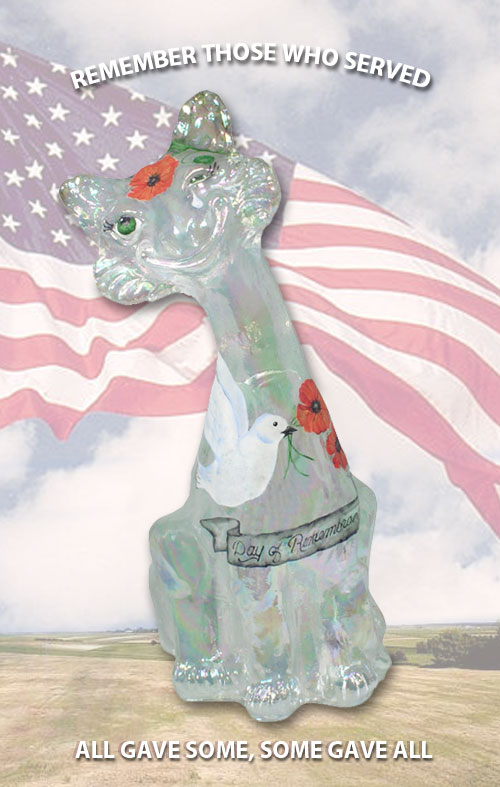 Memorial Day
Silent Auction Alley Cat
Don't miss the chance to bid on our Fenton Gift Shop one-of-a-kind Alley Cat, designed by Gift Shop featured artist Susan Bryan! Handpainted on White Carnival glass, Poppy is a tribute to all brave veterans who risked their lives past and present, so that we might have a future. Minimum bid is $125.00. To submit your silent auction bid, call 1-800-319-7793 (ext. 327 or 383) or email: service@fentongiftshop.com
C40735I
6'' Rosalene
Swirl Vase $59.50
Buy Now!
Our Rosalene Swirl Vase is handpainted with a tulip pattern. The secret to Rosalene is pure gold in the formula which allows the glass to blush from cool white to a lovely pink wherever it has been chilled and reheated.
310013
7'' Sky Blue Perfume Bottle
with Black Stopper
$59.50
Buy Now!

This
Sky Blue perfume bottle with a black stopper is perfect as a spur of the moment gift for someone special!
310015
3-1/2'' Milk Glass Rose Bowl
$47.50 Buy Now!
Enjoy this Milk Glass Rose Bowl with a handpainted floral design. You'll find so many uses for this Rose Bowl . . . perfect for candy, potpourri or decorative soaps. Numbered and limited to 150 pieces.
Fenton USA Presents. . . Best Friends Forever!
Share a special bond with Fenton . . . forever . . . with handcrafted glass figurines from Fenton USA! Best Friends Forever are meaningful handpainted gifts for all the special friends in your life! Featuring bright designs by Michelle Kibbe, you may choose from treasure boxes and figurines.
Each item features handpainted sayings. Our 4-1/2'' Cat Treasure Box/Ringholder in Buttercup has the word Sisters; the 5'' Stylized Cat figurine in Key Lime has Smiles for you; the 3-1/4'' Sitting Elephant figurine in Blush Rose has Hope on his footpad; and the adorable 4'' Lab Puppy figurine in Buttercup has the words Best Friends handpainted on his chest. Also included in this collection are a Ruby Songbird figurine (You're Special) and an Elephant Treasure Box (Memories) in Robin's Egg Blue. Click on each image for details or click here to view all available 2010 items. Cant find it online? Click here to locate a Fenton dealer near you.
Want to learn
more about Fenton?


Increase your knowledge
of Fenton Art Glass with
our excellent reference
books for collectors.

All the books feature
beautiful color photos
and concise, well-written accounts of Fenton products and people as well as the rich history of Fenton Art Glass. You'll enjoy the stories and pictures in these must haves for all those who love Fenton glass.


Click on each image or
click here to browse
all our reference titles.

For Father's Day. . . A Gift He'll Never Forget!
Give Dad a glassmaking experience (or include yourself!) as a student at our 2010 Fenton Glassmaking School on Tuesday, August 3 from 6:00-9:30 a.m. Students gain a new appreciation of the technique and skill required to create a handcrafted work of art. Under the guiding hands of our skilled glass artisans, students will create their very own piece of glass! Click here for details.
Fenton eBay Auctions
Own a unique Fenton creation, including one-of-a-kind pieces, through our weekly eBay Auctions! Items featured this week...
---
For questions or comments, please do not reply to this email. Instead, email: askfenton@fentonartglass.com. This email has been sent to you because you have agreed to receive offers and information from the Fenton Art Glass Company. We respect your privacy and do not sell your personal information. For details, please review our privacy policy.

How to unsubscribe: If you prefer not to receive offers or information from Fenton Art Glass, please use this page.

If you use a Challenge-Response system for email, please make certain that you can receive our email by adding askfentononline@fentonartglass.com to your Allow List. For specific instructions for major ISPs, click here.

The sender of this email is the Fenton Art Glass Co., 700 Elizabeth St., Williamstown, WV, 26187