FENTON GIFT SHOP
SPECIAL OFFERINGS

I5041HPB
4'' Opal Satin Handpainted
Zebra Finch Bird Figurine
$37.00, Buy Now!
Fenton Gift Shop's Bird Figurines make perfect companion pieces to the Fenton Natural Birds collection. Handcrafted in our Opal glass, this figurine features the realistic design of a Zebra Finch. Each piece is signed by the talented Fenton artist who completes it. Sure to please any figurine collector or bird watching enthusiast!
C5163DC
4'' Ruby Satin Handpainted
Bird Figurine, $38.50
Buy Now!

Handcrafted in our Ruby Satin glass, this figurine features the realistic design.
Z5197H2
6'' Key Lime Happiness Bird
$29.50, Buy Now!
Produced as a Gift Shop exclusive for 2009, this refreshing Key Lime Happiness Bird will be a charming addition to your home or as a gift!

I5066P2
4'' Handpainted Periwinkle Blue Hummingbird, $34.25
Buy Now!
Made exclusively for the Fenton Gift Shop, this 4" Periwinkle Hummingbird is handcrafted in an historic color rarely made by Fenton. Periwinkle Blue is a vivid opaque blue that ranges from light to dark within each piece, so no two birds will be exactly alike. It is also accented with white feathers and a hint of glimmer.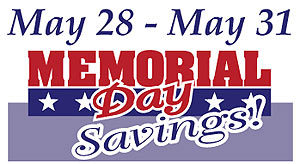 Fenton USA Presents. . . New Artist Selections!
We continue our celebration of handmade American glass with new Artist Selection Vases for 2010. From the contemporary to the classic, these vases look beautiful with or without a floral arrangement when displayed in your home.
Kim Barley's contemporary florals add to the attractiveness of this 9-1/2'' Winsome Garden Vase, handcrafted in our opaque Lavender glass.
Handcrafted in our satin finished Key Lime Opalescent, this lovely 11'' Easy Living Vase features a handpainted floral design by Stacy Williams.
Our 12'' Parrot Talk Vase features a handpainted design by Michelle Kibbe. This vase is handcrafted in Burmese glass, which contains pure gold in the formula. . . you can see the soft pink blush around the top of this beautiful vase. These items are now shipping to Fenton dealers around the country. Please check back for updates.
Click here to view all available items for 2010. Click here to locate a Fenton dealer near you.

Into the Pond. . .with Fenton's New Frog and Turtle Figurines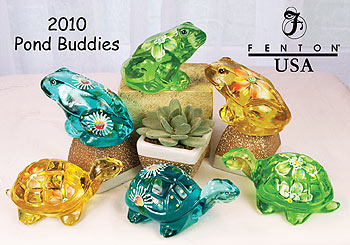 Our 2010 Into the Pond collection includes these delightful handpainted frog and turtle figurines.
Jon Saffell designed the moulds in 2001.
A glass frog in any
of Fenton's vivid colors recalls the glistening, moist skin of this (some would say cute) amphibian with its hind legs poised to leap!
Our whimsical turtle figurines are covered with handpainted spring petals. Handcrafted in Buttercup, Key Lime and Robin's Egg Blue, each colorful figurine features bright floral designs by either Stacy Williams or Kim Barley. Each piece is signed by the artist who completed it. All of the Into the Pond figurines are also available undecorated. Click on each figurine for details.

Fenton eBay Auctions
Own a unique Fenton creation, including one-of-a-kind pieces, through our weekly eBay Auctions! Items featured this week...
---