FENTON GIFT SHOP
SPECIAL OFFERINGS

XS323HP
9'' Black Satin Handpainted Ginger Jar
Original price 119.50 now $99.50
Buy Now!
For a Limited time this Black Satin Ginger Jar is offered at a discounted price! The Ginger Jar provides a striking contrast to the elegant handpainted floral design. A perfect gift for your home. . . or a friend.
C72411X
3-1/2'' Handpainted Black Rose Bowl with Milk Glass Edge
Originally $79.75, Now $60.00
Buy Now!

A Limited Time Offer on this stunning black beauty! This Rose Bowl is handcrafted from black glass with a contrasting ring of milk glass along the edge. A handpainted white bird pattern and a six-point crimp complete the graceful design.

A5165HP3
3-3/4'' Handpainted Black Glass
Cat Figurine, $31.75, Buy Now!
Stunning black glass handpainted with a daisy design make this cat a real beauty. Don't miss adding this Gift Shop Exclusive Cat to your figurine collection.
1C5033M2
4'' Handpainted Black Elephant Treasure Box, $44.00, Buy Now!
An elephant never forgets, so sculptor Suzi Whitaker created a whimsical memory box to store life's precious treasures. This memorable Elephant offers up his trunk to serve as a ringholder.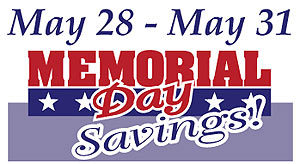 Fenton USA Presents. . . More Robin's Egg Blue!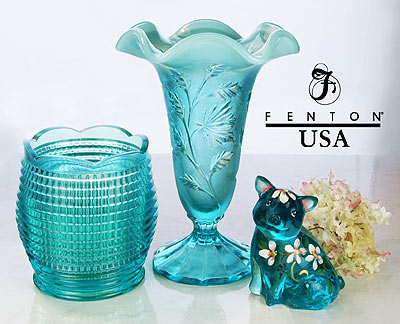 Robin's Egg Blue is the newest addition to our family of blue glass hues sure to add just the right touch of color to any area of your home. We have several new Robin's Egg Blue pieces for Summer 2010, which are now shipping to Fenton dealers throughout the country.

Fenton designer Kim Barley's popular Spring Song on Robin's Egg Blue motif continues on several shapes including two vases, a basket, a kitten figurine, and the pig figurine shown at right. Our unadorned pieces include the Rings Votive and the Intaglio Vase shown above. Group unadorned pieces with Kim's Spring Song items for a display sure to delight one and all. Click on each image for details (please check back if it shows out of stock) or click here to view currently available Robin's Egg Blue items. Can't find it online? Try one of our authorized Fenton dealers! To locate a Fenton dealer near you, click here.
No Spring Chicken. . .
Fenton's 2010 Cobalt Rooster
All Fenton roosters are made as pressed glass, and the biggest rooster presents quite a challenge for our skilled pressers. Produced from a mould we obtained from the Paden City Mfg. Co. more than 50 years ago, he weighs more than 3-1/2 pounds! So he's no Spring chicken! Such a sheer mass of hot glass has to be managed just right to keep him straight and tall after he comes out of the mould. The comb, outer leg areas and the tail tend to cool most rapidly, while the body remains hot for quite some time. A long, slow trip through our annealing lehrs brings him down to room temperature.
For Spring 2010, we offer Stacy Williams' lovely handpainted country design on our 8-1/2'' Standing Rooster in sanded Cobalt. Sure to please collectors, this rooster is also available in unadorned Cobalt. Click on the image for details or click here to view all available rooster figurines and covered boxes.
For Father's Day. . . A Gift He'll Never Forget!
Give Dad a glassmaking experience (or include yourself!) as a student at our 2010 Fenton Glassmaking School on Friday, July 30 from 6:00-9:30 a.m. Students gain a new appreciation of the technique and skill required to create a handcrafted work of art. Under the guiding hands of our skilled glass artisans, students will create their very own piece of glass! Click here for details.
Fenton eBay Auctions
Own a unique Fenton creation, including one-of-a-kind pieces, through our weekly eBay Auctions! Items featured this week...
---