FENTON GIFT SHOP
SPECIAL OFFERINGS

Z4558HPB 5-1/2'' Burmese
Grist Mill Vase
$158.00, Buy Now!
Only 47 of these beautiful
5-1/2" tall Burmese vases were made, so we're pleased to offer those still in stock. The handpainted scene depicts a nostalgic panoramic landscape with an old grist mill and a country stream. Burmese glass has pure gold in its formula, which creates the soft pink blush. Each vase is personally signed by the talented Fenton artist who handpainted it.
Z5228HPAD 7'' Autumn Gold Satin Daisies Doll
$61.00
Buy Now!

Our Bridesmaid Doll figurine in Autumn Gold features Michelle Kibbe's Sunny Days Ahead dsesign with realistic white daisies and green leaves. Each 7'' Bridesmaid Doll figurine is signed by the talented Fenton artist who completed it.
A5274HP2
2-1/2'' Autumn Gold Frog Figurine
$23.75, Buy Now!
Hop into spring with this
toad-ally awesome frog. Handpainted with a pretty daisy design, this Gift Shop Exclusive will be a great addition to your collection.

CV713AQ
7-3/4'' Autumn Gold Iridized Salad Plate or Tray
$22.00, Buy Now!
This 7-3/4" Autumn Gold Iridized Salad/Hors d'oeuvre Plate is not only beautiful, it is functional! Shaped in a semi-circle with bas relief vegetables of radishes, tomatoes and cucumbers.
Fenton USA Presents. . . The Cameo Gallery Collection
We are proud to introduce our 2010 Cameo Gallery Collection. Our Cameo Gallery Collection features gorgeous limited edition works of art from Cameo Artists
Kelsey Murphy and Robert Bomkamp. Kelsey and Robert have teamed with Fenton
Art Glass to design and produce remarkable limited edition pieces created with their innovative cameo carving techniques. Shown below are three of the fourteen pieces offered in our 2010 Cameo Gallery Collection.
Limited to 75 pieces, this beautiful Dave Fetty Mosaic 6-1/2'' Black vase is called Trees on Mosiac. Dave Fetty created the vase using multi-colored frit. Kelsey Murphy and Robert Bomkamp then created the trees design for this collectible work of art.

The magnificent 9'' Iris vase is handcrafted in our rich Ruby glass cased with Milk Glass, which provides the perfect background for the elegant Iris and butterfly design. Limited to 125 pieces.
The 10-1/2'' Entwined vase is handcrafted of Black glass cased with Milk Glass. This design features the Clematis, a popular climbing vine with showy flowers, which entwine around the vase. This vase is limited to 50 pieces.

Cameo carving is a painstaking process. After the glass has been annealed, a special mask is taped to the surface of the glass. Using an advanced vignetting technique, each piece is carefully sandcarved, by hand, using aluminum oxide crystal under pressure to take away some of the surface. Great individual skill and experience are needed to control this operation, as many distinct stages of successive cameo carving are required to create the remarkable depth and the intricate details. To learn more about Kelsey Murphy and Robert Bomkamp, click here. Click on each image for details or click here to view all new items for 2010.
We are now shipping these Cameo Gallery pieces to Fenton dealers. If you can't
find a piece online, please check with a Fenton dealer. To locate a Fenton dealer near you, click here.
A Touch of Iridescence . . . Fenton's Marigold Carnival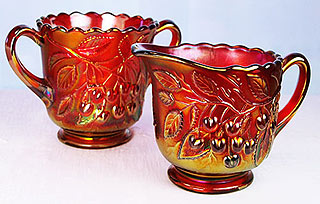 Create a dramatic display with our
4-1/2'' Cherry Sugar and Creamer set, handcrafted in Marigold Carnival. The skilled craftsmen at Fenton have slipped back in time to revive this signature iridescent treatment. They use a special spray of metallic salts to create various effects on different base glass colors.

The results work perfectly with the warm colors used in today's home decor. The Sugar and Creamer are Fenton moulds based on the Millersburg Cherries pattern that originated about 1910. Click on each image for details.

Fenton eBay Auctions
Own a unique Fenton creation, including one-of-a-kind pieces, through our weekly eBay Auctions! Items featured this week...
---