FENTON GIFT SHOP
SPECIAL OFFERINGS

Z6853HPA
8-1/2''
Opal Satin Cottage Vase
$108.00
Buy Now!

Only 40 of these beautiful 8-1/2" tall Opal Satin Vases were made, so order now! The lovely handpainted scene has a lush landscape with rich purples and greens and with a cozy cottage in the country. Each vase is personally signed by the talented Fenton artist who handpainted it.
Z5292HPA
5-1/2'' Opal Satin Country Rooster, $63.00, Buy Now!
Only 72 of these splendid 5-1/2" tall Rooster figurines were made! We're pleased to offer those left in stock. Meticulous airbrushing with yellow and green combine beautifully.
Z5145HPD
3-3/4'' Opal Iridized Rooster
Egg on Stand
$41.25
Buy Now!
This Opal Iridized Egg
on Stand features a handpainted folk art rooster scene. A new Gift Shop Exclusive, this piece will be a colorful accent to your home.
213701
3-1/2'' White Opal Satin
Farmer and Daughter Bear Set, $80.00, Buy Now!
Free Shipping on this set! This adorable White Opal Satin Farmer and Daughter Bear Set makes a great Father's Day gift! Proudly signed by the artist who handpainted it and also inscribed with Collectors' Showcase logo on the bottom.
Fenton USA Presents. . . Floral Frames o
n Ruby

The Fenton USA Connoisseur Collection showcases
the skills of our glassworkers and the talents of our decoration designers and artists. Included in the Best of the Best Connoisseur Collection for 2010 is this beautiful 8-1/2'' Ewer.
This ewer is handcrafted in our rich Ruby glass, which provides the perfect canvas for Kim Barley's lush Floral Frames design. Kim used 22k gold on the frames and as accents on the flower and leaves. The straight rib handle is made in crystal. We acquired the mould for this piece from the L. G. Wright Company in 1999. This ewer is limited to 750 pieces.
Ewers are a type of pitcher with a flared base, a sturdy handle and a decorative spout. Ewers have been made for thousands of years as a vessel to transport water. Many fine examples of ancient ewers may be seen in museums. An example of a well-known ewer is the America's Cup Trophy.
Click on the image for details or click here to view all new items for 2010. To locate a Fenton dealer near you, click here.
A Great Impulse Gift from Fenton USA!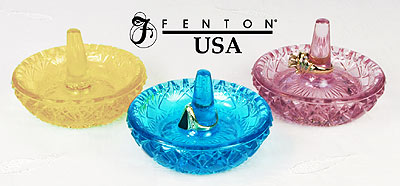 Protect and store your valuable treasures with a colorful handcrafted ringholder
from Fenton USA! Available in a rainbow of colors― including our newest colors of Buttercup, Robin's Egg Blue and Blush Rose! These lovely pieces, designed to complement any decor from the kitchen to the bath, make unique Bridesmaid gifts
or the perfect impulse gift for someone special! Click on each image for details.

---
Fenton eBay Auctions
Own a unique Fenton creation, including one-of-a-kind pieces, through our weekly
eBay Auctions! Items featured this week...

For questions or comments, please do not reply to this email. Instead, email: askfenton@fentonartglass.com. This email has been sent to you because you have agreed to receive offers and information from the Fenton Art Glass Company. We respect your privacy and do not sell your personal information. For details, please review our privacy policy.

How to unsubscribe: If you prefer not to receive offers or information from Fenton Art Glass, please use this page.

If you use a Challenge-Response system for email, please make certain that you can receive our email by adding askfentononline@fentonartglass.com to your Allow List. For specific instructions for major ISPs, click here.

The sender of this email is the Fenton Art Glass Co., 700 Elizabeth St., Williamstown, WV, 26187