FENTON GIFT SHOP
SPECIAL OFFERINGS

GZ5266HPA
4'' Burmese Turtle
$48.00, Buy Now!
Only 48 of these interesting 4" long Burmese Turtle figurines were made, so we're pleased to offer those we have remaining in stock. The handpainted floral motif has a bit of whimsy to it, and the Turtle seems to be smiling because of the flowers that grace its shell. Each Turtle is personally signed by the talented Fenton artist who handpainted it.
ZV809HPA
7-3/4'' Burmese Diamond Optic Hummingbird Vase
$101.00
Buy Now!
Only 15
of these marvelous
7-3/4" tall Burmese Diamond Optic vases were made, so we're pleased to offer those few we have remaining in stock. Burmese glass has pure gold in its formula, and Fenton glassworkers have mastered the reheating technique needed to create the pink blush. The Diamond Optic in the glass seems to form a trellis that is perfectly complemented by the lush, handpainted floral motif. Each vase is personally signed by the talented Fenton artist who handpainted it.
C578648
4'' Rosalene Hummingbird
Heart Box
$56.00, Buy Now!
This beautiful 4" Rosalene Hummingbird Heart Trinket Box has been blushed with pink and the hummingbirds are intricately painted with green, yellow and pink.
02979EB
7-1/4'' Rosalene Plate
Originally $68.50, Now $51.25
Buy Now!
This Rosalene Decorated Plate with a lovely floral design will add pizzazz to your dresser or when displayed on your tabletop. Perfect to give or to own any time of the year.
Fenton USA Presents. . . Little Treasures!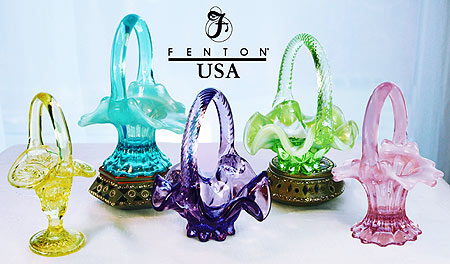 No one does baskets like Fenton Art Glass. Handcrafted at our Williamstown, West Virginia factory, our baskets are a Fenton hallmark. The skilled basket handler has
a scant 25 seconds within which he must accomplish his tasks: attach a glowing ribbon of molten glass to one side of the basket; deftly twist the rapidly cooling glass and stick it to the other side; impress the base of each side of the handle with his handler's mark; and, finally, fashion the handle into a graceful arch. To learn more about our basket handlers, click here.
For 2010, we have new Mini Baskets in a rainbow of colors, including our new colors: Buttercup and Robin's Egg Blue! Basket sizes range from 4-1/2'' (Mini Footed and Teardrop) to 5'' tall (Ribbed). A perfect gift for someone special. . . add a little something extra inside the basket to make it even more special! Click on each image for details or click here to view all new items for 2010. To locate a Fenton dealer near you, click here.

Salt & Pepper Sets Return for 2010!

Fenton USA has a wide variety of Salt and Pepper Sets available for 2010; handcrafted in our newest colors of Buttercup, Blush Rose and Robin's Egg Blue.
Our Salt and Pepper sets are perfect for everyday or formal use, and these sets make a unique wedding or housewarming gift! Click on each image for details.
People tend to have several sets of salt and pepper shakers - usually a formal set, an everyday set, and perhaps a few souvenir sets! Salt and Pepper Shakers are also highly collectible! Did you know there is a Salt and Pepper Shaker Museum in Gatlinburg, Tennessee? They have more than 20,000 Salt and Pepper Shakers sets from around the world!
Salt and Pepper Shakers have a long and rich history. People in the Victorian era placed their salt in open salt cellars. Salt came in rock form, and had to be chipped off to be placed on the food. Salt production improved and salt shakers began to take their more modern form. Today, salt and pepper shakers are available in a wide variety of shapes, sizes and materials (wood, metal, ceramic, glass, and plastic). So... if you have your own collection or need a unique gift, don't miss the latest selections from Fenton USA!

Fenton eBay Auctions
Own a unique Fenton creation, including one-of-a-kind pieces, through our weekly eBay Auctions! Items featured this week...
---