FENTON GIFT SHOP
SPECIAL OFFERINGS

Don't Miss Out...
Mark Your Mouse Calendar Now!

Our new series of 12 handpainted mice kicked off in March with our Lucky Irish Mouse. The June, May and April Mouse figurines are shown below. Click on each image for details. Limited in quantity and signed by the artist, these adorable creatures will create quite a stir among avid Fenton figurine collectors. Get Mom started off right...give her the first four mice for Mother's Day!
Z5148HPK
3'' Exclusive June Calendar Mouse
$37.50, Buy Now!
Z5148HPL
3'' Exclusive May Calendar Mouse, $37.50, Buy Now!

Z5148HPI
3'' Exclusive April
Calendar Mouse Figurine
$37.50, Buy Now!

Z5148HPJ
3'' Exclusive March
Calendar Mouse Figurine
$37.50, Buy Now!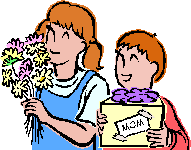 Don't Forget!
Mother's Day is
May 9th!
The Beauty of Bells. . . from Fenton USA!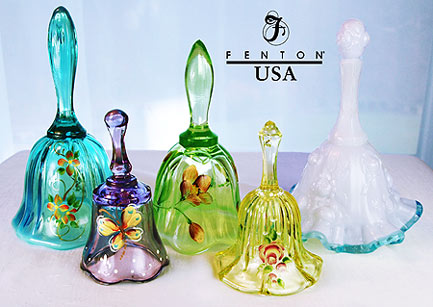 The beauty of bells . . . appealing to the eye and pleasing to the ear, delightful to use to decorate and to enjoy. Bells have always been part of our production, and bell collectors are an important part of the glassmaking industry history. Fenton USA bells are handcrafted and handpainted in a variety of styles and sizes at our historic Williamstown, West Virginia factory. Each bell is signed by the artist who completed it. Click on each image for details. To view all Bells currently available from Fenton USA, click here.

Mother's Day Internet Exclusive from Fenton USA!
We've found a very limited quantity (fewer than 20!) of this beautiful 7-1/2'' Guest Set in Ruby with Floral Fantasy on Ruby design. The pitcher has a fine rib twisted crystal handle. Our rich Ruby glass provides the perfect canvas for this fresh and evocative handpainted decoration by Fenton designer Kim Barley. Her design features vibrant colors and exquisite forms ... it's sure to be a favorite! When it was originally produced, this Guest Set was limited to 250 numbered sets. Receive this Guest Set with FREE shipping as our Mother's Day Internet Exclusive! And that's not all. . . Nancy Fenton has personally signed each of the remaining sets with her signature and the date 4/10. So don't delay. . . order today for Mother's Day! Click on the image to order.

Fenton USA Presents. . . Buttercup for Spring!
Celebrate the month of
May with our new Buttercup glass! This glass is a vibrant yellow made with special ingredients that capture the warmth of Spring sunshine and the excitement of nature's awakening. Versatile and functional, our 10-1/2'' Feather bowl in Buttercup can be used for food or as a centerpiece with your choice of flowers, potpourri, etc. Our large candy box is perfect for your choicest favorites! Fill with treats for someone special! The candy box moulds were acquired recently from the Indiana Glass Co., and this is the first time we have used them. To see more items in our new Buttercup, click here. Click on each image for details or, to view more new items from Fenton USA, click here. To locate a Fenton dealer near you, click here.

Fenton USA on QVC, Tuesday, May 4
Don't forget to set your alarm clock for our first show!
Fenton Art Glass on QVC - Tuesday, May 4, 2010
Show times: 5 - 6 a.m. and 4 - 5 p.m. (Eastern Time)
Guest Host: George Fenton. Click here for a preview of items to
be offered. To learn more about QVC and Fenton USA, click here. To view other Fenton Art Glass items currently available from QVC, click here.

Fenton eBay Auctions
Own a unique Fenton creation, including one-of-a-kind pieces, through our weekly eBay Auctions! Items featured this week...
---