FENTON GIFT SHOP
SPECIAL OFFERINGS

GSC503413
5'' Opal Satin Handpainted Angel, Signed by Shelley Fenton
Mother's Day Special!
Originally $34.50, Now $25.00
Buy Now!
Be an Angel and give one to Mom on her special day! Our Opal Satin Angel is nearly 5" tall, and Shelley Fenton personally signed each of those we have to offer for Mother's Day 2010. The angel is airbrushed and handpainted with splendid Spring colors. Each angel is signed by the talented Fenton artist who completed it. Note the detail of the face and eyes and the sparkling glass "ice" on the wings.
C7773RM
6'' - 7'' Aubergine Stretch
Swung Vase
Signing Event Exclusive
$39.50, Buy Now!
Our Fenton Gift Shop Family Signing Event Exclusive is this collectible Aubergine Stretch vase. Each vase has been personally signed by a Fenton family member. . . don't miss the chance to add this iridescent beauty during to your collection!
GS098354Q
6'' American Beauty Rose
Aubergine Carnival Basket
Lynn Fenton Signature
Mother's Day Special!
Originally $59.50, Now $45.00
Buy Now!
Lynn Fenton's signature is featured on these attractive Carnival glass baskets, which stand about 6" tall. We have only 50 to offer, and each is signed "Lynn Fenton '10" on the underside. The base glass color is our rich Aubergine, and the iridescence on the interior has a splendid matt quality with gold tones and purple highlights. The mould used to make this basket originated at Imperial Glass in Bellaire, Ohio, about 1910, and many collectors call this pattern American Beauty Rose. The baskets are finished with a graceful six-point crimp, and the applied handle is our fine rib twisted handle. This basket would be a great way to give Mom a rose on her special day!

170020
3-1/2'' Violet Stretch Comport Fenton Family Member Signature
Originally $40.00, Now $30.00
Buy Now!
Produced as a sample, this
3- 1/2" high x 6-1/2" wide Violet Stretch Comport has a graceful
6 pt. crimp. Each comport has been personally signed by a Fenton family member. . . don't miss the chance to add this piece to your collection!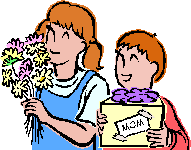 Don't Forget!
Mother's Day
is May 9th!
Fenton USA Presents. . . 2010 Connoisseur Collection
Our 2010 Connoisseur Collection showcases the best of the best from the glass artisans at Fenton Art Glass. We introduced this numbered and limited edition collection in 1983 as "a very special offering for those who love glass and desire the unique." We continue to strive for the unique by showcasing the skills of our glassworkers and the talents of our decoration designers and artists.
No Fenton color inspires more collector enthusiasm than our Burmese glass. Burmese glass contains pure gold in the formula which creates the soft pink blush. The three beautiful pieces included in our 2010 Connoisseur Collection bring out the best in this heat-sensitive glass.

This 23'' Student Lamp with a diamond optic features a Scrolling Rose handpainted design by Michelle Kibbe. The overall look resembles a climbing rose trellis. Limited to 350, this lamp will add an enchanting soft glow to any room.
Our beautiful 9-1/2'' Burmese vase provides the perfect canvas for Kim Barley's lush handpainted scene called Cypress Tree. This vase is limited to 500. This is the first Fenton use of this distinctively shaped mould purchased by Fenton from Imperial Glass in the mid-1980s, although it may have originated at another factory earlier.

The 9'' Rings Pitcher in Lotus Mist Burmese features a lovely Spring floral design called Climbing Bloom by Stacy Williams. The pitcher is limited to 750. Lotus Mist Burmese was the brainchild of George Fenton. First made in 2001 as an Historic Collection color for that year, Lotus Mist Burmese features the distinctive gold created blush of the original Burmese. Each handpainted piece is signed by the artist who completed it. Click on each image for details or, to view more new items from Fenton USA, click here. To locate a Fenton dealer near you, click here.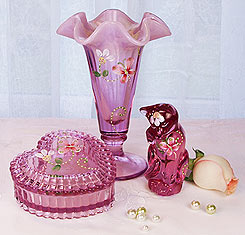 Oh, So Pretty Pink! Blush Rose for Mother's Day!
This Blush Rose trio is sure to bring a smile to that special person in your life for Mother's Day! Kim Barley's lovely design features a butterfly hovering near a flower.
Blush Rose is a recent addition
to the Fenton family of Oh, so pretty! pinks. Continuing the tradition that began with Rose and Velva Rose in the 1920s,
our Blush Rose sparkles and shimmers. The Trumpet Vase features a delightful touch of opalescence. Our Ribbed Heart-shaped Treasure Box is perfect
to store precious keepsakes. The Grooming Cat figurine is a great way to introduce a someone to Fenton or the perfect gift for figurine collectors! Click on each image for details. To view all Blush Rose pieces currently available from Fenton USA, click here.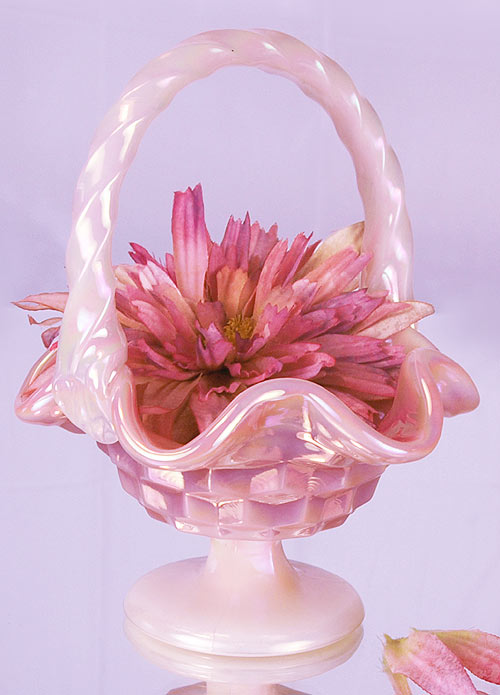 2010 Spring Fenton Family Signing Events
Our Spring 2010 Fenton Family Signing Events continue in April and early May with members of the Fenton family appearing at stores in Alabama, Missouri, Tennessee, and West Virginia. Your 2010 Spring Fenton Family Signing Event Exclusive Basket and all Fenton purchases during these events can be personally signed by the Fenton family member attending that event. Our beautiful 6'' American pattern Rosalene Basket is available only during these events. Click here for the event schedule. Click here to see how our skilled craftsmen create this beautiful Rosalene Basket!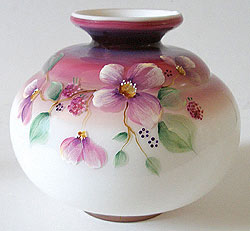 Fenton USA on QVC, Tuesday, May 4
Our next QVC shows featuring Fenton USA items made exclusively for QVC are scheduled for Tuesday, May 4 (our 105th Anniversary!). George Fenton will appear as co-host. Show times are 5-6 a.m. and 4-5 p.m. (ET). Among the items to be offered is this beautiful handpainted vase in Plum Opalescent Overlay. Watch for next week's newsletter for a preview of all the items to be offered during these shows. To view items currently available from QVC, click here.

Fenton eBay Auctions
Own a unique Fenton creation, including one-of-a-kind pieces, through our weekly eBay Auctions! Items featured this week...
---