FENTON GIFT SHOP
SPECIAL OFFERINGS

Z5228HPY
7''Lavender Satin
Whisper of Spring Doll
$61.00, Buy Now!
This 7" Gift Shop Exclusive Lavender Satin Bridesmaid Doll is titled Whisper of Spring. This charming young lady with her dress adorned with pretty crocuses offers a whisper of springtime and will make a lovely addition to your doll collection.

A5064HP1
3-1/2''Violet Sleeping Kitten
Figurine with White Floral Design
$23.75, Buy Now!
Lovely translucent Violet glass handpainted with a white floral design make this kitten a real Sleeping Beauty. Don't miss adding this Gift Shop Exclusive figurine to your collection.
Z5151HPD
3-1/2'' Hyacinth Bear Figurine
$35.75, Buy Now!
Perfect for gift giving or as an addition to an established collection. This new Gift Shop Exclusive Hyacinth Bear has a lovely handpainted floral design. Proudly handcrafted by the artisans at Fenton.
C975466
6-1/2'' Lavender Opaline Vase
$63.00, Buy Now!
French Opalescent was covered with a layer of Violet to create lovely Lavender Opaline. This
6-1/2" Caprice Vase with a double crimp and embossed bow has been handpainted in a plaid pattern of pink, yellow and green.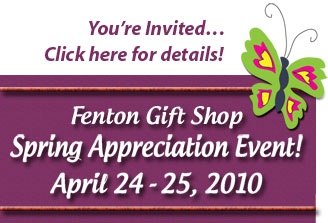 Fenton USA Presents. . . Fluttering Floral on Lavender

Our new Lavender color collection for 2010 features a design by Michelle Kibbe called Fluttering Florals on Lavender. You can
see why we called
the florals Fluttering,
the flower petals resemble delicate butterfly wings!
Lavender contains neodymium, so your pieces will be different colors under various lighting conditions. This characteristic is called "dichoric," and it makes Lavender a great conversation topic!

This new grouping includes the items shown at right: our 9'' Aurora Vase, 6-1/2'' Legacy Bell and 8" Basket. Not shown are the Horse figurine, and a 6-1/2" Vase. The Perky Cat is shown below. Click on each image for details or, to view more new items from Fenton USA, click here. To locate a Fenton dealer near you, click here.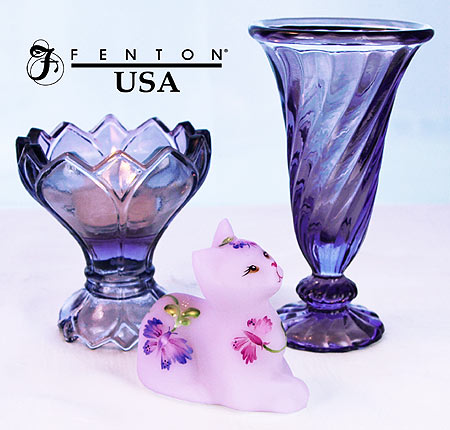 Violet and Lavender. . . The Perfect Pair!
Violet glass - a rich jewel tone - remains a home decor staple. This warm color emits high energy when displayed in natural light or warm synthetic light. Compared to the other colors we produce, Violet tends to cool more quickly, so our skilled glassworkers adjust to this characteristic by changing their pace as needed during production.
Coordinate Violet with our new Lavender pieces and your display
will be simply stunning!
Our versatile two-way 4'' Diamond Votive really shines in Violet glass! Use one way for a taper candle and the other way for a tealight or smaller candle. The 6'' Colony Vase looks beautiful with or without flowers! Click on each image for details. To view more new items from Fenton USA, click here.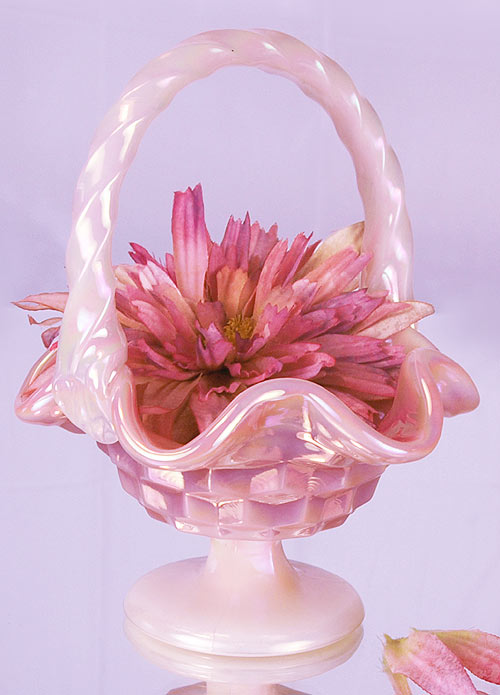 2010 Spring Fenton Family Signing Events
Our Spring 2010 Fenton Family Signing Events continue on April 22-24 with Mike Fenton appearing at stores in Roseburg, Oregon; Davenport, Washington and Twin Falls, Idaho. Mike will be on hand to personally sign your 2010 Spring Fenton Family Signing Event Exclusive Basket and all Fenton purchases during this event. Our beautiful 6'' American pattern Rosalene Basket will be available only at these events. Click here for the event schedule. Click here to see how our skilled craftsmen create this beautiful Rosalene Basket!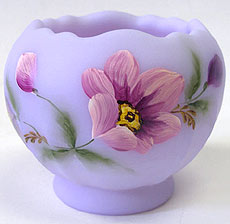 Fenton USA on QVC on Tuesday, May 4
Our next QVC shows featuring Fenton USA items made exclusively for QVC are scheduled for Tuesday, May 4 (our 105th Anniversary!). George Fenton will appear as co-host. Show times are 5-6 a.m. and 4-5 p.m. (ET). Among the items to be featured will be this lovely handpainted Rose Bowl handcrafted in our Lavender glass. Watch this newsletter for a preview of all the items to be offered during these shows. To view items currently available from QVC, click here.
Fenton eBay Auctions
Own a unique Fenton creation, including one-of-a-kind pieces, through our weekly eBay Auctions! Items featured this week...
---