FENTON GIFT SHOP
SPECIAL OFFERINGS


Z5145HPB
3-3/4''
Mother's Day
Egg on Stand $38.50
Buy Now!
What better way to wish your mom
a Happy Mother's Day than with this beautiful Opal Iridized Egg on Stand. A Gift Shop Exclusive, this egg is handpainted with two red roses and the word "Mother"
in gold lettering.


Z6563HPA
4-1/2'' Handpainted Burmese
Mini Basket, $69.50
Buy Now!
Produced as a Fenton
Gift Shop Exclusive, this lovely 4-1/2''' Burmese Mini Basket features a beautiful rose pattern. A perfect gift for someone special!

Z7333HPSC
8'' Silver Crest Handpainted
Heart Bon Bon Dish
Original Price $99.00, Now $74.25 Buy Now!

Silver Crest has always been popular, and this piece is a must for collectors! This 8" White Milk Glass Bon Bon Dish with a crystal crest and small handle is handpainted with a lovely pink rose motif. Produced as a Gift Shop Exclusive, the FGS 2006 Exclusive Logo is on the bottom.
U5161HP1
4'' Burmese Swan
$30.00, Buy Now!
Preferred Second. Our Burmese Swan features a handpainted floral design. . .
a wonderful addition for your Fenton figurine collection.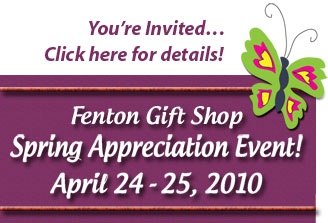 Fenton USA Presents. . . Classic Carnival Glass
Fenton Art Glass launched America's first Carnival glass treatments in 1907, and they have remained a Fenton hallmark. Collectors worldwide search for the finest examples of the "iridescent ware" that first put Fenton on the map.
Our company begins its 105th year in 2010. We salute the past and mark our place in the present as we bring you more of our signature iridescent treatments in a wide variety of shapes―from the classic to the contemporary. Our skilled craftsmen have slipped back in time to revive these iridescent treatments. A special spray of metallic salts creates various effects on different base glass colors. The results work perfectly with the colors used in today's home decor. Our "liquid gold" Marigold Carnival grouping makes a dramatic display. These pieces are sure to become future family heirlooms.
Our delightful Spaniels figurine has two Spaniel pups cuddling. Perfect for the animal lover or figurine collector in your life! Other pieces include the 6'' Lily of the Valley Bell, 3'' Scottie Dog figurine, 4-3/4'' Embossed Rose Candy Box, and our adorable 4'' Lab Puppy figurine. Click on each image for details or, to view more Carnival items from Fenton USA, click here. To locate a Fenton dealer near you, click here.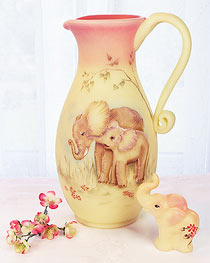 A Special Mother's Day Offering
Award-winning designer Robin Spindler
continues the Fenton tradition of evocative creations especially for Mother's Day. Our elegant pitcher and matching elephant figurine are handcrafted in classic Burmese glass, which contains pure gold in the formula.
The handpainted pitcher features a touching scene of a mother elephant with her baby. The 11'' pitcher is inscribed with the signatures of Nancy, Shelley and Lynn Fenton. The elegant "French Curl" handle posed special challenges for our skilled glassworkers. The elephant figurine has a complementary floral design. Click on each image for details. To view more Spring 2010 Fenton USA items, click here.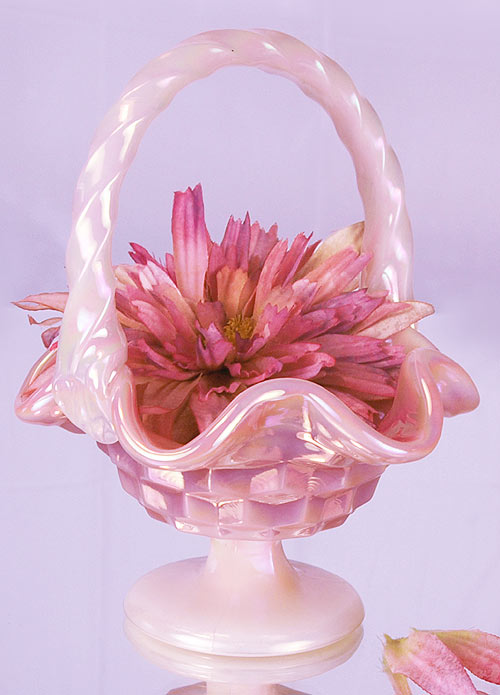 2010 Spring Fenton Family Signing Events
Our Spring 2010 Fenton Family Signing Events continue on April 22-24 with Mike Fenton appearing at stores in Roseburg, Oregon; Davenport, Washington and Twin Falls, Idaho. Mike will be on hand to personally sign your 2010 Spring Fenton Family Signing Event Exclusive Basket and all Fenton purchases during this event. Our beautiful 6'' American pattern Rosalene Basket will be available only at these events. Click here for the event schedule. Click here to see how our skilled craftsmen create this beautiful Rosalene Basket!

Fenton eBay Auctions
Own a unique Fenton creation, including one-of-a-kind pieces, through our weekly eBay Auctions! Items featured this week...
---