FENTON GIFT SHOP
SPECIAL OFFERINGS

Z5161CK
4'' Chocolate Swan
$31.25, Buy Now!
An ugly duckling transforms
into a lovely, graceful Fenton Chocolate Swan. Produced as
a Fenton Gift Shop Exclusive, each piece is unique in coloration due to the swirls
in this beautiful glass color.
C4106Q0
5'' Chocolate Double Heart
Trinket Box, $58.50, Buy Now!
Traditional and elegant in appeal, our 5" Chocolate double heart trinket box is handpainted with a blue floral design. It is signed by the Fenton artist who completed it.
Z5365HPC
3'' Chocolate ''Natural'' Kitten
$29.50, Buy Now!
This Gift Shop Exclusive 3'' Chocolate Kitten Figurine is handpainted with stripes and coloring to look like a natural kitten. Perfect gift for the figurine collector!
Z4807CK
4'' Chocolate Epergne
Originally $75.00, Now $60.00
Buy Now!
This pleasantly petite 4" Chocolate Epergne, produced
as a Fenton Gift Shop Exclusive for our 100th Anniversary, has the FGS 2005 Centennial Exclusive logo. The Diamond Lace pattern was designed by Frank L. Fenton in 1948 and
has been popular ever since.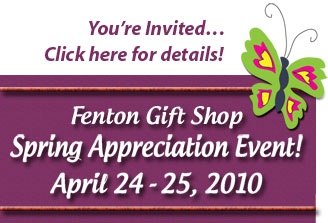 Fenton USA Presents. . . Sparkling Blush Rose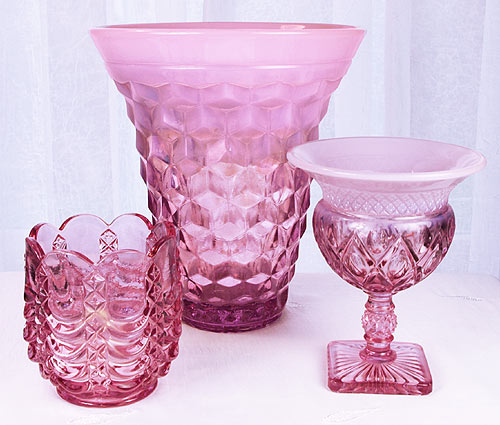 Blush Rose is one of
our newer pinks in the Fenton line. Continuing a tradition that began with Rose and Velva Rose in the 1920s, Blush Rose sparkles and shimmers ... and many items for 2010 feature a delightful touch of opalescence. Create a mood with our 4-1/4'' Drapery Votive. Handcrafted using a Fostoria Glass Co. mould, it really sparkles from a dancing flame! The votive includes a 3'' candle.
Enhance your tabletop display with a floral arrangement in our majestic 9'' American pattern Vase. The American pattern design was created at the Fostoria Glass Co. of Moundsville, West Virginia, about 1915. It was a very successful line for them in crystal for several decades. Fostoria went out of business in the mid-1980s, and we acquired a number of American pattern moulds in 2003. We love the look of this pattern in Fenton colors, and collectors have been quite pleased with our results. Note: The Blush Rose vase (05872PJ) does not have the opalescence as shown in the above photo. In addition to Blush Rose, we've produced this American pattern vase in Ruby and as a footed vase in Aubergine and Robin's Egg Blue. . . so look for more in the future!
Even short-stemmed flowers look tall and elegant in our 6-1/8'' Cape Cod pattern Comport. Handcrafted from an Imperial Glass Company mould, this comport can be used for fruits, nuts, sweets, and potpourri or it is lovely by itself with the sunlight making it sparkle! Click on each image for details or, to view more 2010 items from Fenton USA, click here. To locate a Fenton dealer near you, click here.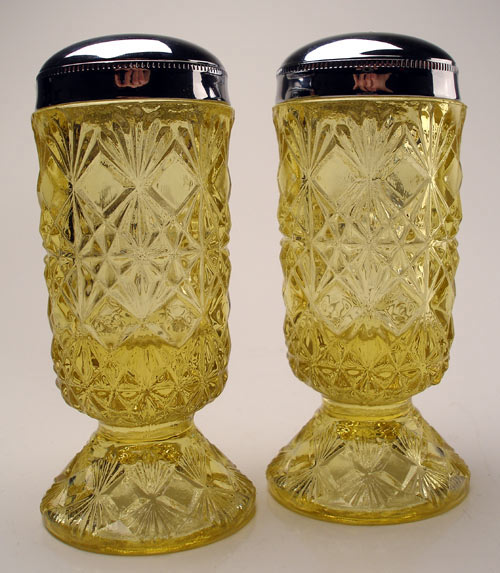 INTERNET EXCLUSIVE!
Fine Cut & Block Salt & Pepper Set
We only have 9 first-quality sets of these
Fine Cut & Block pattern salt and pepper shakers available in our new Buttercup color. Here's your chance to acquire something that's both functional and unusual. The Fine Cut & Block salt and pepper shakers were inspired by an 1880s design that Frank M. Fenton liked. We were going to include them in our 2010 line, but encountered production problems. We finally settled on making Daisy and Button salt and pepper shakers in Buttercup. Remember, only nine sets in the Fine Cut & Block
are available, so don't delay in adding this Salt & Pepper set to your collection. Click here to order your set!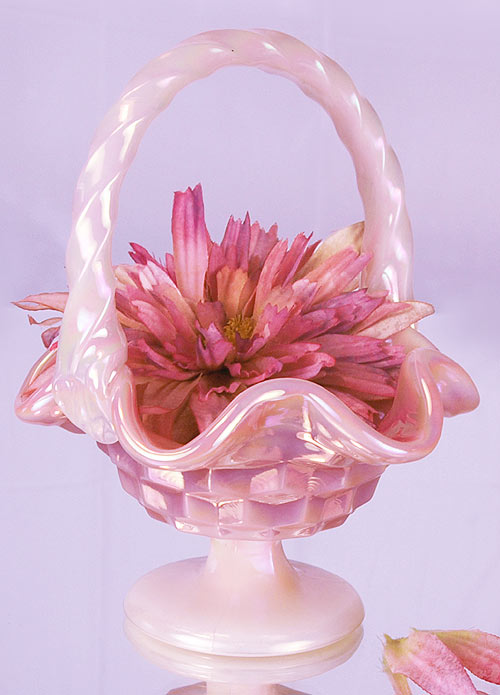 2010 Spring Fenton Family Signing Events
Mark your calendar! Our Spring 2010 Fenton Family Signing Events continue April 22-24 with Mike Fenton appearing at stores in Roseburg, Oregon; Davenport, Washington and Twin Falls, Idaho. Mike will personally sign your 2010 Spring Fenton Family Signing Event Exclusive Basket and all Fenton purchases during these events. Our beautiful 6'' American pattern Rosalene Basket will be available only at these events. Click here for the complete event schedule! Click here to see how the Rosalene Basket is created at our factory in Williamstown, WV!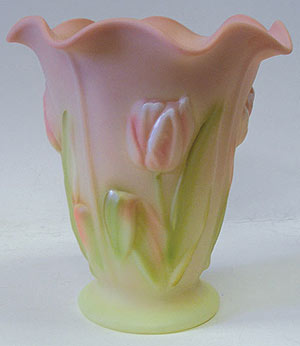 Fenton USA on QVC on Tuesday, May 4
Our next QVC shows featuring Fenton USA items made exclusively for QVC are scheduled for Tuesday, May 4. George Fenton will appear as co-host. Show times will be 5-6 a.m. and 4-5 p.m. (ET). Among the items to be featured will be this lovely 8'' Tulip Vase handcrafted in our classic Burmese glass. Watch this newsletter for a preview of all the items to be offered during these shows. To view items currently available from QVC, click here.
Fenton eBay Auctions
Own a unique Fenton creation, including one-of-a-kind pieces, through our weekly eBay Auctions! Items featured this week...
---