FENTON GIFT SHOP
SPECIAL OFFERINGS

200022
8-1/4'' Key Lime Vase
$45.00, Buy Now!
Preferred Second. Key Lime is a Fenton green that features both beauty and depth. This vase is perfect for a lovely fresh or silk floral arrangement!
I3265ZL
7'' Fern Green Cannonball Pitcher
Originally $65.00, Now $42.25
Buy Now!
Simply elegant! This Fern Green Cannonball Pitcher will add a special touch to any room of your home. Made in West Virginia by the artisans of Fenton.
I7737HPE
4-1/2'' Black Satin
Handpainted Slipper
Originally $29.50, Now $22.00
Buy Now!
Our 4-1/2" Black Satin Slipper is handpainted with a whimsical blue and green design. A charming gift for someone special or yourself!
K4359HP
6-1/4'' Handpainted Favrene Vase
Originally $99.50, Now $74.50
Buy Now!
This 6-1/4" Favrene Vase has been delicately accented with blushes of pink and green and inscribed with Scott Fenton's signature. A great addition to your Fenton Art Glass collection.
Fenton eBay Auctions
Own a unique Fenton creation, including one-of-a-kind pieces, through our weekly eBay Auctions! Items featured this week...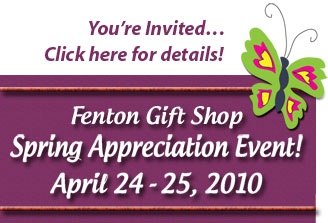 Fenton USA Presents. . .
Studio Art Glass Limited Editions
Our Studio Art Glass selections for 2010 include these two beautiful limited edition works of art. Cameo artists Kelsey Murphy and Robert Bomkamp specialize in glass cameo carving, an exacting art that demands both skill in design and great dexterity in execution. They have teamed with Fenton Art Glass to design and produce some remarkable limited edition pieces. The Frog in the Ferns is another of their cameo carved masterpieces. This 10-1/2'' Vase is handcrafted in our refreshing Key Lime Opalescent glass and features a frog patiently waiting to catch a dragonfly among the ferns. Limited to 195 pieces, this beautiful vase retails for $595 U.S.
Fenton glass artisan Frank Workman has created another masterpiece with this magnificent 12-3/4'' Vase which we call Plaid Pleasure. Frank started his creation with a Milk Glass core, rolled the piece in blue powder, and added green threads. The vase was then placed into an optic mould and twisted. The entire vase was covered in Crystal and hand blown to shape. The final touch was adding a green ring and a flare to the top of the vase! Limited to 250 pieces, this remarkable vase retails for $475 U.S. Click on each image for details or, to view more new items from Fenton USA, click here. To locate a Fenton dealer near you, click here.

A Glass Slipper Fit for a Princess. . . from Fenton USA!
Prince Charming awaits with the royal slipper! Slippers are an enchanting collectible and a charming gift! Treat yourself or make it the perfect fit as a gift for the princess in your life! We are pleased to offer six new slippers handcrafted in popular Fenton colors ranging from Blush Rose, Robin's Egg Blue, Buttercup, and Black to the two slippers shown above in Opal Satin and Key Lime. Each handpainted slipper is signed by the artist who completed it. Click on each image for details or click here to view more glass slippers from Fenton USA!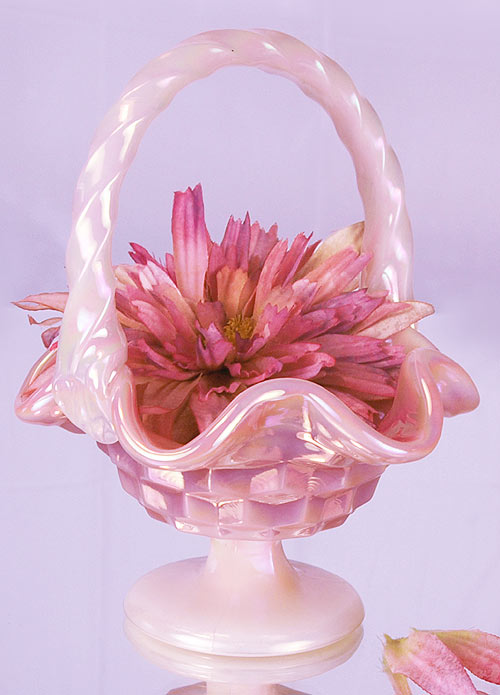 2010 Spring Fenton Family Signing Events
Mark your calendar! Our next Spring 2010 Fenton Family Signing Events are scheduled for April 10 at C & E Country Crafts, %Yesteryear Antique Center in Hanover, PA (Phone: 717-637-1612 or 717-637-6887) and at Kathie's Christmas in Camp Hill, PA (Phone: 717-975-0505). Scott Fenton will be on hand to personally sign your 2010 Spring Fenton Family Signing Event Exclusive Basket and all Fenton purchases during this event. Our beautiful 6'' American pattern Rosalene Basket will be available only at these events. Click here for the event schedule and check back for updates! Click here to see how the Rosalene Basket is created at our factory in Williamstown, WV!
---