FENTON GIFT SHOP
SPECIAL OFFERINGS

211752
6'' Aubergine Stretch Swung Vase
$44.75, Buy Now!
Preferred Second. Aubergine, one of our newer glass colors, extends its appeal to decorators with the distinctive Fenton ''stretch'' treatment.

182043
8-1/2'' Double Crimp Violet
Ribbed Vase
$52.50, Buy Now!
Preferred Second. Enjoy this lovely 8-1/2" Double Crimp Violet Ribbed Vase in your home today!

188579
7-3/4'' Violet Iridized Stretch Trumpet Vase, $37.00, Buy Now!
Preferred Second. This 7-3/4" Violet Iridized Stretch Trumpet Vase will look lovely displayed with your favorite array of flowers.
U5215HP1
2-3/4'' Handpainted French Opalescent Squirrel
$25.00, Buy Now!
Preferred Second. This French Opalescent Squirrel with a handpainted wheat design will make a wonderful addition to your Fenton Animal collection.
Fenton eBay Auctions
Own a unique Fenton creation, including one-of-a-kind pieces, through our weekly eBay Auctions! Items featured this week...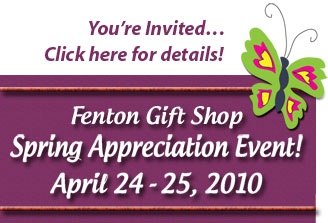 Fenton USA Presents. . . 2010 Artist Selections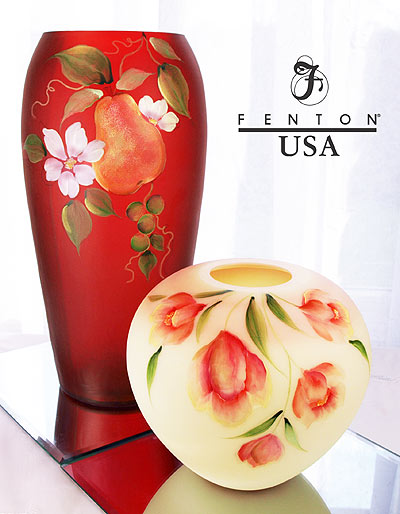 Our 2010 Artist Selections represent handmade American
glass artistry.

Pear Blossoms is a stately Ruby velvet vase handpainted in a pattern designed by Kim Barley. The lifelike pear features three colors carefully shaded and then finished with lightly stippled metallic accents.
Our beautiful Tulip Domain 6'' Vase features Kim Barley's lush design of flowering tulips. Handcrafted in our Burmese glass, which contains pure Gold in the formula, the vase has a soft pink blush at the top.

The Butterfly Meadow 11'' Plate with stand in Key Lime has a stretch finish. Stretch glass is a Fenton hallmark with its silvery striations coaxed from metallic salts and heat.

Kim Barley has used this lovely green plate as a canvas for her cheerful Butterfly Meadow design. This functional piece makes a wonderful candlelight when a tealight is used behind in the stand. The plate is also perfect as a centerpiece or for serving desserts. Candle included.
Click on each image for details or, to view more new items from Fenton USA, click here. To locate a Fenton dealer near you, click here.
It's a Colorful Life . . . New Fenton USA Animal Figurines!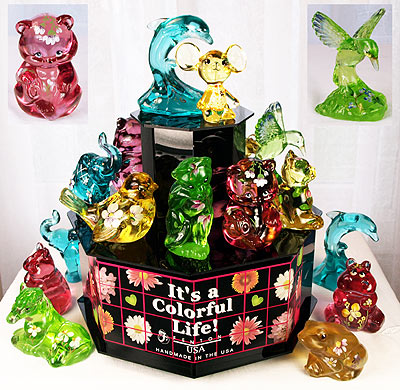 Our delightful new assortment of animal figurines for 2010 is aptly called "It's a Colorful Life." These adorable figurines are handcrafted in
several of our new colors. Each bright handpainted figurine is signed
by the artist who completed it. The decorated pieces in this collection are also available unadorned. Mix and match for a colorful Spring display!

Click on each figurine for details or click here to view our Spring 2010 offering from
Fenton USA!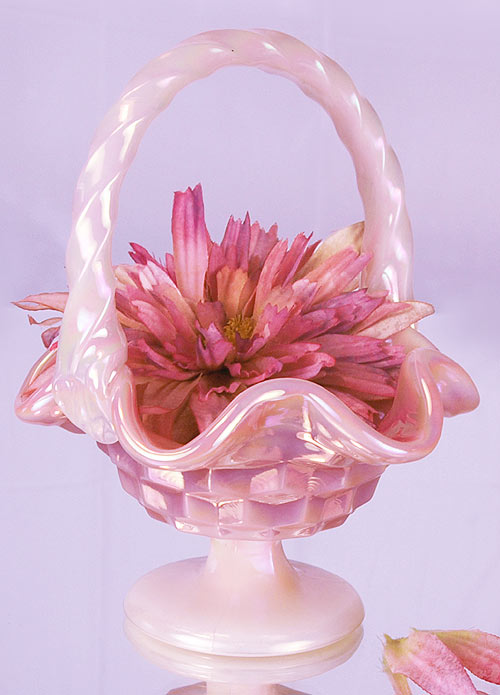 2010 Spring Fenton Family Signing Events
Mark your calendar! Our next Spring 2010 Fenton Family Signing Events are scheduled for April 10 at C & E Country Crafts, %Yesteryear Antique Center in Hanover, PA (Phone: 717-637-1612 or 717-637-6887) and at Kathie's Christmas in Camp Hill, PA (Phone: 717-975-0505). Scott Fenton will be on hand to personally sign your 2010 Spring Fenton Family Signing Event Exclusive Basket and all Fenton purchases during this event. Our beautiful 6'' American pattern Rosalene Basket will be available only at these events. Click here for the event schedule and check back for updates! Click here to see how the Rosalene Basket is created at our factory in Williamstown, WV!
---